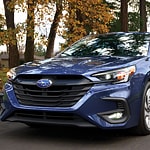 The 2022 Subaru Legacy's streamlined design includes two stages with a wide, teardrop-shaped grille cutout flanked by elongated headlamps. The headlamps have a premium appearance while offering improved visibility, three-dimensional LED daytime running lights (DRLs), and LED turn signals.
The split front intakes flow up towards the fog light pockets that are actually under the bumper features. The exterior mirrors have been designed to have a sleeker look. Two smaller, convex glass segments have replaced the rear-view mirror glass.
The overall design is sportier and more aerodynamic. The sporty characteristics are shown in the front bumper with an aggressive design and a much larger lower grille that's sure to turn heads in Medford, OR. It is surmounted by the standard fog lamps, which can be seen as separated from their surroundings.
On the sides, there are LED taillights, but out of all the components that have been changed and redesigned, one of the most noticeable is a carbon fiber spoiler at the rear.