The 2022 Subaru Love Promise Community Commitment Award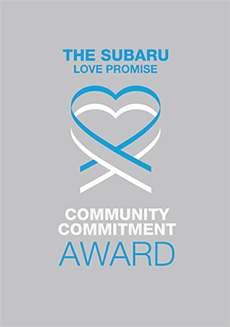 We've been nationally recognized for our dedication to our community and the Subaru Love Promise.
We're honored to receive the 2022 Subaru Love Promise Community Commitment Award. This award nationally recognizes Subaru retailers who are making the world a better place while demonstrating an outstanding commitment to supporting passions and causes in local communities. These efforts are focused in important areas such as the environment, community, health, education, and pets.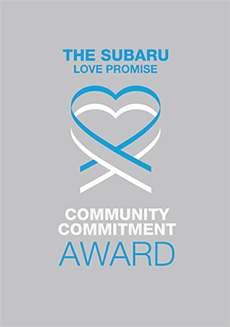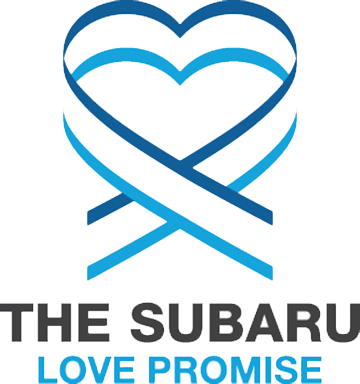 What is the Subaru Love Promise?
Subaru and our retailers believe in making the world a better place and the Subaru Love Promise is our vision of respecting all people. This is our commitment to show love and respect to our customers and to work to make a positive impact in the world.
How is Southern Oregon Subaru dedicated locally to the Love Promise?
Our Love Promise can be seen in various partnerships with local charities and non-profits. We're grateful for the opportunity, not only to be a part of our community, but to serve it as well.
Southern Oregon Humane Society, Dogs for Better Lives
Jackson County Master Recyclers, Rogue Valley Earth Day
DIRT Direct Involvement Recreation Teaching, Table Rock Elementary, Jewett Elementary, Washington Elementary
Asante Rogue Regional Medical Center, Southern Oregon Epilepsy Group
Love Promise Stories from Southern Oregon Subaru
Subaru and Southern Oregon Subaru believe in making a positive impact on the communities in which we live and work. We uphold that belief through our Love Promise Community Commitment. Every month, we select inspiring stories from customers and partners from around our area who strive to support our collective commitment and feature them here
Thanks to Southern Oregon Subaru - Taylor H
At Wildlife Safari we host a variety of events throughout the year. As one of Safari's most important events, Day of Discovery welcomes those with special needs and considerations for a care free day at the Safari. It is a free day for adults and children with different challenges and disabilities to come out and enjoy the park. The event includes animal appearances and keeper talks, free train rides around the Safari Village, and free drive through tickets. Through their generous sponsorship, Southern Oregon Subaru helps make this annual event possible! Subaru helps us with the important role of providing a stress-free day of new adventures for guests who don't get often get to do things like this. We thank them for their support and contribution!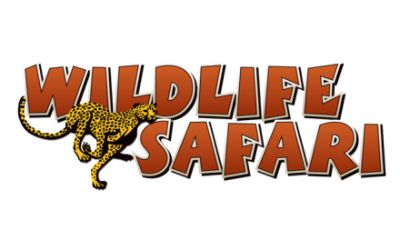 ---
The Medford Food Project Thanks Subaru! - Scott P
Southern Oregon Subaru has been supporting the Medford Food Project since October of 2013. Without their support we simply could not carry out our vital mission to build community and feed the hungry in our region. The Medford Food Project is the largest volunteer organization in Southern Oregon with nearly 3,000 volunteers donating and collecting food for the hungry in our community. Every 2 months, on the second Saturday of the month, our Neighborhood Coordinators pick up bags of healthy nonperishable food that neighbors have left outside their front doors. They leave empty green bags for next time, and take all the food to local Food Banks. The project began in January of 2011 and to-date we have collected over 1.8 million pounds of food. In 2021 alone we collected 220,865 pounds which provided an estimated 176,692 meals for hungry children, families and individuals in the greater Medford region. Although we are an all-volunteer organization, there are costs associated with doing this important work. We provide sturdy, bright green bags to our donors which they fill with food and leave out for us to pick up during our every-two-month pick up dates. We need Thank You cards printed to thank those generous donors and remind them of the next pick-up date. Southern Oregon Subaru has graciously provided funds for those kinds of expenses and that ongoing support is absolutely vital. Simply put, without that support we could not do this work. The Medford Food Project sends a big THANK YOU to Southern Oregon Subaru for your generous, ongoing support!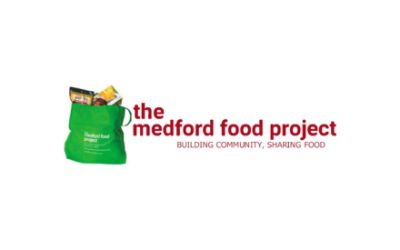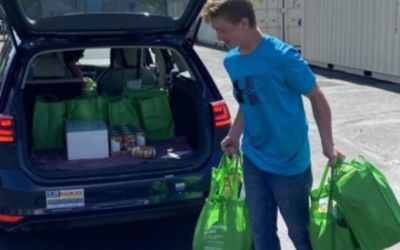 ---
Thank you so much to Southern Oregon Subaru - Deanna W
Thank you so much to Southern Oregon Subaru for their support for Rogue Valley Farm to School. On a whim I pitched some of our projects about local food and seed capture to Stephanie, when I was there for an oil change. She, in turn, pitched to her manager and we received a generous donation! Rogue Valley Farm to School is an organization dedicated to garden education and improving access to quality, locally grown nutrition for local children. Recently we partnered with Phoenix High School culinary program to prepare 100 pounds of locally grown beets to serve to 7 Rogue Valley elementary schools. This introduced tasting beets in a fun way, taught students how to prepare them and benefited local farmers. We hope to partner with Phoenix High School again to process watermelons for food, juice and seed for our community in the Summer. This donation will help us greatly to continue to serve our community with access to the best local food. Thank you so much from the bottom of our hearts! Deanna Waters-Senf Rogue Valley Farm to School Farm to Cafeteria Co-ordinator Rvfarm2school.org
---
Thankful for involvement and support - Cara F
RISE Volleyball, Inc. is a Southern Oregon non-profit indoor volleyball club. In March of 2020 our volleyball season was cut short with the arrival of COVID-19 and as events would unfold, all gyms would close for the following year eliminating any hope the athletes had of continuing to play their sport. An opportunity arose to rent an open air pavilion and an indoor volleyball court and we jumped at the chance to keep kids playing sports without knowing how we would pay for it. Southern Oregon Subaru came to the rescue with a donation that helped make our crazy idea possible. We were able to conduct an entire season, scrimmages with other teams, camps, clinics and just recreational play for hundreds of athletes. Southern Oregon Subaru's commitment to the community kept young athletes engaged in physical activity, socializing with other kids in their community and practicing the sport they love in a safe and healthy environment during a time when this was quite literally impossible to do. We will always be thankful for Southern Oregon Subaru's involvement and support for our program and the children of Southern Oregon and the idea they helped make a reality. Cara R. Freeman Executive Director RISE Volleyball, Inc.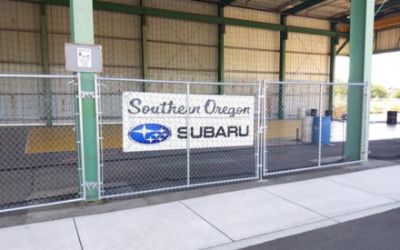 ---
Porchfest Shares the Love of Music and Community - Janie D
Porchfest Grants Pass is so grateful for the support of Southern Oregon Subaru – a key sponsor of our event. Porchfest brings community together for a free music festival, which takes place each year on the front porches of an historic Grants Pass neighborhood. Attendees are encouraged to walk or bike the neighborhood, listen to a variety of local musicians, shop the craft booths and pick up lunch from one of many food vendors. This family-friendly, free, community-building event raises funds for multiple youth programs in our area. We couldn't do this without the generous sponsorship of local businesses. Rogue Gateway Rotary, the club that puts on Porchfest Grants Pass, would like to say, once again, thank you Southern Oregon Subaru for sharing the love with the youth, music-lovers and community of Southern Oregon!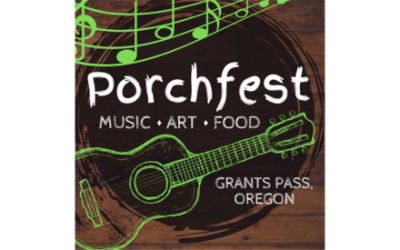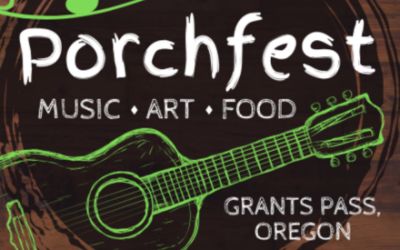 ---
We Rise By Lifting Others - Eronn O
We greatly appreciate the kindness we receive from our local Subaru dealership. Every month, the Southern Oregon Subaru family donates all their cans and bottles to the "Clean Sweep" program. This extra income has helped local homeless restore their lives by enabling them to return to work and support themselves. I can't put into words how grateful we are to receive this kindness from our partners at Southern Oregon Subaru. Thank you to the kind and caring people who work at Southern Oregon Subaru for so generously helping our cause, month after month. We greatly appreciate all of you! Eronn Ortega Clean Sweep Manger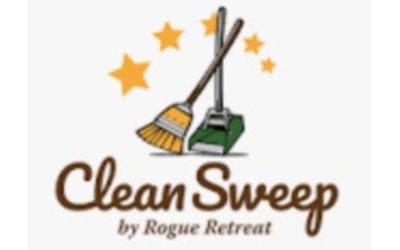 ---
SOSubaru Team Member Gives Back - Nick K
Southern Oregon Subaru Team Members are always looking for creative ways to give back to our community. Case in point: Salesperson Nick Knutson recently raised nearly $6000 for Youth71five and their firehouse project with his "Cars For A Cause" fundraising drive. The goal of Cars For A Cause is help raise funds "to establish a neighborhood center focused upon combating the spread of gangs while building resiliency in kids & families through offering diverse activities that are accessible to youth. The retired firehouse is being renovated to accommodate programming space for L.I.F.E Art, Spartan Boxing, Familia Unida Bike Builders, and Youth 71Five Ministries to provide valuable services for at risk kids." By committing to personally match up to $500, coupled with the same commitment from Southern Oregon Subaru and donations from friends and family, Nick was able to raise nearly $6000, all of which goes towards renovating the neighborhood center. "Nick Knutson's and Southern Oregon Subaru's efforts in Cars For A Cause will help open a Community Youth Center that will serve kids for generations to come. Cars For A Cause not only raised needed support but brought awareness to the needs of youth in our community by providing a safe place for kids to connect with safe adults in trusting friendships that lead to hope. Thank you for providing a better future for kids!"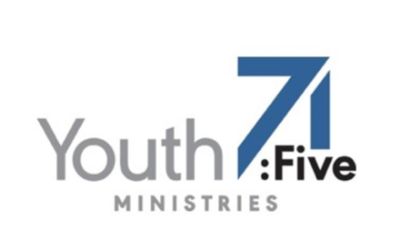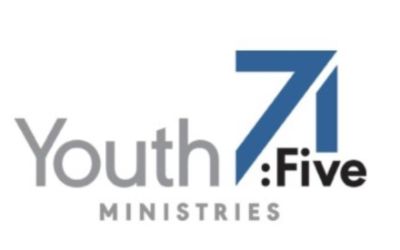 ---
Thank You for Your Support! - Erin C
From the hearts of all of us at CASA of Jackson County, thank you Southern Oregon Subaru for supporting our annual "I Am For the Child" luncheon. Every year you stand with local children in our community, helping us change their lives for the better!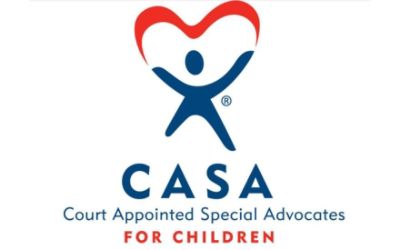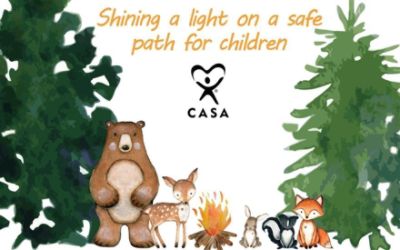 ---
Grateful for our partnership - Walley F
Thanks to Southern Oregon Subaru, the Southern Oregon Craft Brew Festival has been a huge success. Since 2012, SO Subaru has generously sponsored our annual event, bringing folks from all around the Pacific Northwest together for a day of celebration. "(the Brew Fest) is part of the revitalization of Old Town Medford," says Chris Dennett, owner/partner of BeerWorks, the event organizer. "We want people to get invested in this part of Medford." We are grateful for the partnership with SO Subaru and looking forward to the time when conditions allow us to once again gather in celebration.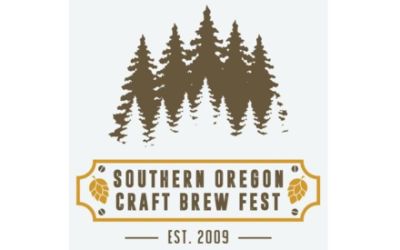 ---
Thankful for my Subaru - Marcedia S
What a wild morning. I'm going to start this off with THANKFULLY I am ok, a little banged up and sore, but nothing broken. This morning on my way to work I lost control of my car and I guess the roads were icier than I thought and it was semi-foggy and who even knows what happened exactly, but I rolled my car off the side of the road. My Subaru Starlink was immediately activated and the sweetest lady chatted with me and she called emergency services. Mark and I use Life360 so my phone also immediately alerted him that I had been in an accident. He was on his way and arrived before emergency services did and everyone was so nice and helped me out of the car. It's a wild experience to be hanging upside down by your seatbelt and I expected the worse but I have no broken bones, no wild wounds, just a sore shoulder, and a pretty little knot on my forehead. Not to sell on Subarus BUT if y'all want a safe car man, this is it. I'm fairly positive my car is totaled but I'll know more soon, all I know is I am SO THANKFUL to be okay and I will for sure be getting another Subaru.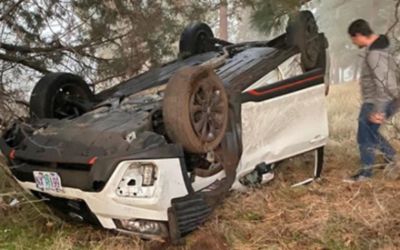 ---