The 2021 Subaru Love Promise Customer and Community Commitment Award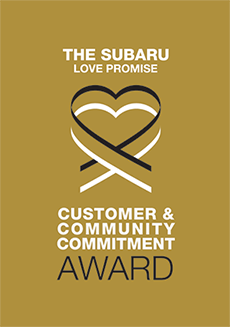 We've been nationally recognized for our dedication to our customers, our community, and the Subaru Love Promise.
We're honored to receive the 2021 Subaru Love Promise Customer and Community Commitment Award. This award nationally recognizes elite Subaru retailers who provide an exceptional customer experience at every interaction with Subaru. These retailers have also demonstrated an outstanding commitment to supporting passions and causes in their local communities in important areas such as the environment, community, health, education, and pets.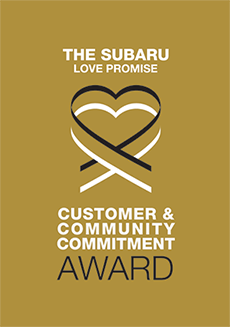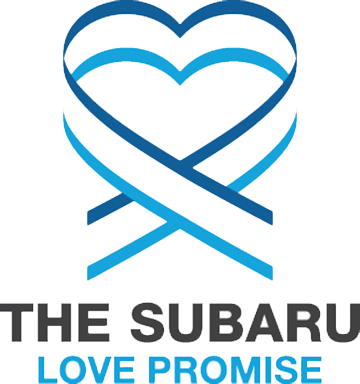 What is the Subaru Love Promise?
Subaru and our retailers believe in making the world a better place and the Subaru Love Promise is our vision of respecting all people. This is our commitment to show love and respect to our customers and to work to make a positive impact in the world.
How is Southern Oregon Subaru dedicated locally to the Love Promise?
Our Love Promise can be seen in various partnerships with local charities and non-profits. We're grateful for the opportunity, not only to be a part of our community, but to serve it as well.
Southern Oregon Humane Society, Dogs for Better Lives
Jackson County Master Recyclers, Rogue Valley Earth Day
DIRT Direct Involvement Recreation Teaching, Table Rock Elementary, Jewett Elementary, Washington Elementary
Asante Rogue Regional Medical Center, Southern Oregon Epilepsy Group
Love Promise Stories from Southern Oregon Subaru
Subaru and Southern Oregon Subaru believe in making a positive impact on the communities in which we live and work. We uphold that belief through our Love Promise Community Commitment. Every month, we select inspiring stories from customers and partners from around our area who strive to support our collective commitment and feature them here
Loving on the youth at "Hearts With A Mission" - Bill H
HWAM youth would like to give a big "Shout Out" to Southern Oregon Subaru and their team for the great donation of four big cases of blankets and socks. It is organizations like yours that continue to demonstrate your commitment to your community through the love you show in tangible ways that allows HWAM to carry on with meeting the needs of Homeless, Runaway and Transitional youth in our community. Here's to you for loving on the youth at HWAM and your commitment to the local community!!!
---
Dedicated to our Community - Laura M
It is so encouraging to see Southern Oregon Subaru's dedication to our community's animals year after year. Support through the Subaru Loves Pets adoption event will help our adoptions pay it forward to more animals in need! Their spotlight on the 'underdogs' really embodies what animal sheltering is all about: second chances. Here at the Josephine County Animal Shelter, one particular 'underdog's' story made a big impact: Cheddar, an orange tabby kitten (technically, an 'undercat') was found with a ruptured eye. In an emergency surgery, Cheddar's eye had to be removed. Just in time for Halloween, Cheddar was looking for a home--now with only one eye, and big Frankenstein-style stitches in place of the other. After waiting patiently for the right home, he finally met his match with the help of October's Subaru Loves Pets promotion. Cheddar, now known as "Pumpkin Jack," was adopted by a wonderful lady who reports that he "is doing so great here and is so loved! He does so great with my 1 1/2-year-old boy and he's snuggling and getting playful." Support from Southern Oregon Subaru's donations will help us continue to help more pets like Cheddar, and keep fighting for the underdogs (and undercats)! Thank you, Subaru, for supporting our shelter, year after year.
---
Thank You for Helping Us Feed Hungry Families - Sandra A
For many years Southern Oregon Subaru has been a great champion of the Medford Food Project. Their generous donations have helped us support over 3,000 food donors, who provide food to 15 Medford-area food pantries. In turn, these food pantries then share food with thousands of hungry families in Jackson County. The Medford Food Project is the largest volunteer organization in Jackson County, and is also one of the leanest and most efficient. Because we have no paid staff or rent (our office is in donated space), we have minimal expenses. Southern Oregon Subaru's generosity continues to ensure that we are able to cover some of these. The Medford Food Project greatly appreciates Southern Oregon Subaru for being a wonderful part of our Rogue Valley community.
---
ACCESS ❤️ our partners! - Kellie B
Huge thank you to Randy and the Southern Oregon Subaru crew for supporting the ACCESS mission of fighting hunger in our community. Kellie Battaglia Advancement Director
---
Grateful for SOSubaru sponsorship - Evan S
We could not be more grateful for SO Subaru's sponsorship and contribution to this year's Roxy Rumble. As a first year event, we were looking for a way to bring together this amazing running community for a new and exciting race format, and to celebrate getting everyone back together after pressing pause on all our events for 2020. The SO Subaru sponsorship made it possible for us to not only create a new race logo and secure the proper permitting and insurance for the event, but provided a finish line atmosphere complete with food and beverages for all the runners and spectators. We were even able to purchase a few raffle items and award several participants with prizes. Our goal is to continue to grow this event and create a race series up on the Roxy Ann trails with proceeds benefiting our community. We appreciate SO Subaru's commitment to the community and are honored to partner with such an amazing organization.
---
Share the Love 2020 - Ryan J
The annual December Share the Love Adoption Day is SoHumane's largest and most successful adoption event. Our partnership with Southern Oregon Subaru has enabled us to rescue hundreds of dogs through our Saving Train program. The Saving Train transports pets in danger of euthanasia from overcrowded shelters to SoHumane where they receive a second chance to have a forever home and family. During a most unusual year, Southern Oregon Subaru has been unwavering in offering their support for pets who are homeless. Their generosity creates many happily-ever-after's for the dogs and cats. Our community is richer for the kindness they show to animals and animal lovers.
---
SOSubaru Supports Rogue Valley Earth Day - Paige P
Subaru's generous gift to Rogue Valley Earth Day not only helped to make this year's EcoQuest Adventure possible, it also helps keep the mission of Rogue Valley Earth Day alive and well while we cannot meet in person to celebrate. Thank you for helping to Make It a Way of Life in Southern Oregon. Paige P. Event Manager Rogue Valley Earth Day 2021
---
Medford's oldest tradition! - Darcey M
The Pear Blossom Festival is a 66-year tradition here in the Rogue Valley. We are Medford's oldest tradition and have grown the festival from a small 25-entry parade, to a 4-week, 10 major event festival. We could not have done this without the generous support and loyalty of our sponsors and community partners. For many years, Subaru sponsored T-shirts for our hundreds of loyal volunteers that make this festival happen. When we created a new event 6 years ago, the Pedals N Pears Bike Event, with 4-ride distances for every bike enthusiast, Subaru was one of our first generous sponsors to believe in us and help make this event happen. With their generous support, we can provide bike enthusiasts, both single and families, with a wonderful bike riding event that draws riders from all over Oregon. We are able to showcase our beautiful valley during the rides and provide a unique experience for families with children at our family ride. Our vision is to support our youth, families, and our community, and with all the Subaru supports in our valley, we know they share that vision as well! Thank you Subaru, for believing in us, and helping us grow and carry on Medford's oldest tradition! Darcey Mann-Self Pear Blossom Festival President
---
SOSubaru has been an amazing community partner - Chad S
Southern Oregon Subaru has been an amazing community partner at our regional triathlons and bike races. At those races, Southern Oregon Subaru is always at the front and center of our race culture, standing beside us in our mission to utilize races to inspire the community to get outside and give kids an opportunity to enjoy the great outdoors. Proceeds from our races give hundreds of kids to an opportunity to attend summer camp, and plants the seed for kids at a young age to experience outside recreation in Southern Oregon. Thank you to Southern Oregon Subaru for helping us make this happen!
---
They truly believe in the Love Promise - Karen E
Puff was surrendered to the Southern Oregon Humane Society with a group of small dogs when their guardian could no longer care for them. Sweet dogs, they all suffered from a variety of ailments. Tiny ten-year-old Puff had ear mites, a yeast infection, a heart murmur, and periodontal disease. Her fur was dirty and her nails extremely long. She was in desperate need of dental attention, a situation not uncommon for older small dogs. SoHumane staff gave Puff medications and parasite preventatives, updated her vaccinations and made note of her need for specialized dental care. Her adoption during our month-long Subaru Loves Pets event was a time of celebration for staff and volunteers. Southern Oregon Subaru shares their love for the dogs and cats at SoHumane throughout the year by being the Toast for Tails Saving Train Sponsor, hosting an annual Share the Love Adoption event, and promoting adoptable dogs and cats on social media. Their generosity creates many happily-ever-afters for the dogs and cats. During a most unusual year, Southern Oregon Subaru has been unwavering in their support for pets who are homeless. Our community is richer for the kindness and generosity they show to animals and animal lovers. They truly believe in the Love Promise commitment they have made to their Southern Oregon community. Karen Evans Executive Director SoHumane
---