The 2020 Subaru Love Promise Customer and Community Commitment Award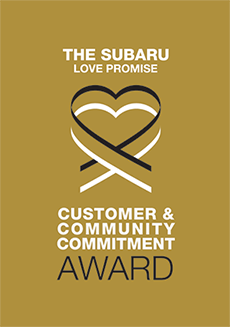 We've been nationally recognized for our dedication to our customers, our community, and the Subaru Love Promise.
We're honored to receive the 2020 Subaru Love Promise Customer and Community Commitment Award. This award nationally recognizes elite Subaru retailers who provide an exceptional customer experience at every interaction with Subaru. These retailers have also demonstrated an outstanding commitment to supporting passions and causes in their local communities in important areas such as the environment, community, health, education, and pets.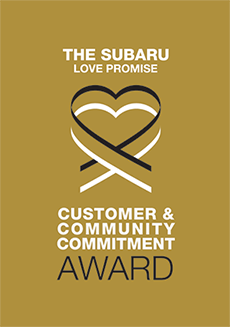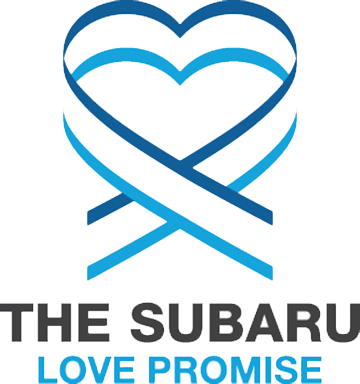 What is the Subaru Love Promise?
Subaru and our retailers believe in making the world a better place and the Subaru Love Promise is our vision of respecting all people. This is our commitment to show love and respect to our customers and to work to make a positive impact in the world.
How is Southern Oregon Subaru dedicated locally to the Love Promise?
Our Love Promise can be seen in various partnerships with local charities and non-profits. We're grateful for the opportunity, not only to be a part of our community, but to serve it as well.
Southern Oregon Humane Society, Dogs for Better Lives
Jackson County Master Recyclers, Rogue Valley Earth Day
DIRT Direct Involvement Recreation Teaching, Table Rock Elementary, Jewett Elementary, Washington Elementary
Asante Rogue Regional Medical Center, Southern Oregon Epilepsy Group
Love Promise Stories from Southern Oregon Subaru
Subaru and Southern Oregon Subaru believe in making a positive impact on the communities in which we live and work. We uphold that belief through our Love Promise Community Commitment. Every month, we select inspiring stories from customers and partners from around our area who strive to support our collective commitment and feature them here
SOSubaru has been an amazing community partner - Chad S
Southern Oregon Subaru has been an amazing community partner at our regional triathlons and bike races. At those races, Southern Oregon Subaru is always at the front and center of our race culture, standing beside us in our mission to utilize races to inspire the community to get outside and give kids an opportunity to enjoy the great outdoors. Proceeds from our races give hundreds of kids to an opportunity to attend summer camp, and plants the seed for kids at a young age to experience outside recreation in Southern Oregon. Thank you to Southern Oregon Subaru for helping us make this happen!
---
They truly believe in the Love Promise - Karen E
Puff was surrendered to the Southern Oregon Humane Society with a group of small dogs when their guardian could no longer care for them. Sweet dogs, they all suffered from a variety of ailments. Tiny ten-year-old Puff had ear mites, a yeast infection, a heart murmur, and periodontal disease. Her fur was dirty and her nails extremely long. She was in desperate need of dental attention, a situation not uncommon for older small dogs. SoHumane staff gave Puff medications and parasite preventatives, updated her vaccinations and made note of her need for specialized dental care. Her adoption during our month-long Subaru Loves Pets event was a time of celebration for staff and volunteers. Southern Oregon Subaru shares their love for the dogs and cats at SoHumane throughout the year by being the Toast for Tails Saving Train Sponsor, hosting an annual Share the Love Adoption event, and promoting adoptable dogs and cats on social media. Their generosity creates many happily-ever-afters for the dogs and cats. During a most unusual year, Southern Oregon Subaru has been unwavering in their support for pets who are homeless. Our community is richer for the kindness and generosity they show to animals and animal lovers. They truly believe in the Love Promise commitment they have made to their Southern Oregon community. Karen Evans Executive Director SoHumane
---
Making our community better - Taneea W
Southern Oregon Subaru has been a long-time Direct Involvement Recreation Teaching Sponsor and we are incredibly thankful for that. But what does that mean to our community? It means that kids and parents are able to learn about the environment and how to care for it at no cost to themselves and our community gets to educate and teach each other, creating mutually beneficial relationships that nurture and build community connections. It means that people like you get to participate in making your community better, changing the climate you live in and spreading hope and joy. Thank you and thank Southern Oregon Subaru!! Taneea West Browning Executive Director, Community Organizer at Direct Involvement Recreation Teaching
---
We are better for their partnership! - Dee Anne E
One of the first calls I received to offer help after the devastating Almeda and Obenchain Fires was Southern Oregon Subaru. It didn't matter what we drove or rode. They simply deliver on the promise of love of community! Southern Oregon Subaru showed up with $25,000 to help with the beginning of our long-term recovery fund. The fires ran from Ashland to South Medford with devastating impacts on Talent and Phoenix, Oregon. We have lost 3,003 structures and 1,628 vehicles and yet these are remarkable times of devastation and generosity. Thanks to their early leading gift, United Way of Jackson County's fund is already at $1.4 million. Yes, they're in the car business and more importantly, they're in the love and community business! We are better for their partnership! Dee Anne Everson, CEO/Executive Director United Way of Jackson County
---
"Though he be little, he is fierce." - Kena S
We say this quite often, the children selected for the Sparrow Clubs program (we lovingly refer to them as "Sparrows") are some of the most medically fragile humans we know, but also some of the bravest heroes we know. This is Sparrow Gabe. He was born with a rare and very severe form of juvenile arthritis and a condition called MAS. MAS basically affects his entire body, especially his heart, kidneys, and liver. Gabe has nearly lost his life on many occasions. Because of his many health challenges, Gabe is extremely medically fragile, but as I mentioned, he is also extremely brave. The day Sparrow Clubs introduced Gabe to the student body of Cascade Christian High School was a day that changed that entire student body. Gabe's story, Gabe's life, Gabe's perseverance inspired these kids so much that it instantly placed Gabe in "Hero" status with these students. He became the catalyst to the heart change these students experienced during that assembly. Life is full of challenge, many ups and downs, set backs, losses… but determination can get you through it all. During an assembly, Sparrow Clubs will challenge the students to complete one hour of service in honor of their Sparrow. This one hour of serving the community will unlock sponsored funds that will go directly to helping their Sparrow get through their medical journey. In Gabe's case, if students of Cascade Christian would choose to serve others for one hour they would help him fight his battle. Every student attending that assembly jumped to their feet. It's incredible to watch a little boy witness an entire group of high school students physically show that they are on his team, they are going to fight with him, encourage him, and be inspired by him. Students did just that. They immediately went to work serving the community and unlocking the funds sponsored by SO Subaru. It did not end there, however. Gabe truly became their hero. This little boy was asked to lead the charge each Friday night as the players entered the field to face their opponent in the weekly football game. Gabe did indeed lead these players out onto the field, but as a Sparrow, Gabe led all the students of Cascade Christian to something greater than a game. "Though he is little, he is fierce." Gabe, like all of our Sparrows, powerfully led students to compassion, empathy, kindness, generosity, and service. It is because of the generosity of Southern Oregon Subaru that this club was possible, giving hundreds of young people the opportunity to be part of something bigger than themselves, to tap into compassion, and to make a real difference through serving others. Not only was Gabe able to receive funds that has helped him medically, he also had community. Thank you SO Subaru for being a Hero to Sparrow Clubs!
---
Bringing joy, hope and support - Andrea R
When Southern Oregon Subaru delivered blankets and coloring books to the staff at Asante Rogue Regional Medical Center to be shared with patients, they provided more than these great comfort items—they brought joy, hope and support. This act not only touched the patients in a meaningful way, it also impacted caregivers by showing them how the community supports their work. From all of us who turn to Asante for our health care, THANK YOU! Andrea Reeder Campaign Director Asante Foundation
---
Unwavering support for SOHumane - Karen E
Six months ago, we could not have imagined what the world would look like today. Over the last several months we have all faced many challenges. Out of an abundance of caution for our supporters, sponsors, volunteers and staff The Southern Oregon Humane Society (SoHumane) made the excruciating decision to convert our annual fundraiser Toast for Tails to a drive-through party and online auction. During an already uncertain time the thought of losing the funds we raise at the event was heartbreaking. The money raised at this event accounts for almost 25% of our annual budget and is critical for us to continue the lifesaving work we do for the animals. When the time came to notify our sponsors, we were nervous. We called Randy at SO Subaru our Saving Train sponsor and got the answer we knew in our hearts we would get. They were still behind us! Their unwavering support over the last eleven years has enabled us to make our community a better place for people and homeless animals. Together we have saved thousands of lives and given thousands of animals a second chance to have a family and a safe place to live. Knowing we have the commitment and generosity of an organization like SO Subaru behind us gives us confidence that no matter what the future brings we will be there for the animals!
---
Thank you, Southern Oregon Subaru! - Karen E
The Share the Love Event held in December at Southern Oregon Subaru is our largest and most successful adoption event each year. Our partnership with SOSubaru has enabled us to rescue hundreds of dogs through our Saving Train program. The Saving Train transports pets in danger of euthanasia from overcrowded shelters to SoHumane where they receive a second chance to have a forever home and family. This important lifesaving work would not be possible without the generosity of Southern Oregon Subaru! Supporters and adopters appreciate SOSubaru's generosity and commitment to SoHumane. "We adopted Lucy at the event. We love her so much, and she loves her new home and family." "I have been lucky enough to adopt four dogs that were saved by the Share the Love Event. I can't imagine my life without them." At the Southern Oregon Humane Society, we are truly grateful for all the Southern Oregon Subaru team does in support of the dogs and cats and our lifesaving mission. – Karen Evans, Executive Director, Southern Oregon Humane Society
---
Thank You For Supporting Our Shelter - Laura M
The team at Southern Oregon Subaru has continued to support the shelter and animals of our community yet again! We are so thankful for their donation drives and the wonderful supplies they have given to our Josephine County Animal Shelter. From paper towels to dog toys to doggy wipes (our favorite thing ever!)--each and every item is so appreciated for helping us do our job. We are proud to be a part of the SOSubaru family and look forward to continuing our partnership in the future!
---
SOSubaru Supports The Crater Foundation - Jill L
Since 1992 The Crater Foundation has been awarding scholarship assistance to Crater High School Graduates! With help from our friends at Southern Oregon Subaru, The Crater Foundation supports its Continuing Education Scholarship Program by sponsoring a Summer Wine Event held at Del Rio Vineyards in the month of August. This year this well-attended, anticipated event earned $10000 for scholarships for the 2019-2020 school year. The Crater Foundation offers financial assistance to EVERY Crater High School graduate to make application for their second, third, and fourth year of college.We love our Southern Oregon Subaru support of Continuing Education for our kids! Thank you for helping us show our families that we care about them too. Jill Layton Executive Director The Crater Foundation
---
Celebrating the Joy of Singing - Laura R
The Rogue Valley Chorale Association celebrates the joy of singing with our community. Southern Oregon Subaru's commitment to creating artistic beauty through its sponsorship support enables the Rogue Valley Chorale Association to provide an annual concert series, singing opportunities for local musicians, and an in-depth music education for young people ages 8 to 18. Thank you, Southern Oregon Subaru. for sharing the love by supporting the choral arts in the Rogue Valley! Sincerely, Laura Rich Executive Director Rogue Valley Chorale Assoc.
---
Helping children in our community have a voice - Erin C
A partner since 2015, Southern Oregon Subaru has donated $1,800 to CASA of Jackson County, helping children in our community have a voice in the child welfare and legal system. This support allows CASA advocates to ensure the children they represent are not forgotten, have their needs fully met, remain safe and ultimately come to live in stable, loving and secure homes. Erin Carpenter Development and Media Manager CASA of Jackson County
---
Our First Subaru - ROY R
We have always been a Toyota family. My wife and I have owned two Camry's, a Corolla, a Supra and even a Corona while I was stationed in Tokyo with the USAF. And since two of our daughters own Corolla's, it came as quite a surprise to our four daughters that we purchased a Subaru. Since my retirement over two years ago, we have been planning on purchasing a Toyota Highlander. We were looking for a new car which had all-wheel drive and plenty of room for travel. After shopping around at Honda, Mazda, BMW, Toyota, and Subaru dealers, we boiled it down to a choice between a Highlander or an Outback which best satisfied our needs. Being a big fan of Consumers Reports, their reviews of both vehicles showed both were excellent choices. It came down to ride comfort, gas economy and financing at .9 % that swayed the choice in the Outback direction. And after several visits to the Subaru dealership, it became clear that our new car would be the Subaru Outback. The personnel at the Subaru dealer have been fantastic in making our purchase a truly enjoyable one. From the sales staff to the finance agent, from the service staff to the parts staff, and the management staff has ensured that our purchase has gone smoothly and completely to our satisfaction. Since purchasing our new Outback on March 30, we have driven it over 4500 miles to Las Vegas and Los Angeles and back. Plus, we over the next two days to add an additional 1000 miles while driving to San Francisco and back. The Outback is a great vehicle to fit our needs. Being completely satisfied with both the vehicle and dealership staff, we are planning a trip back to Pennsylvania and Florida later this year. We love to travel and we love our new Outback. If anyone is looking for a great vehicle and a dealership that puts your satisfaction first, look no further than Southern Oregon Subaru.
---
Making home ownership more attainable - Alycia C
Southern Oregon Subaru's contribution to the Oregon Association of REALTORS HOME Foundation will help with educating consumers and real estate professionals by providing the tools they need to make home ownership more attainable. The money we raise helps fund organizations dedicated to the development, maintenance, or repair of affordable housing. All the money stays local and will give more Oregonians the opportunity to make lasting investments in our community. Alycia CashCommunications DirectorRogue Valley Association of REALTORS® & Southern Oregon Multiple Listing Service
---
SOSubaru shares our vision! - Darcey M
The Pear Blossom Festival is a 66-year tradition here in the Rogue Valley. We are Medford's oldest tradition and have grown the festival from a small 25-entry parade to a 3-week, 8 major event festival. We could not have done this without the generous support and loyalty of our sponsors and community partners. For many years, Subaru sponsored T-shirts for our hundreds of loyal volunteers that make this festival happen. When we created a new event 5 years ago, the Pedals N Pears Bike Event, with 4-ride distances for every bike enthusiast, Southern Oregon Subaru was one of our first generous sponsors to believe in us and help make this event happen. With their generous support, we can provide bike enthusiasts, both single and families, with a wonderful bike riding event that draws riders from all over Oregon. We are able to showcase our beautiful valley during the rides and provide a unique experience for families with children at our family ride. Our vision is to support our youth, families, and our community, and with all the Subaru supports in our valley, we know they share that vision as well! Thank you SOSubaru, for believing in us, and helping us grow and carry on Medford's oldest tradition! Darcey Mann-SelfPresident, Pear Blossom Festival
---
Making the community a better place - Barb D
SoHumane and SO Subaru are committed to making the community a better place for pets and people. In fact, SoHumane and SO Subaru have been working together successfully saving lives since 2009. We are grateful for the partnership and generosity of SO Subaru they truly make our community a better place to live. At the 2018 Share the Love adoption event, with the help and hard work of SOSubaru, 33 dogs found their homes that day. Over the last 8 years, together we have found homes for 230 dogs at this event alone. Since 2012, through the Share the Love adoption event SOSubaru has helped raise over $132,583, which has enabled us the save over 8,800 lives through our Saving Train program. Our Saving Train rescues dogs and cats from overcrowded shelters where they are in danger of being euthanized, and brings them to our adoption center for much needed medical care and attention until they can be adopted. This year's check for $39,364 will help to save 524 more dogs. SOSubaru helps SoHumane in other ways too. They partner with us all year long to help raise awareness about adoption, spay/neuter and responsible pet ownership through radio and television sponsorships and social media. In addition they are the Saving Train sponsor for our annual Fundraiser "Toast for Tails" which accounts for 20% of our annual operating budget! "Our partnership with SOSubaru is a critical part of our life saving mission. We are truly thankful for all they do for the animals" - Karen Evans, Executive Director, SOHumane In the back row, left to right: Jay Lynch (SOA), Ryan Johnson, Karen Evans, Randy Nidalmia (SOSubaru), Barb Dellinger, Judi Hanstein, David Santel (SOA). Front row, left to right: Stephanie Roberts, Ted Brown, Debbie Brown, and Anasazi Underwood
---
Feeding Families in Our Valley - Sandy A
The wonderful support that the Medford Food Project receives from Southern Oregon Subaru helps us feed hungry families in our Valley. We're a neighborhood-based, door-to-door food collection system. We sign up our neighbors to be regular food donors and give each one a reusable green bag in which to store food donations. Every two months we pick up their bag of food, leave an empty bag for next time, and take the food to 15 local food banks. Since 2011, our 3,000+ volunteers in Medford, Central Point and Jacksonville have shared more than a million pounds of food with hungry neighbors, one bag at a time. We couldn't do it without Southern Oregon Subaru. Every year since 2014, SOS has provided much-needed funds to purchase bags, flyers, signs, booklets and the other essential supplies that enable us to do our work, fight hunger, and build a stronger community. We love our Subaru! John Javna, Founder of the Medford Food Project
---
Subaru Loves Jewett Elementary & Science - Tess S
Thank you so much, Subaru, for the support you show us here at Jewett Elementary! We go above and beyond for our students and you always support us in that endeavor. The 150 science books you gifted us were not only beautiful, durable books but also books that spark the imagination, engender curiosity and encourage students to dream about what is possible. From 3D printing an eagle's beak to learning about super gross smells, Subaru is helping us put books in the hands of deserving students who are devouring them. We so appreciate your support of our community and cannot thank you enough!
---
Thank you so much for all that you do - Mary C
"Thank you so much for all that you do for us and our patients." Mary Cardoza, MSN, RN. Medical Oncology Clinical Coordinator Mary Cardoza: Here are some of the comments that we received from patients and nurses. "Thank you so much, SO Subaru, for helping one of my little cancer patients. She played with the lunch box full of toys while the chemo infused. She was occupied, making the time go so much faster for her. The infusion time is an eternity for a child; your gift made such a difference!" "The remarkable simple box of crayons lit up the face of one of our repeat pediatric chemotherapy patients. As the RN, I have witnessed the fidgeting of past sessions and the contrast of this one. Thank you!" "My patient was at the end of her life, the blanket comforted her during the process. Once she passed the family took the blanket home. They said it would be a reminder of the peaceful death their Mom had." "The blanket was such a welcomed gift, I can't thank you enough" Pictured from left to right: Jennifer Barton, Christy Paxton, Ann Hynes McNamee, Debora Smith, SO Subaru GM Randy Nidalmia, John Genaw, Katie Marks (Clinical Manager Medical Oncology), Sydney Smith.
---
A passion for waste prevention - Paige P
As a partner in Rogue Valley Earth Day, Southern Oregon Subaru joins in supporting a local, annual event for all ages to learn about environmental stewardship and build community in a fun and inspirational setting. This annual celebration is a forum for non-profits, businesses and governments to raise awareness, an outlet for students and artists to display their knowledge and creativity, and a venue for local musicians and performers to share their talents. SO Subaru not only helps make Rogue Valley Earth Day possible as an event sponsor and exhibitor, Rocky Rawstern, Jackson County Master Recycler and Green Team Leader for SO Subaru, brings his passion for waste prevention to team up with other volunteers towards achieving the event's zero-waste mission, and he taps into SO Subaru's networks to help promote the event. SO Subaru's leadership is a bright and shining example of how business can make a big difference for our planet and its inhabitants. Paige Prewett Rogue Valley Earth Day Event Coordinator
---
Crater Foundation 2018 Summer Event - Jill L
The Crater Foundation 2018 Summer Wine Event - Another Success! The signature event of a Continuing Scholarship campaign to fund scholarships for students who have graduated from Crater High School in Central Point, Oregon, and have completed at least one year of post-secondary education. Continuing Education scholarships provide a critical stepping stone of ongoing financial support to Crater High School graduates who have demonstrated the tenacity and determination to complete their college education and to succeed in their future. Strengthening our community through education gives our youth an opportunity to return home, to make lives and futures of their own, in the communities where they were raised. Thanks to the support from Southern Oregon Subaru, all proceeds from this event benefit scholarships. We appreciate that not only does the Southern Oregon Subaru team support the efforts of our organization, but they also attend the event each year to "show" their heartfelt support! On behalf of Central Point Families, Crater High School, and The Crater Foundation, thank you Southern Oregon Subaru for supporting our kids' educational endeavors! Jill Layton Program Director http://www.craterfoundation.district6.org
---
Thankful and Proud to Partner with SOSubaru - Matt S
Sparrow Clubs USA is a service-based non-profit organization that empowers kids and young people to look beyond themselves in order to help local children in medical need. This life-changing program would not be able to impact students in our communities without compassionate and philanthropic partners like Southern Oregon Subaru. For over a decade, Southern Oregon Subaru has generously supported the work of Sparrow Clubs in local Southern Oregon schools, helping to inspire and empower students to change the lives of others through service and compassion. Through their ongoing support of Sparrow Clubs, Southern Oregon Subaru is significantly helping to change youth culture from the inside out. Sparrow Clubs is thankful and proud to have Southern Oregon Subaru as part of our Sparrow family! Matt Sampson National Program Director Sparrow Clubs USA Sparrow Clubs not only provides financial and emotional support for children and their families in medical need, but also empowers kids (elementary to college age) to help others through charitable service in their communities. The Sparrow Clubs program teaches life lessons in compassion and selflessness through building relationships between a Sparrow family, a school student body, and our community. Sick kids get help, healthy kids become heroes and communities experience change. In the photo (left to right): Kena Sampson, Southern Oregon Program Coordinator; Randy Nidalmia, SOSubaru GM and Partner; Neveah and her Mom (Jessica); Matt Sampson, National Program Director
---
SOSubaru makes a Love Promise - Karen E
Today Southern Oregon Subaru presented SoHumane with a check for $37,500 from their 6th annual Share the Love event held last winter. We're just ecstatic over here at SOHumane! Southern Oregon Subaru has always been extremely generous with their support and monetary gifts but this year's check is beyond belief! It really is going to save countless dogs and cats in the coming years. Thanks to their continued participation in the annual Share the Love event, Southern Oregon Subaru, Subaru of America and Subaru owners have been able to contribute nearly $94,000 to help animals in need at SoHumane. Southern Oregon Subaru is also the 2018 Saving Train Sponsor for A Toast for Tails. (Pictured are Randy Nidalmia, General Manger, Southern Oregon Subaru, Karen Evans, Executive Director, SoHumane, and Jay Lynch Western Region Products Manager for Subaru of America, with SoHumane staff and dogs.)
---
A ray of sunshine - Mary C
A few months back Southern Oregon Subaru was thoughtful enough to give Asante Rogue Regional Medical Center's Pediatric and Medical Oncology units blankets and toys for our peds patients. The joy the kids express is heartwarming; in the mist of chemotherapy they smile and are grateful. It is their strength that keeps pediatric nurses fighting the good fight. The blankets are a little piece of home that they desire so much. One cannot begin to imagine the journey parents take when their child is diagnosed with cancer and have to watch them bravely go through treatment that they pray will make them feel better. The generosity SOSubaru has shown us goes so much further than anyone will ever truly realize. The adult cancer patients are really no different than our peds patients, this ride is new and scary for them and their loved ones as well. They have little understanding of what is and will happen to their bodies and live as they bravely face the unknown. The blankets are security for the patient and if cancer takes their loved ones they cherish the blanket forever. To all the folks at SOSubaru thank you for this ray of sunshine during the storm. Our patients and staff are grateful that such a caring organization does so very much for our community. Mary Cardoza, MSN, RN Medical Oncology Clinical Coordinator Jessica Silva, RN Pediatric Clinical Coordinator
---
Making the world a better place for animals. - Karen E
At SoHumane we believe in making the world a better place for animals and so does SO Subaru. In fact, SoHumane and SO Subaru have been working together successfully saving lives since 2009. Together we have made a Love Promise Commitment to the animals and families who adopt them in our community. 2017 was the seventh year of our Share the Love adoption event. With the help and hard work of SO Subaru we were able to find homes for 40 dogs that day. In the last seven years we have found homes for 197 dogs at this event alone. Through the Share the Love adoption event SO Subaru has helped raise over $60,000 since 2012 which has enabled us the save thousands of lives through our Saving Train program. Our Saving Train rescues dogs and cats from overcrowded shelters where they are in danger of being euthanized and brings them to our campus to be adopted. SO Subaru doesn't stop there. They work all year long to help raise awareness about homeless pets through radio and television sponsorships and social media. They are also the Saving Train sponsor for our annual Fundraiser "Toast for Tails" which accounts for 20% of our annual operating budget! "We are incredibly grateful for this partnership. We simply couldn't do what we do without the generosity of SO Subaru. They truly make our community a better place to live". Karen Evans, Executive Director
---
Subaru's Generosity Makes a Positive Impact - Sena S
Dogs enjoy having toys play to with. Toys are mentally and physically stimulating, encourage active play, and minimize periods of boredom. Chewing on long-duration chew toys can be soothing and help dogs relax. Interactive play between a dog and his owner enhances their bond. During the month of October (2017), and in honor of Adopt a Dog Month, Southern Oregon Subaru partnered with Dogs for Better Lives. In support of Dogs for Better Lives' mission and adoption program, Subaru collected donations, purchased toys, blankets, adoption placement kits, collars, leashes, harnesses, dog food, and collapsible water bowls. All of this was presented to Dogs for Better Lives in early November. The products collected will go with each dog during placement and be a tremendous help toward successfully transitioning them into their forever homes. Thank you Subaru, for your ongoing support! Your kindness and generosity are making a lasting and positive impact on dogs needing homes and the people opening their hearts and homes to them.
---
Life is an Adventure - Especially with a Subaru - Carly Z
My old 2002 Outback broke down in the middle of nowhere halfway through a cross-country epic journey. We had been living out of it for a couple weeks, myself, the boyfriend, and our dog. Getting back to Oregon from Utah was crazy, especially just in time to start my last term of nursing school. I finished up school without a car, commuting by foot, bike, or sharing the boyfriend's 1998 Impreza which is still going strong. The breakdown left me stranded and feeling abandoned by my old reliable 'Suby', I was very resistant to getting a new car. It seemed like everything I drove was just not 'my car'. When I met the dealer at the local Subaru dealership, he was unlike the other hot-headed dealers I'd met. He had a vested interest in helping meet my adventure needs, rather than just selling me any car I could take. After a couple test drives, the guys at the dealership were working their magic to get me into the exact car my lifestyle demands. I drove her off the lot feeling like I'd won the lottery! The following week I graduated nursing school and now we are packing up this glory to head back to Utah for a new adventure... I think my old 'Suby' really was looking out for me, just wanted to show me where I'd end up. This photo was our first weekend out with the new ride... 4 pals, 1 dog, 3 surfboards and a Thule. Life doesn't get much better than this.
---
Jewett's Outdoor Classroom Thanks Subaru! - Tess S
Jewett Elementary School has spent the last year designing and developing our Outdoor Classroom. It is used by students in kindergarten through fifth grades on a daily basis. The "garden goodies" package awarded to us by Subaru was absolutely the icing on the cake! Students planted the wildflowers, hung the bird boxes, placed the toad house and are ALREADY watching the humming birds and other local birds eat out of the feeders. They were so excited to receive all the components of the package and we are so grateful to be a certified wildlife habitat! What a great experience for our school - thanks Subaru!
---
Love leaves footprints on your Heart! - Bobby A
Each year, our friends at Southern Oregon Subaru look for ways to help animals. the Saving Train Program, which has saved over 8,000 animals from shelters where they run out of time or space, has been the way they think they can help best. Every December, SoSubaru host an adoption event that raises awareness, raises money, and finds homes for dogs and cats. Last year, the event helped more than 44 Saving Train rescues find homes and raised $15,000 through the national Subaru Share the Love campaign. Thank you SoSubaru for your love and dedication to the Southern Oregon Humane Society!
---
Subaru Makes a Difference - Sena S
During the month of October (2016), and in honor of Adopt a Dog Month, Southern Oregon Subaru sponsored Dogs for the Deaf, Inc. Sena Short, Adoption Program Manager, Harvey Potts, Development Director, and Demo Dog, Lucy, from Dogs for the Deaf, Inc., visited Southern Oregon Subaru to meet the staff, provide an overview of the Adoption Program, and conduct a Hearing Dog Demonstration. Lucy was a hit! She demonstrated how a Hearing Dog alerts to the sounds of the oven timer and door knock, beautifully. In support of Dogs for the Deaf's mission and adoption program, Subaru collected donations, purchased toys, blankets, dog beds, pet waste bags, and collapsible water bowls, with a collective value of over $500. All of this was presented to Dogs for the Deaf in early November. The products collected by Southern Oregon Subaru will go with the dogs when placed in their forever homes. Thank you Subaru, for your sponsorship and support during October's Adopt a Pet Month! Your generosity will go a long way in helping the dogs that we rescue and place. For more information on how to adopt a rescued dog or to learn about options to support Dogs for the Deaf, Inc., please contact Sena Short or Harvey Potts at (541) 826-9220, or visit our website at www.dogsforthedeaf.org.
---
Books! Books! Books! - Sallie J
Thank you from the bottom of our hearts, SO Subaru and SO Subaru customers. Our students at Washington Elementary in the Medford School District are so thrilled to have the 200 books that you so generously donated to our library and classrooms. A 5th grade student said of the book, 'How to Clone a Mammoth' by Beth Shapiro, "I can't wait to read that book!" New titles draw enthusiasm for reading. Thanks for supporting and encouraging literacy in our schools.
---
Sponsors make our work possible! - Amy M
Southern Oregon Epilepsy Group is a new organization to the Rogue Valley but it is the only Epilepsy Group in the State of Oregon and California that works with individuals to provide them with potentially life saving monitoring equipment. Our sponsors, like Southern Oregon Subaru, are so important because they make what we do for others possible! Epilepsy is an invisible neurological disorder for which there is not a cure. Because it can't be seen the awareness and knowledge is almost as invisible. We hope that through awareness and our sponsor we can impact not just the individuals who seek our help but in educating the community on how they can help! Thank you Southern Oregon Subaru for helping us grow.
---
Love for oncology patients - Katie M
On behalf of Rogue Regional Medical Center, I would like to offer our sincere thanks and gratitude to Southern Oregon Subaru for choosing to donate some love to our oncology population. As an organization, we exist to provide quality healthcare services in a compassionate manner. This donation, coupled with our incredibly passionate group of caregivers, will aide in creating a little bit of comfort and warmth to our cancer patients during an extremely difficult time in their lives. What does Asante do with the blankets? The blankets will be distributed throughout the hospital to the areas that provide care and services to our cancer patients. This will include Radiation Oncology, Infusion Services, Pediatrics, and Medical Oncology. What it means to our patients to receive a blanket? Here at Asante, we want to be recognized for our medical excellence, but also for the compassionate care we provide our patients. We never want to lose sight of our patients' humanity. These blankets will hopefully not only provide physical comfort, but will also serve as a reminder that we really do care for people not just as patients, but as humans. Katie Marks RN, BSN Clinical Manager Medical Oncology Asante Rogue Regional Medical Center
---
Planet-sized thanks - Paige P
Dear Southern Oregon Subaru: Planet-sized thanks to Southern Oregon Subaru for its gift to help ensure the Rogue Valley's joyful, educational and motivational Earth Day event was a success this year. Your support made it possible for Southern Oregonians of all ages to have fun, learn about sustainability, and Rise to the Challenge in 2016. We could not do it without support from generous and community-minded supporters like you! Gratefully, Paige Prewett Event Manager/Committee Chair Rogue Valley Earth Day 2016
---
Tobi gets by with a little help from friends - Gregg S
Gregg and Annie Sorensen fell in love with Tobi at first sight and knew that they had to do whatever was needed to give him complete mobility. Here is part 1 of their story. Thanks, Southern Oregon Humane Society, for everything that you do! Credit to Sean Marc Nipper & Reel House Films (reelhousefilms@gmail.com) for this excellent video (used with permission). https://www.youtube.com/watch?v=Rv0gDbO0jso This video was produced and presented at SOHumane's annual Toasts for Tails fundraiser. Gregg Sorensen is a partner and Executive Manager at Southern Oregon Subaru in Medford, OR.
---
Saving the Monarchs - Gregg S
Did you know that in recent years the Monarch butterfly population has declined by over 90%? With 1 in 3 bites of food made possible by pollinators, it is up to all of us to insure the continued health of pollinator species like the Monarch butterfly. Knowing those two things, SOSubaru is delighted to participate in the Butterfly Heroes Program by partnering with Subaru of America and the National Wildlife Federation. For the month of April, and as part of the Subaru Loves the Earth initiative, SOSubaru has a certified butterfly habitat on-site. At the end of April we will be donating our habitat to a local elementary school to be used in conjunction with their gardening project. We will also be giving out milkweed seed packets to create your own butterfly-friendly habitat at home. Stop in and learn how you too can be a Butterfly Hero, and pick up a free pack of milkweed seed while you are here. For more information about the Monarch butterfly check out the NWF site, here: https://www.nwf.org/Wildlife/Wildlife-Library/Invertebrates/Monarch-Butterfly.aspx
---
A promise to every Saving Train dog and cat - Kenn A
At SOHumane, we make a promise to every dog and cat that comes in on our Saving Train: we will do whatever it takes to make you healthy and find you a home. This extraordinary gift from Subaru, Subaru owners, and SOSubaru, makes us able to keep that Love Promise. The money pays for necessary surgeries, vaccinations, housing and care of animals that have lost the only home that they have ever known. From Gregg Sorensen: On April 12th, 2016, we had the distinct pleasure to present to the Southern Oregon Humane Society a check for $21,000. This is the third year that we have been able to help SOHumane, thanks to Subaru's 8th Share the Love event, which has donated over $65 million to-date to charities nationwide. The total to SOHumane in the three years that we have been supporting them is $42,000. From left to right: Jay Lynch (Western Region Products Manager for Subaru of America), Gregg Sorensen (Executive Manager/Owner, SOSubaru), Kenn Altine (Executive Director, SOHumane), Randy Nidalmia (General Manger, SOSubaru), and Karen Evans (Development Director, SOHumane). Seen with them are Jet, Pacman, and Dusty, three newly saved dogs courtesy of the Saving Train, for which we are a sponsor.
---
Giving back to our community - Gregg S
Our own Jackson County Master Recycler and SOSubaru Green Team Leader Rocky Rawstern just donated his 80th pint (10th gallon) of blood to the American Red Cross. In their own words "Donating blood is a simple thing to do, but it can make a big difference in the lives of others." Rocky says "It only costs me a few minutes of my time and may end up being a life saver for someone else. I'm happy to do it even though it is unlikely that I'll ever know who I've helped." January, 2016.
---
2015 Fall Plastic Round-up Success! - Gregg S
We once again had a very successful Plastic Round-up collection event! In the two day event we collected a total of 43,880 lbs. of plastic from the public. Recycling mixed plastics that are not accepted in curbside recycling programs can be a challenge at best. But despite depressed markets and having to bear the full cost of transportation, we did it! But not without the help of our partners. I would like to thank volunteer Rocky Rawstern, a Master Recycler from the 2012 class, who not only worked at the event to make it a success, but also coordinated a partnership that spans several years between our event and Southern Oregon Subaru. They not only helped spread the word about this event, but also helped us cover $500 of the transportation cost to get our material to our processor. What a wonderful community we live in where a business not only cares about our environment but supports activities that benefit it.
---
Don't despise the day of small things - Diana M
Dear Mr. Sorenson, Thank you SO much for your generous donation to the first-grade students in my classroom! I've been busy preparing for the precious little boys and girls coming to their BIG year of first-grade and have had a special place in my heart knowing that you will be a part of their day...everyday by your donation. The first purchase I will make with your donation is new water bottles. The stainless steel water bottles I had purchased were seeing the last of their days; I've been trying to figure out how I was going to swing that much of a personal expenditure. It was looking like the ole faithful credit card. I'm going to share with my little students that their water bottles came from someone who cares about their well-being. As for the rest of your donation I shall use it well. There is a special saying I like, "Don't despise the day of small things." Again, Thank You SO much for your actions truly speak of your heart towards children. Sincerely, Diana L McFarland White City Elementary School
---
Thanks to Southern Oregon Subaru - Sandi E
I am so thankful for the opportunity to have funding to help my students. I am going to target my science/reading instruction and purchase supplies for an ongoing lab in which we study ecosystems and the water cycle. In addition, I may use some of the funds for a science-based field trip. Working in a high poverty school, students are not able to purchase needed supplies, so if I do not buy them we are not able to complete certain hands-on activities. This financial help from Southern Oregon Subaru allows my students to have experiences that enhance their learning and make connections to the real world that they may not have had. I am greatly appreciative.
---
Thank you Southern Oregon Subaru - Janet L
I am a teacher here in the Rogue Valley. Southern Oregon Subaru contacted me and told me about Adopt-A-Classroom. I signed up and Subaru awarded my classroom with $250.00! Their generous donation helped me purchase science and art supplies for my students. With low school budgets and very little money to purchase materials I am rarely able to get what my students really need. This year my class will get to experience some great hands-on activities due to Southern Oregon Subaru's giving spirit. I am so grateful for their gift.
---
SO Subaru Supports Homeless Pets - Kenn A
Southern Oregon Subaru has made a Love Promise and both professional and personal commitments to the homeless animals at SoHumane for more than four years. The positive impact they have made extends beyond the advocacy of their annual ad campaign for SoHumane; the yearly adoption events that have grown from a handful of adoptions to more than 30 in a single day; and their financial support for our annual fundraiser, which accounts for 20% of our operations budget. When I visit Southern Oregon Subaru each week, I am visiting family. First I stop in Accounting, where the employees get to "ooh and ahh" over whichever shelter dog I've brought that day. They then catch me up on the dogs they have adopted from SoHumane. Next is the Cashier's office, where the dog treats are kept and belly rubs are given while I get another update on a former SoHumane alum now in the home of a SoSubaru employee. After stopping at the weekly executive meeting where photos are taken for Facebook, Gregg Sorensen meet the latest "kid" it's on to the sales floor, where more employees give updates on their adoptees (three dogs with one employee alone). At SoHumane, we are in the business of families, and working with the family business at Southern Oregon Subaru truly makes it possible for both organizations to improve the lives of pets and people in our community. Kenn Altine Executive Director, Southern Oregon Humane Society
---
Education Through Recreation - Taneea B
Direct Involvement Recreation Teaching, DIRT, is committed to providing education through recreation to our community. Southern Oregon Subaru has played an invaluable role in helping us reach our goals and provide free educational programs to the children in our community. We are proud to have them on our team of sponsors, partners, and pals.
---
Reducing waste by recycling plastic - Rocky R
Our digital Media Manager (Rocky Rawstern) got himself Certified as a Master Recycler and then got our store Certified as an Eco-friendly Dealership. As such, SOSubaru now sponsors our local Plastic Round-up events. By doing so, our community recycled 49,100 pounds of plastic material (in the Fall of 2014) that would have otherwise ended up in the local landfill.
---
Southern Subaru & Siskiyou County Provide Help to Victims of the Boles Fire - Julie F
The residents of Weed, CA suffered a devastating fire which quickly spread through their small community on Monday, September 15 (2014) taking 150 structures. The Boles Fire destroyed mostly homes but also commercial structures including the local lumber mill, library, and a church. In an amazing show of unity and compassion, people from surrounding communities immediately organized to help the victims of the fire. Goodwill also played an important role. With community donations, including the largest from Southern Oregon Subaru and their customers ($3,020), Goodwill was able provide long-term recovery assistance with over $7,000 in emergency store vouchers for those displaced by the fire. Goodwill partnered with a local nonprofit agency in Siskiyou County to identify those with greatest need and to distribute store credits for household items and clothing. Our hearts go out to the town of Weed as well as our deep gratitude goes to everyone at Southern Oregon Subaru whose generous financial donation helped us reach more displaced families in Siskiyou County, said Shae Johns, President & CEO of Southern Oregon Goodwill. The community support in Southern Oregon was amazing!
---