Find the Certified Subaru Parts You Need at Southern Oregon Subaru
Finding a certain love for a vehicle isn't difficult when they're built right and work for you and your lifestyle. And, if you give it the quality Subaru parts that it deserves it will drive on for many miles down the road for you to love and enjoy even longer. At Southern Oregon Subaru, we want to help your vehicle service you as long as possible and we do so by only using genuine Subaru parts. If you live in or around the Grants Pass area you can find any of the Subaru parts you need or want with our help in our parts center. 
Our Parts Team: Jay, Christian, Preston (Manager), Brian, Caleb, and Cameron.
(These folks will help you find the right parts for your Subaru)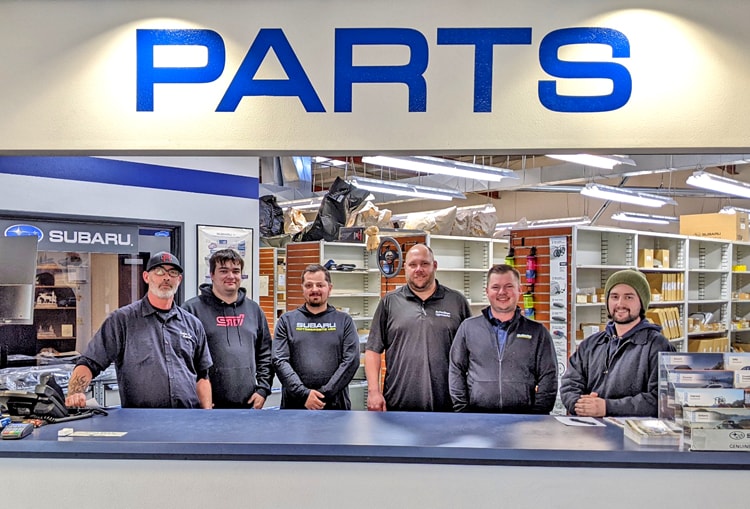 OEM Parts Vs. Aftermarket
 Your original equipment manufacturer (OEM) has the most comprehensive knowledge on your vehicle, much better than any third-party garage or online website. It isn't stressed highly enough that you should be careful with the parts that you allow on your vehicle. Many online retailing shops and third-party garages sell parts at a lower price than what you would find at a dealership, however, that doesn't necessarily mean that they are made for your vehicle. 
These parts are known as aftermarket parts that are meant to fit on several different vehicle makes and models, meaning that they aren't specifically made for your vehicle. Since these parts can be used on a variety of vehicles, when you use them on your Subaru, they might not fit perfectly and therefore are liable to break and wear and quite possibly affect other moving components of your vehicle. If you want to avoid excessive repair costs, then we highly advise you to steer clear of aftermarket parts and aim to use genuine OEM parts for your Subaru.
When we service your vehicle, we are sure to use nothing else but genuine Subaru parts, that have been certified and tested on Subaru vehicles to ensure they will work on your vehicle. We want to watch you grow with your vehicle and we know when we use premium parts that are placed by mechanics with countless hours logged on their weathered hands that you will see your vehicle driving around the streets of Ashland well into the future.
 A list of just some of the genuine Subaru parts that we carry include: 
Windshield wiper blades
 
Headlights
 
Side mirrors
 
Rubber floor mats
 
Seat covers
 
Oil filters


Alternators
 
Power steering pumps
 
Along with a plethora of other Subaru items
Can't Find the Part You're Looking for?
 Although we do have a comprehensive inventory of high-quality genuine OEM parts, there are times when we might not have everything that you're looking for. Now, we encourage you to be patient and not run off to the first aftermarket parts store you find. Instead, you can reach out to us at Southern Oregon Subaru Service Center and we can order what you need and receive it before you know it. 
Find What You Need at Southern Oregon Subaru Near Ashland Today!
 Whether you're looking to replace the parts on your own or you'd rather go for the hands-off approach, we can help you find the Subaru parts you need for your vehicle. If you think that you need to
schedule a service
along with order parts you can do so online. When you're ready, we encourage you to make the short drive from Medford and we can work together to get you the genuine Subaru parts that you need. No matter what, we look forward to helping you today at our Subaru parts center in Medford today!