Here are a few of the testimonials that we have received at Southern Oregon Subaru over the years.

If you would like to leave your own testimonial, click here.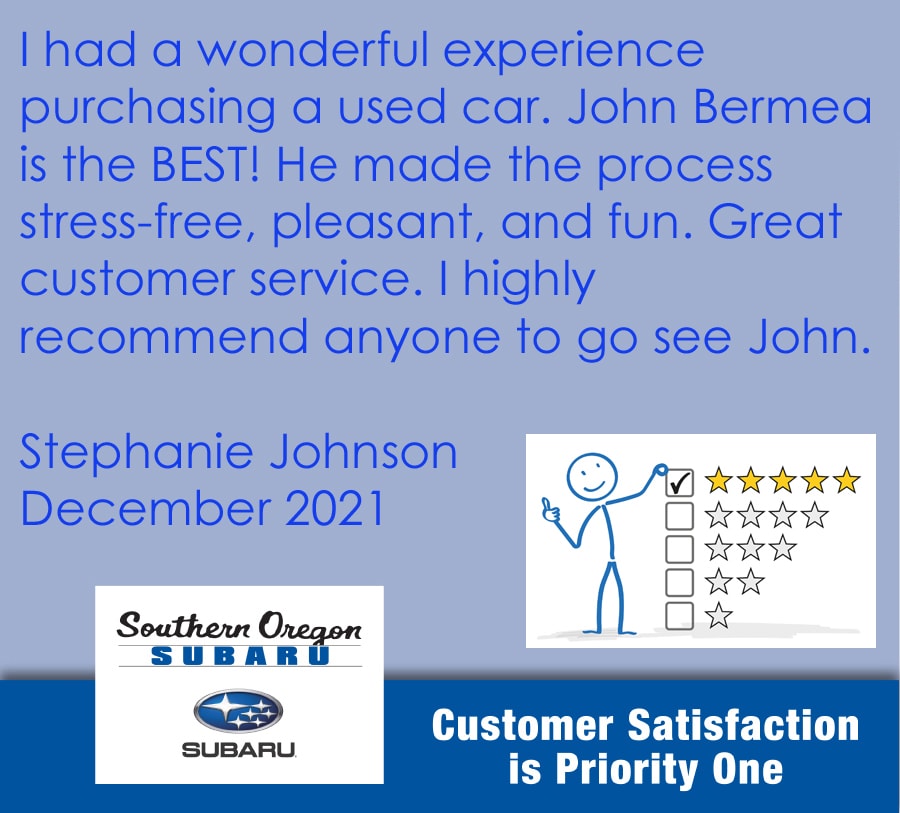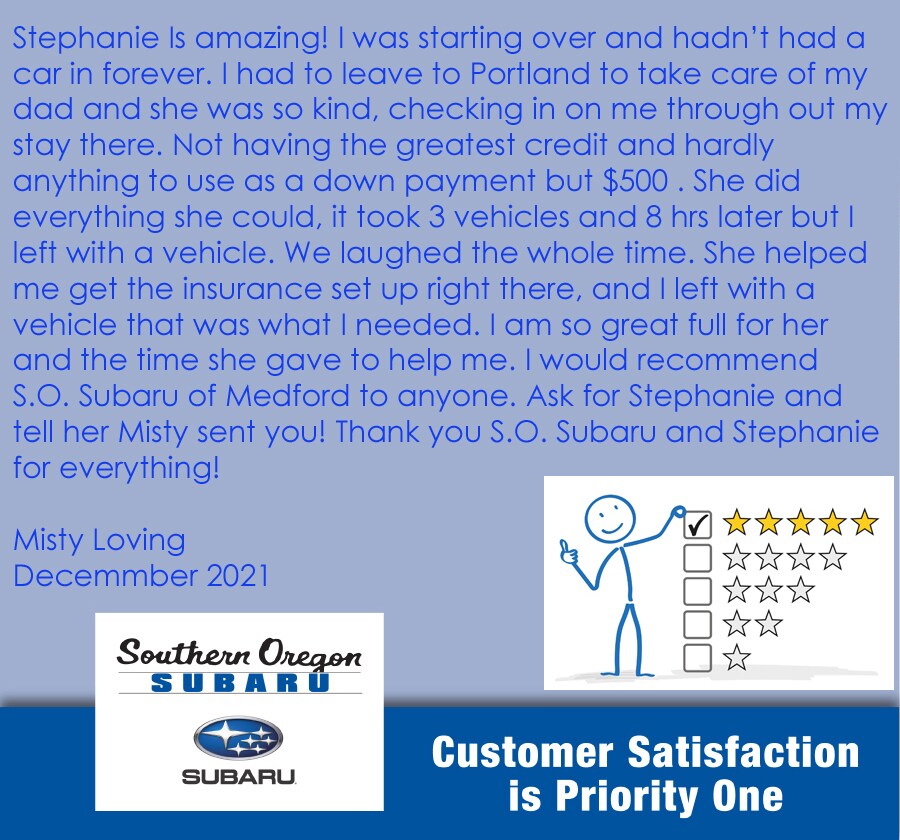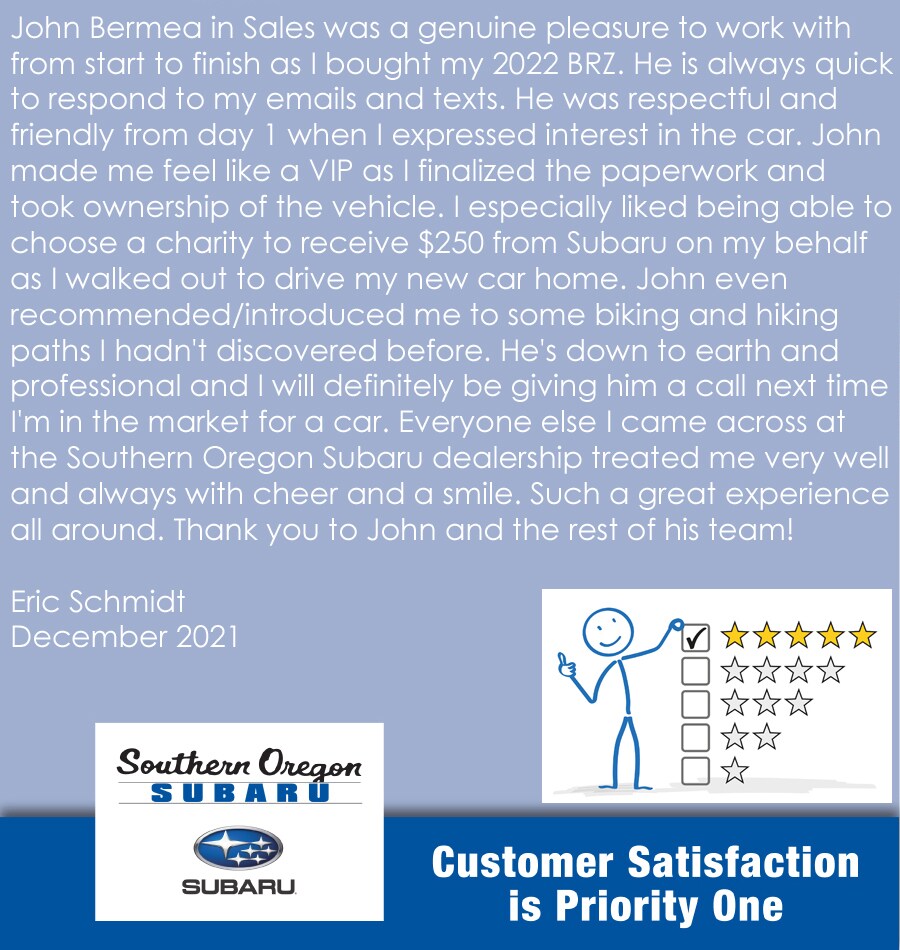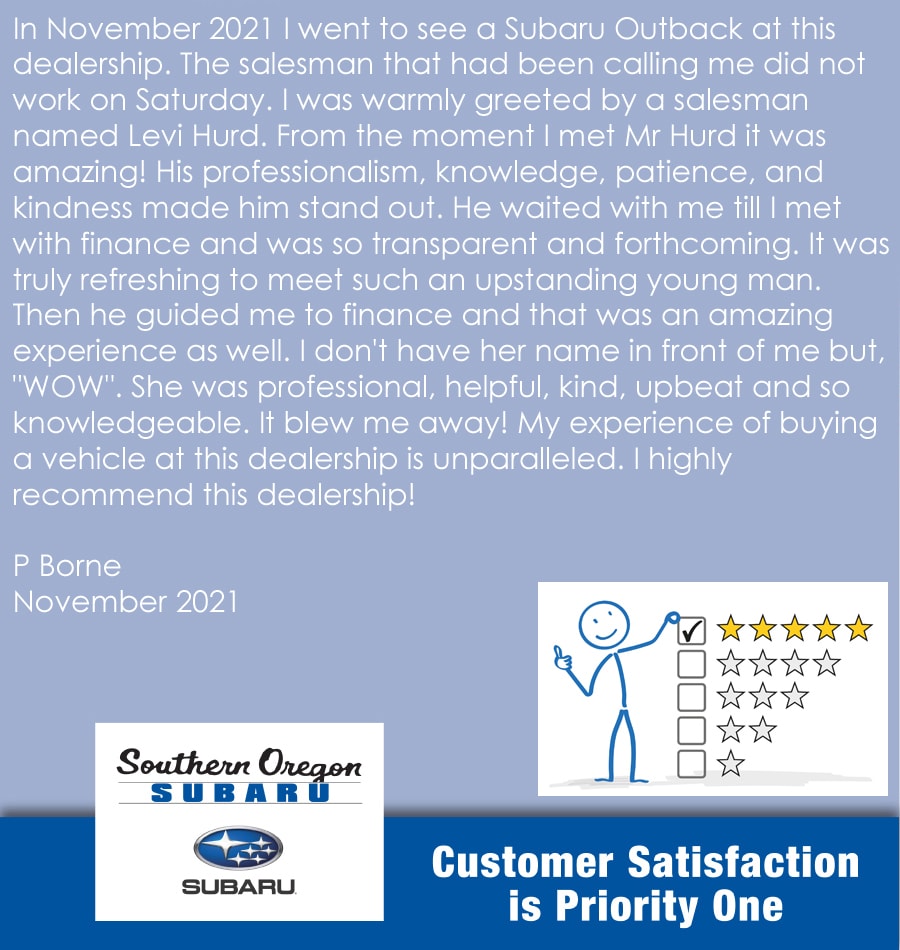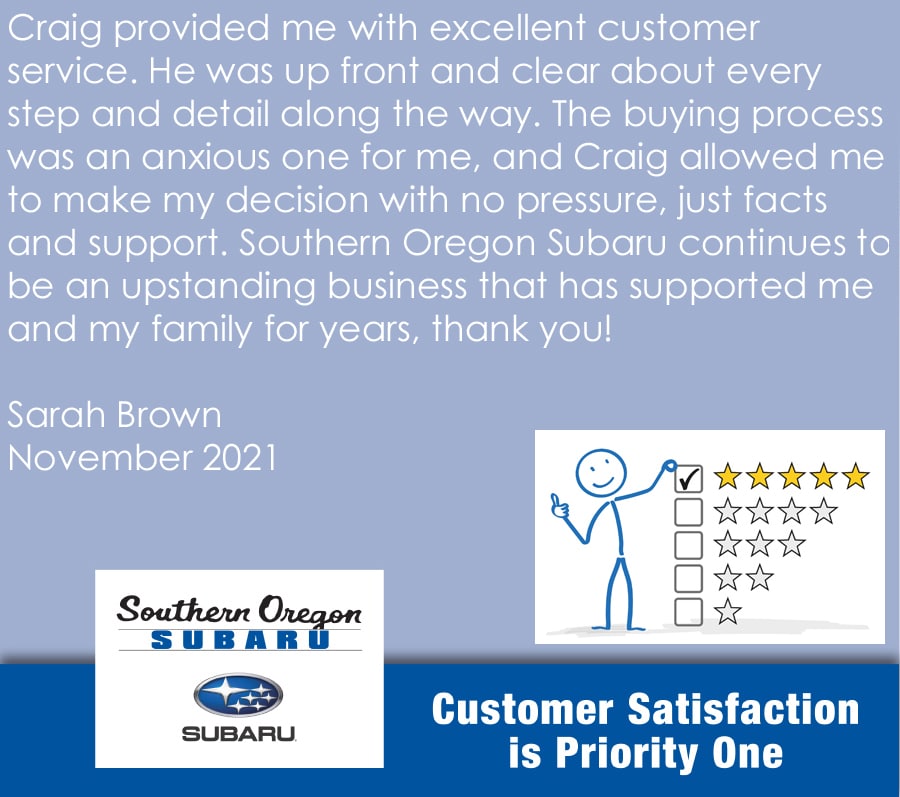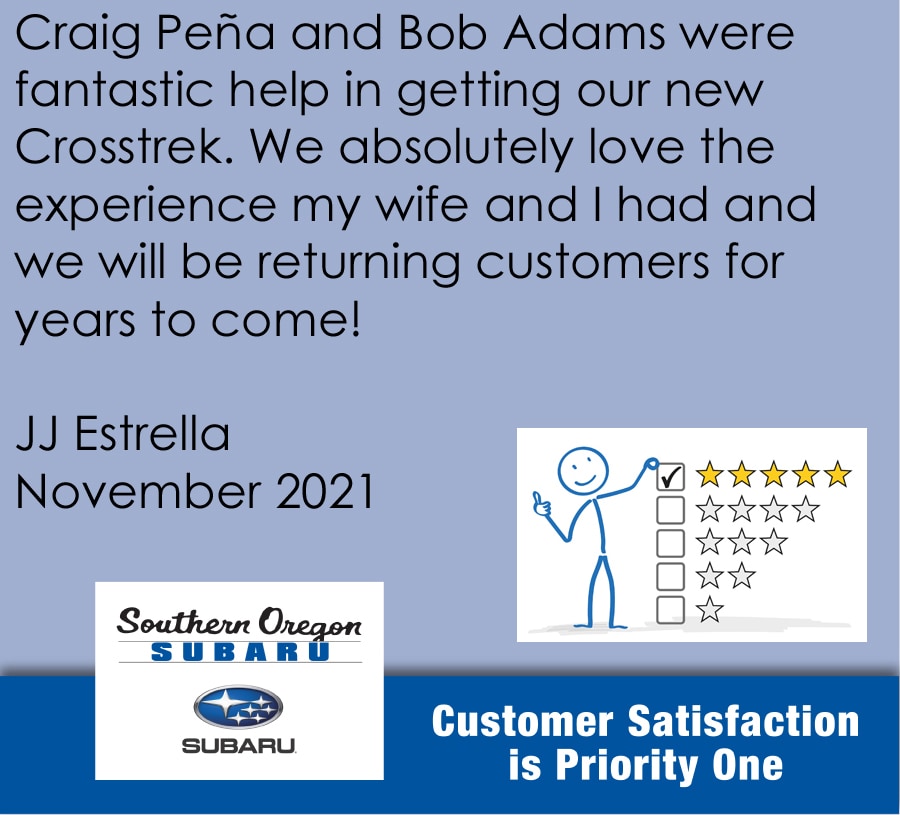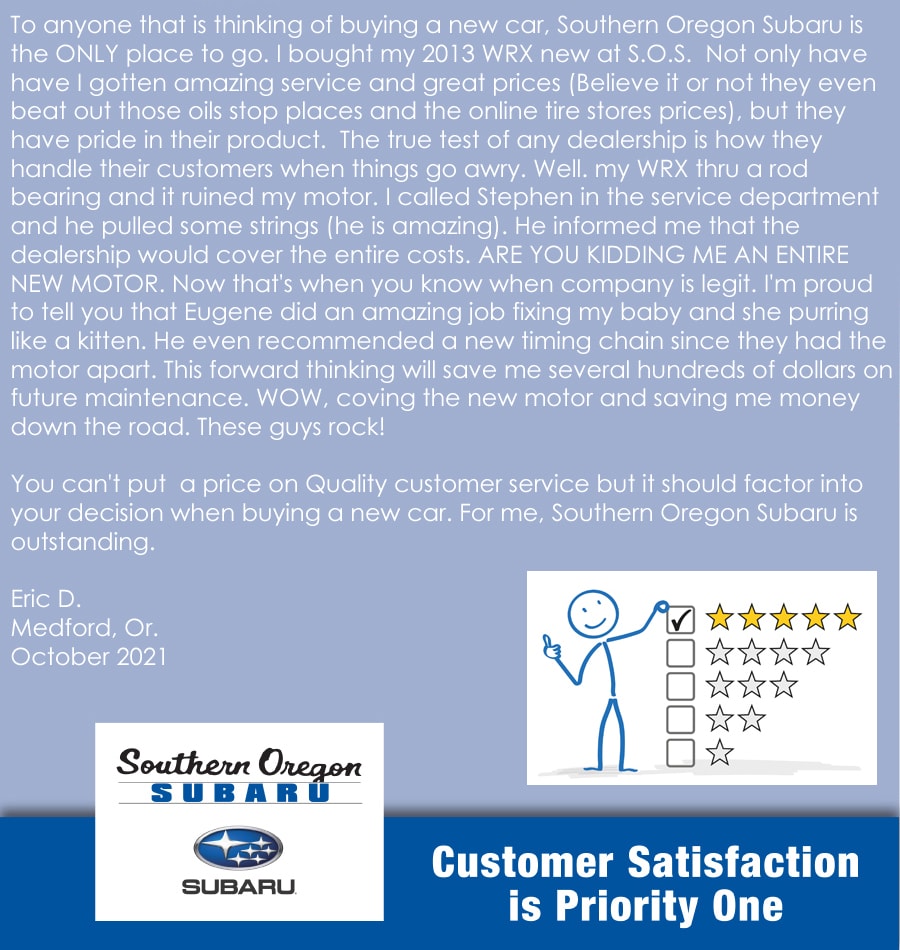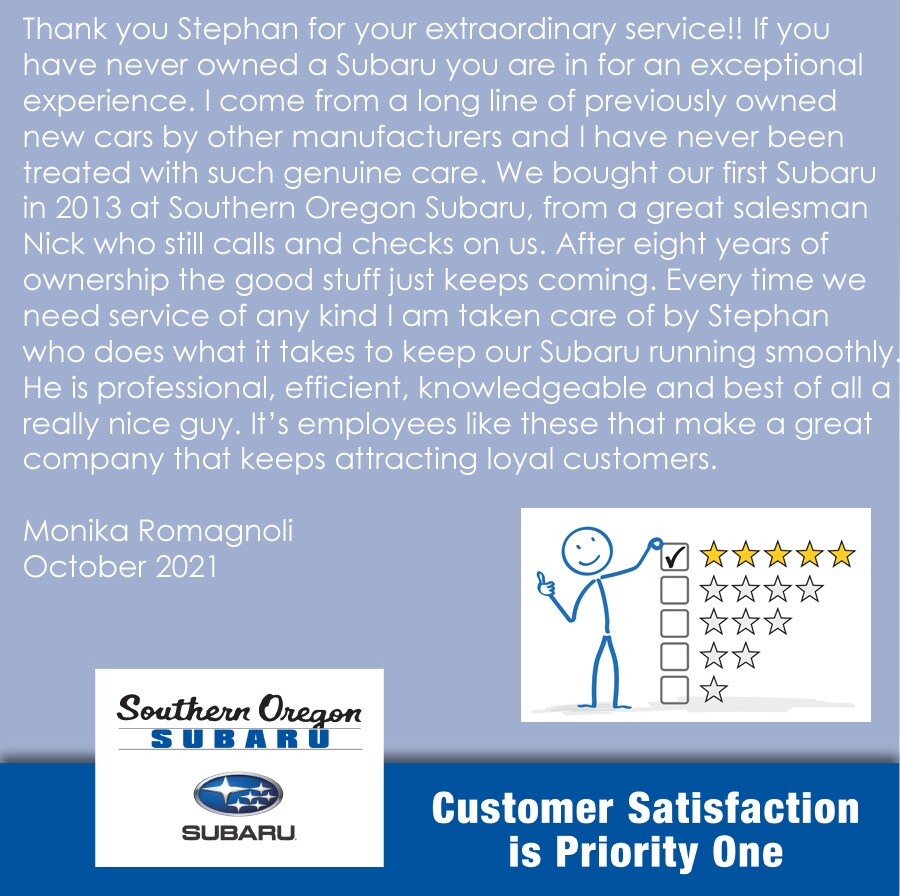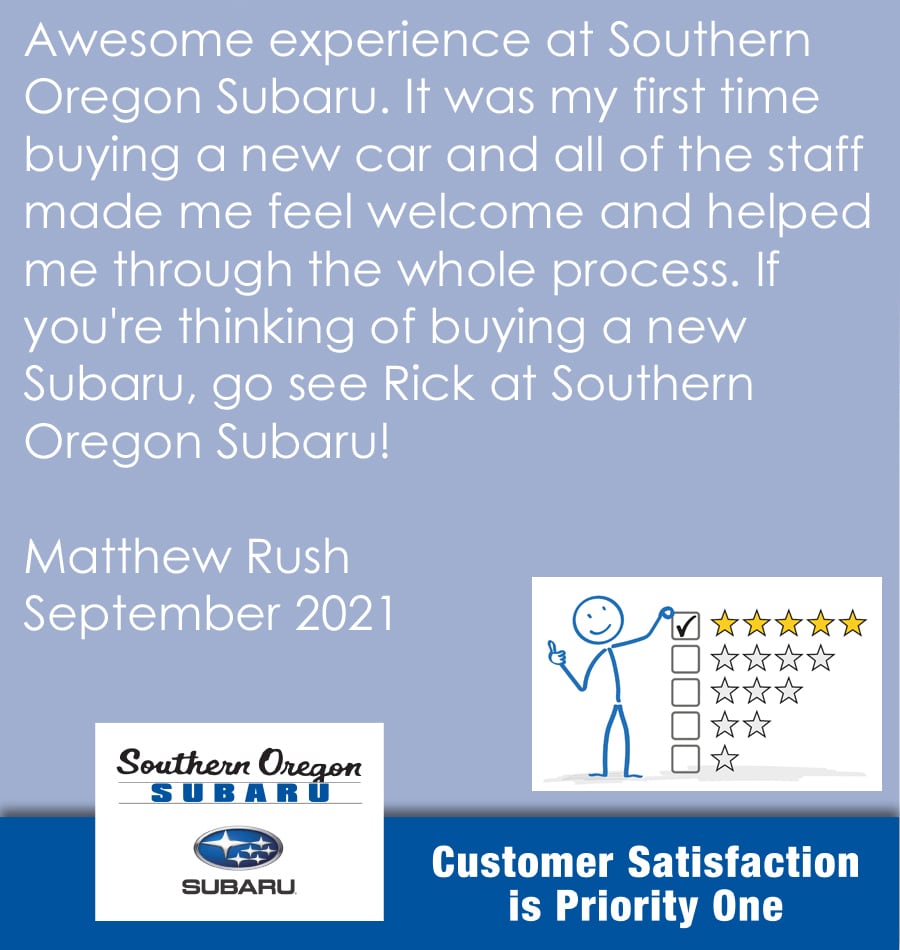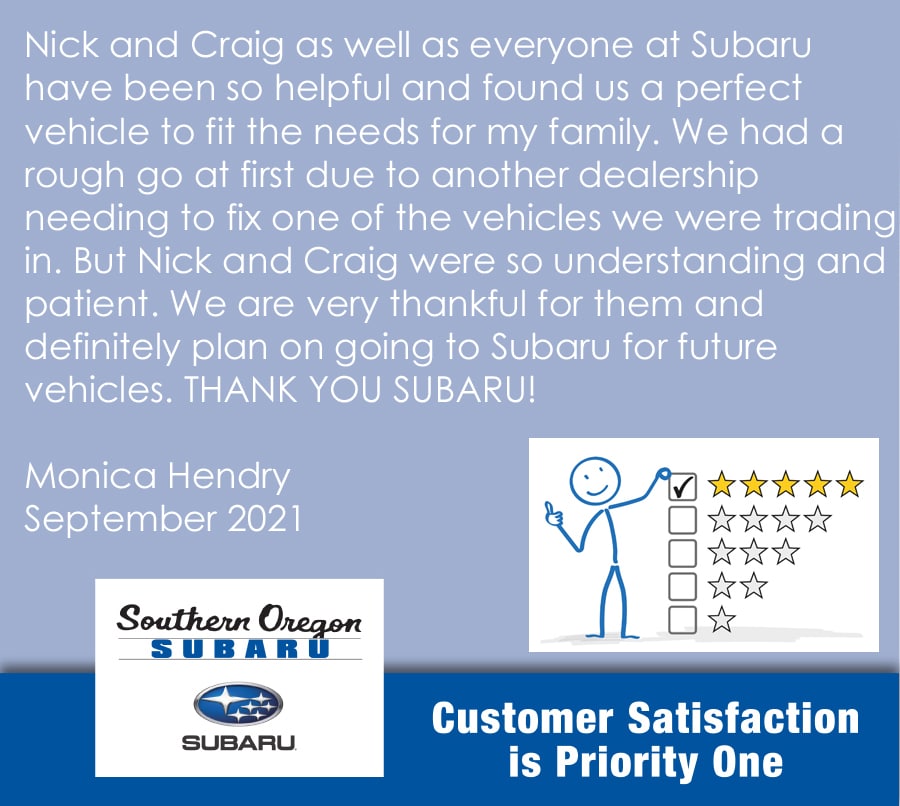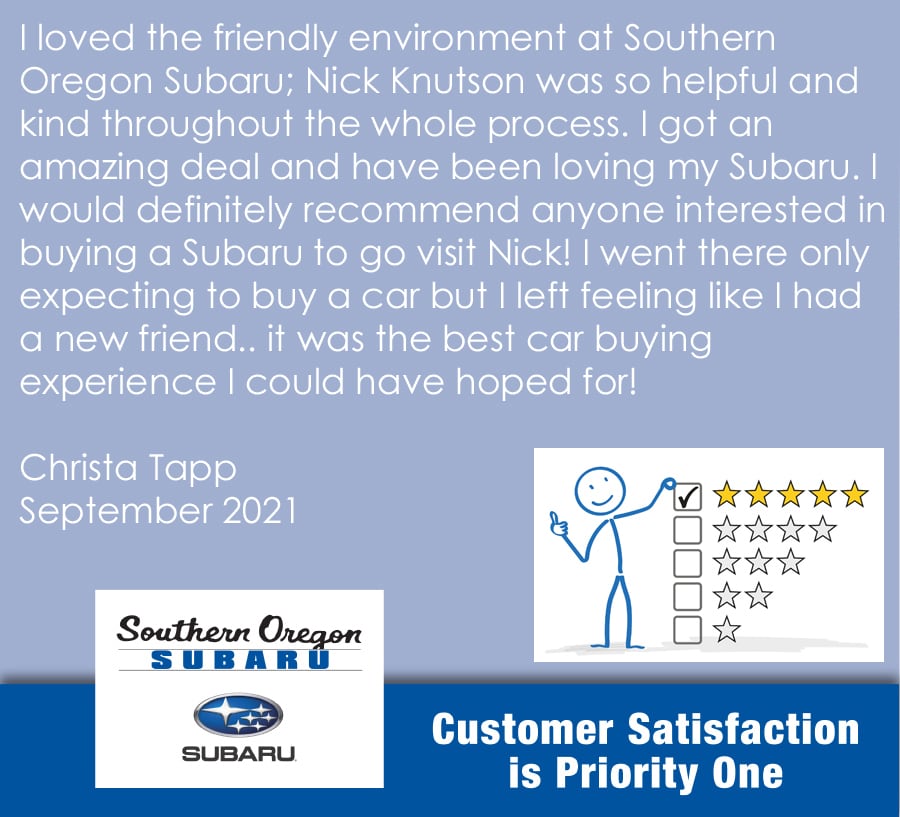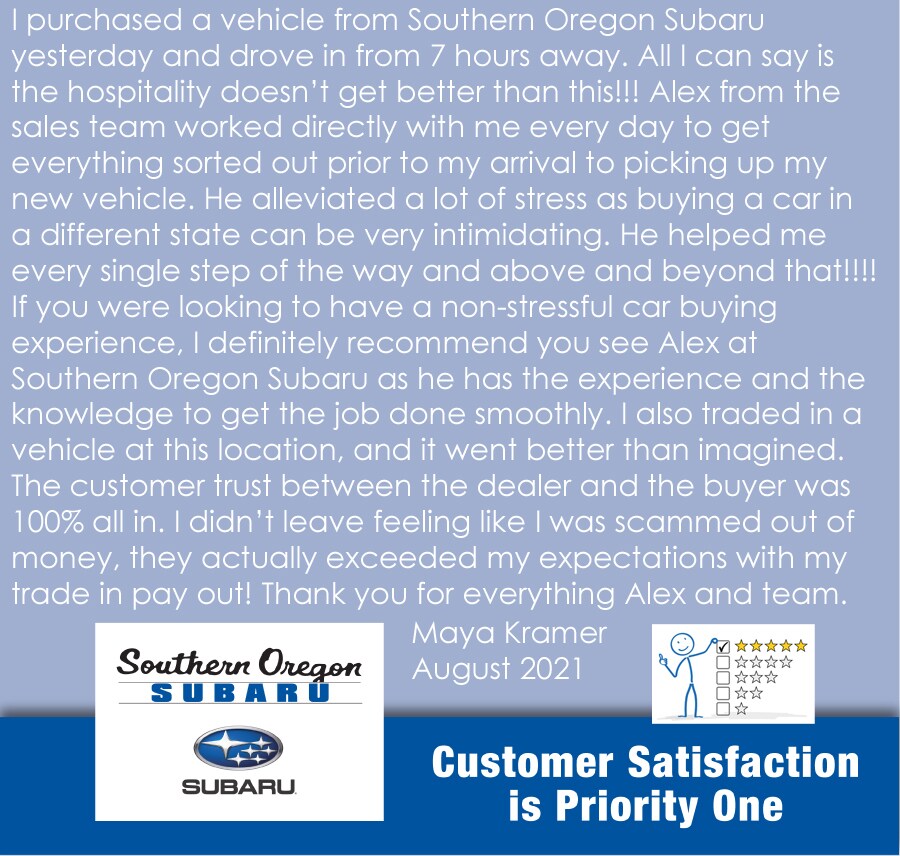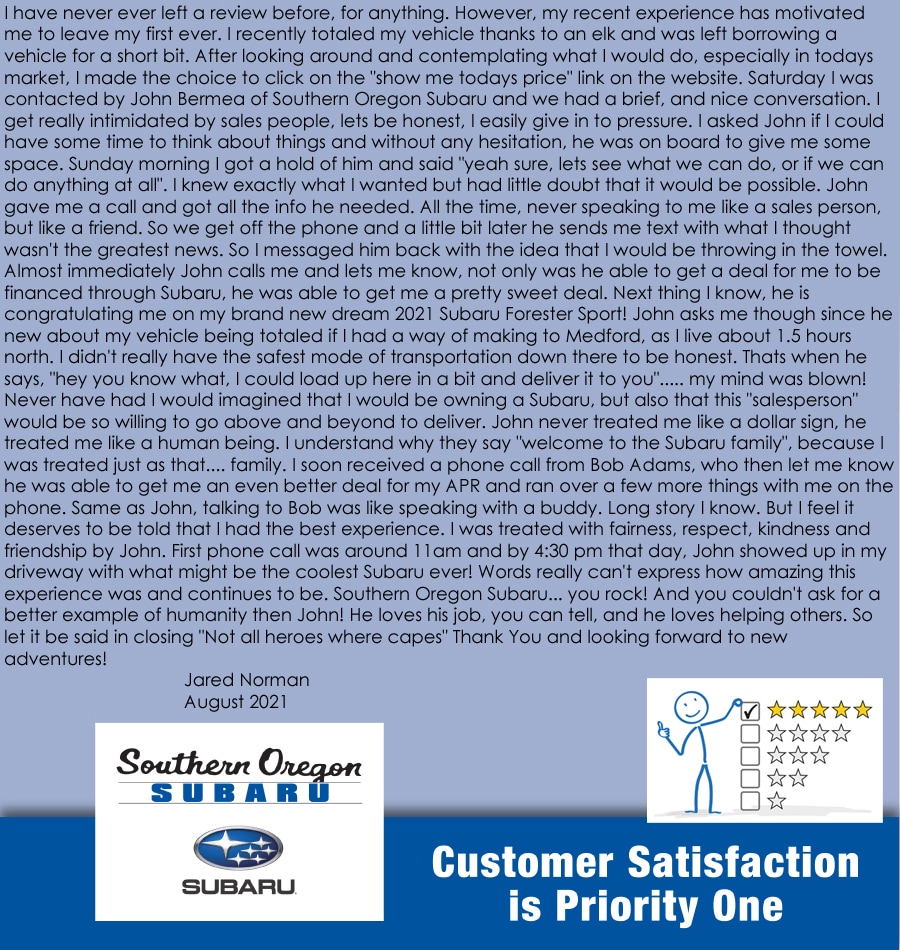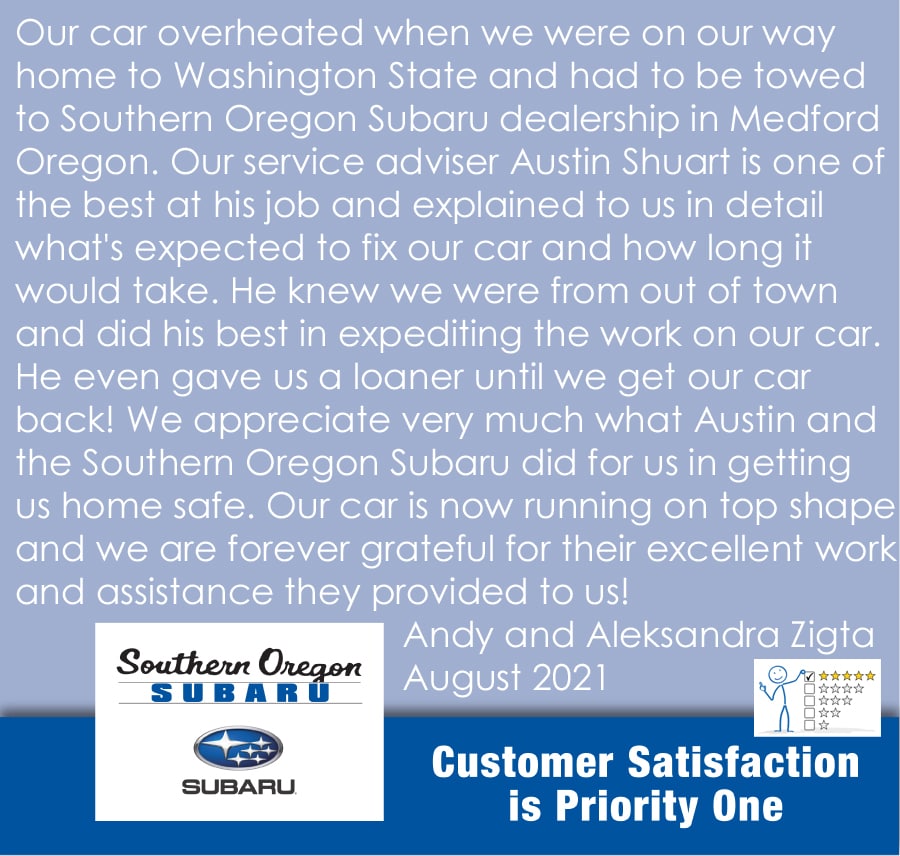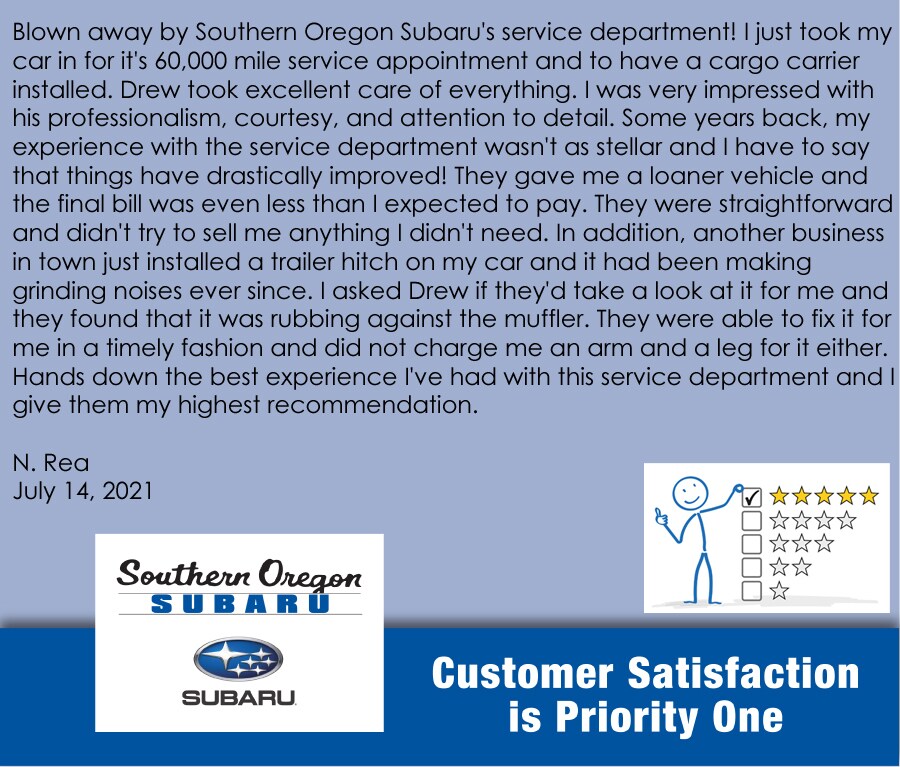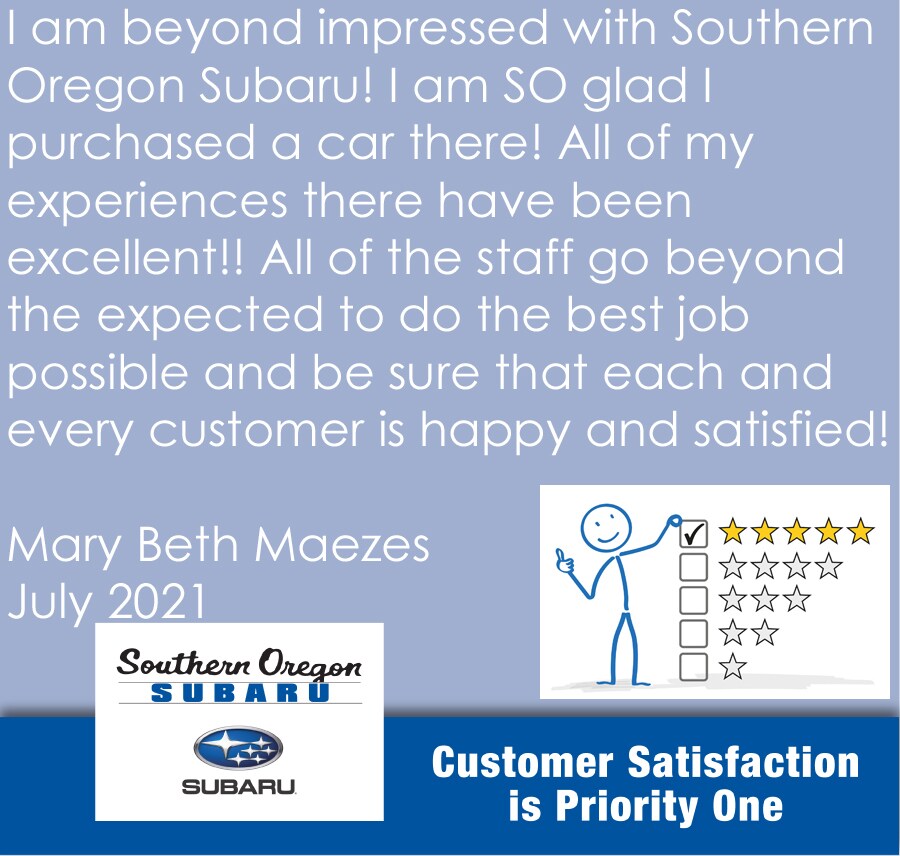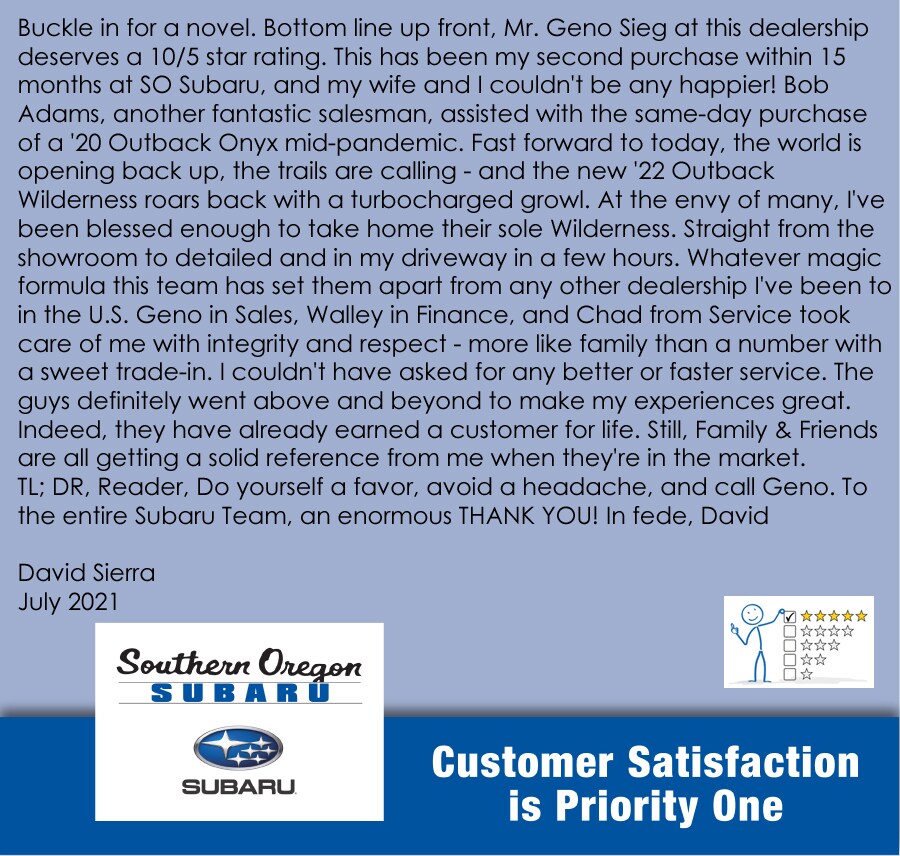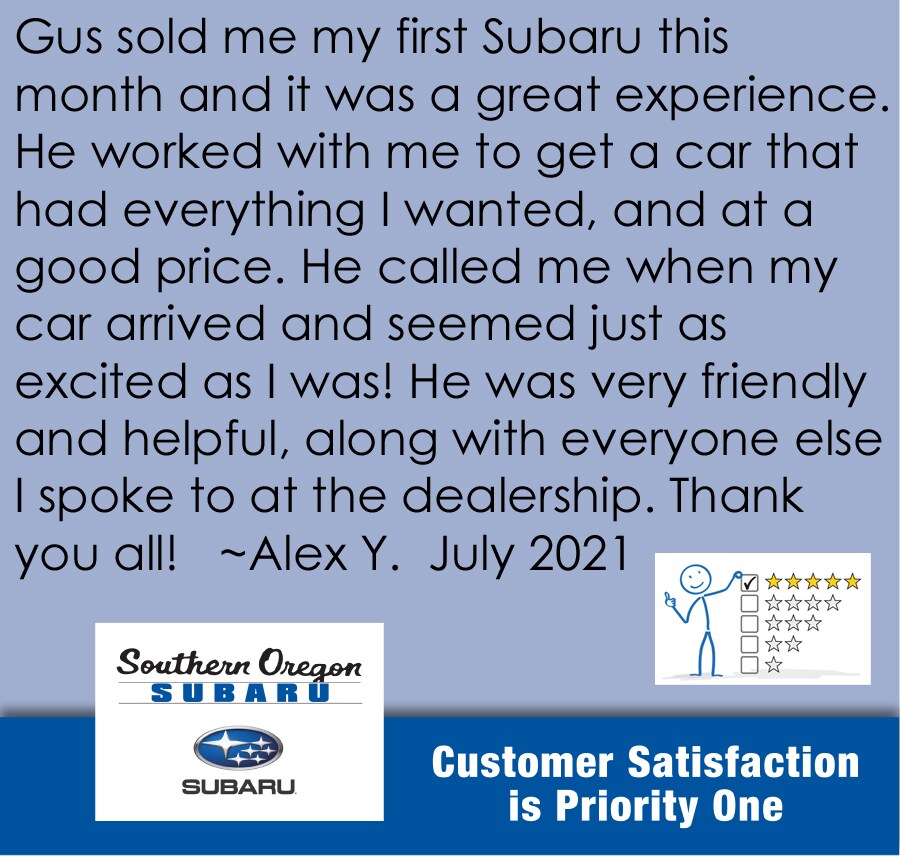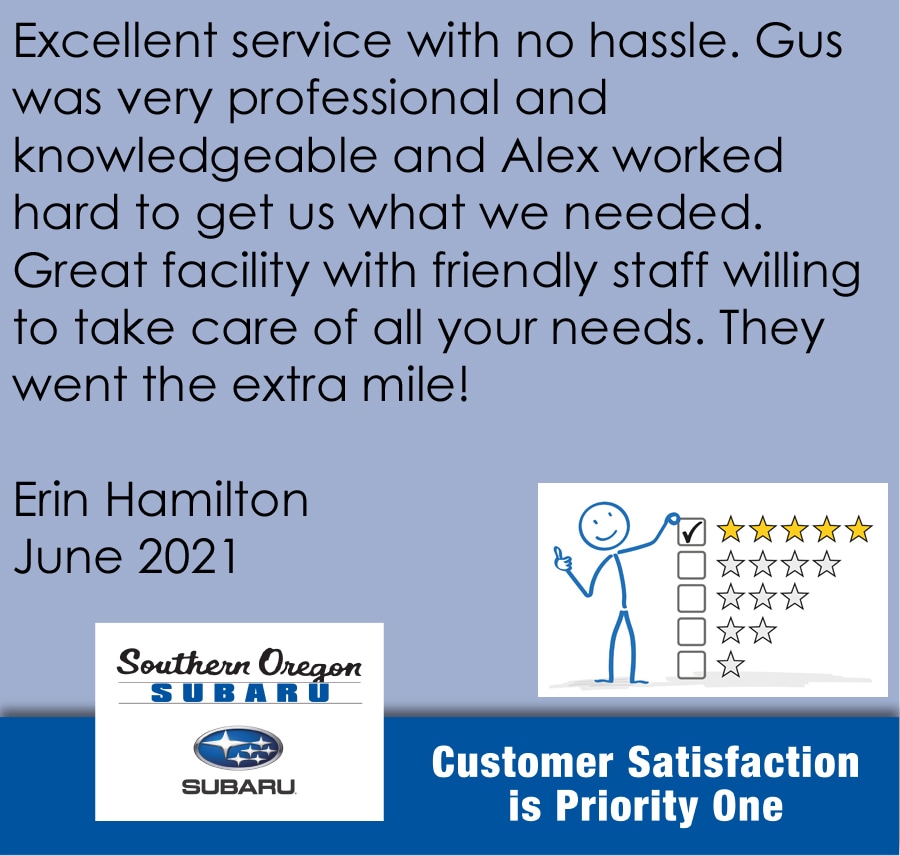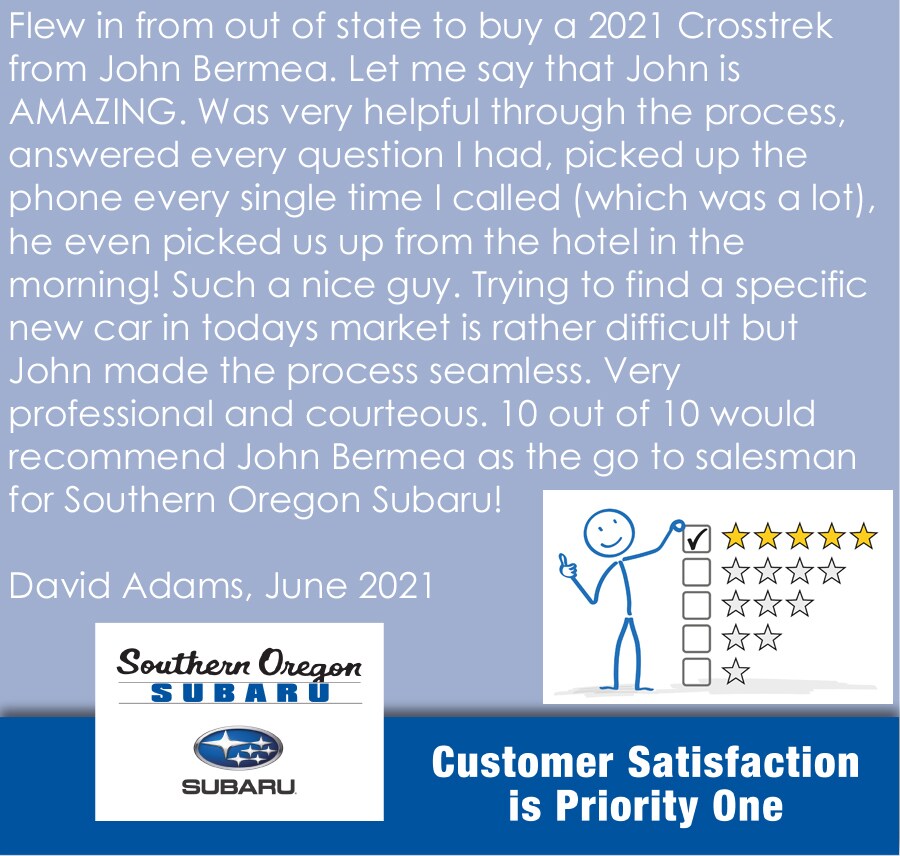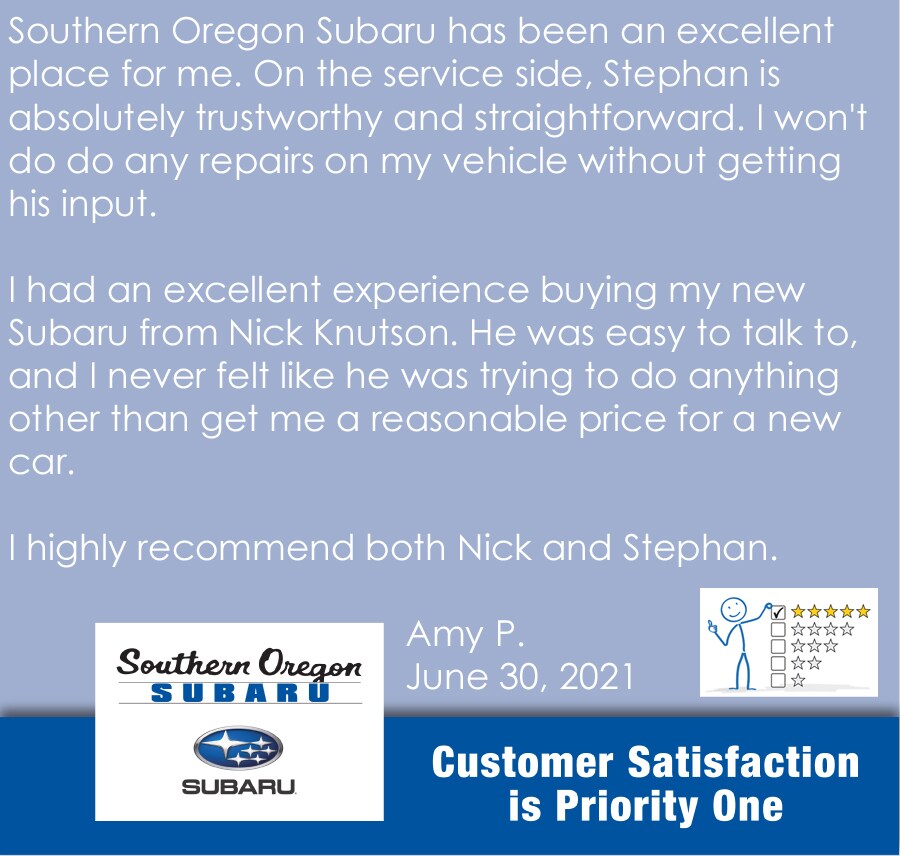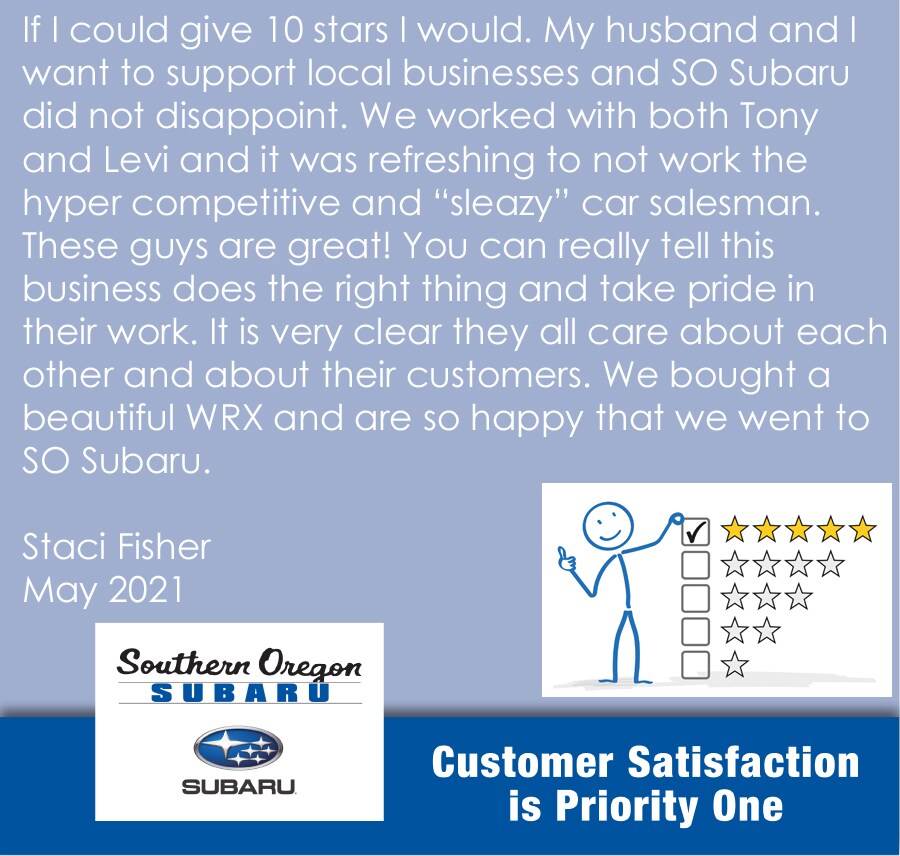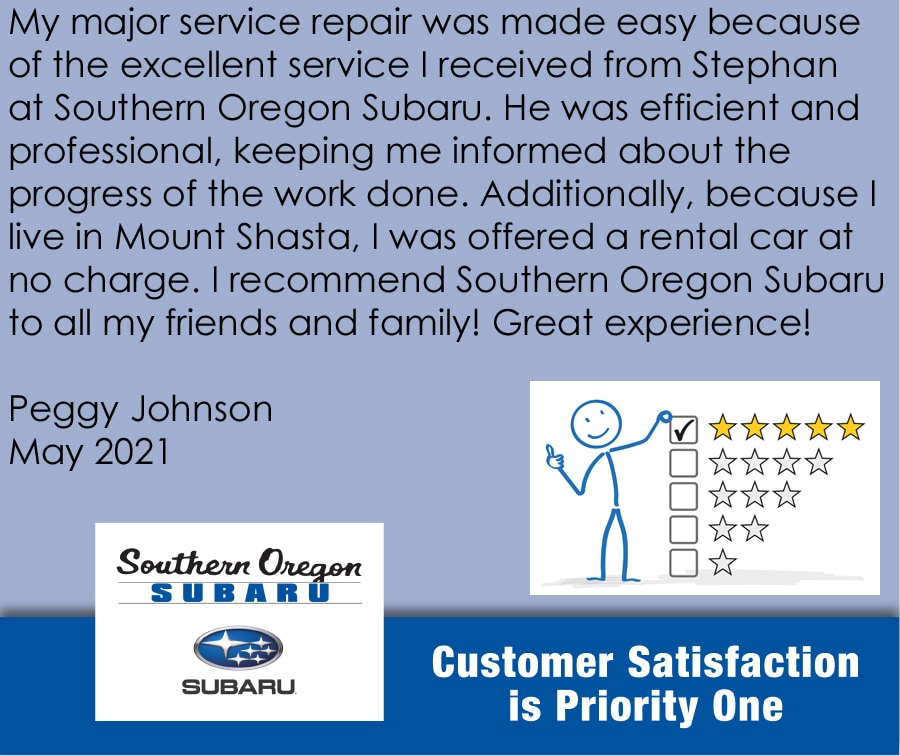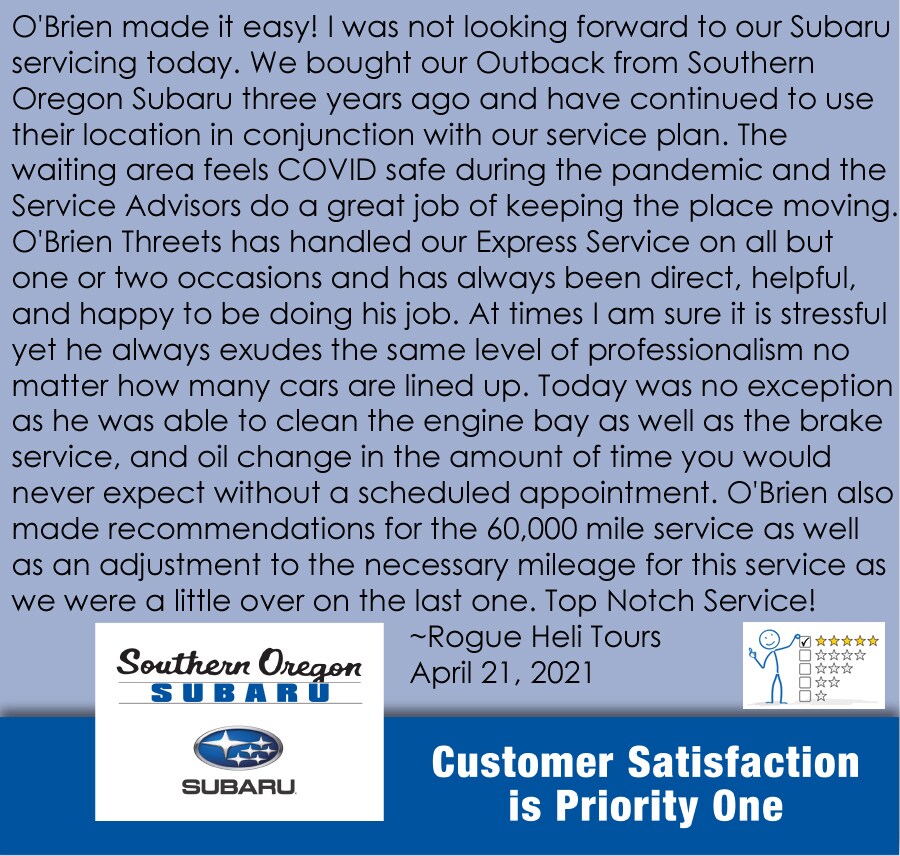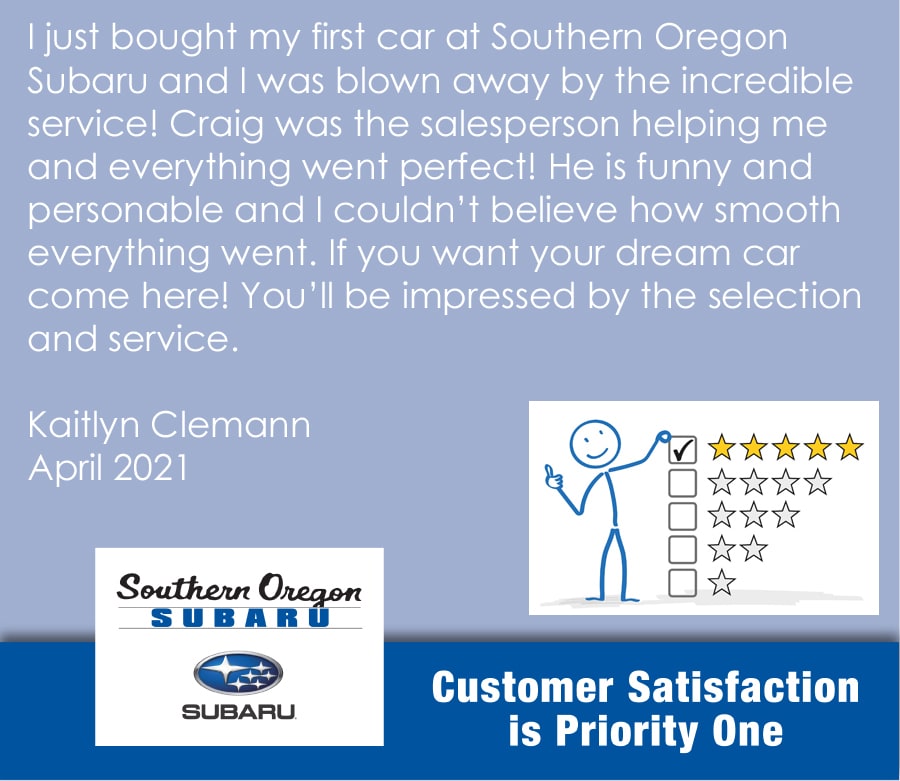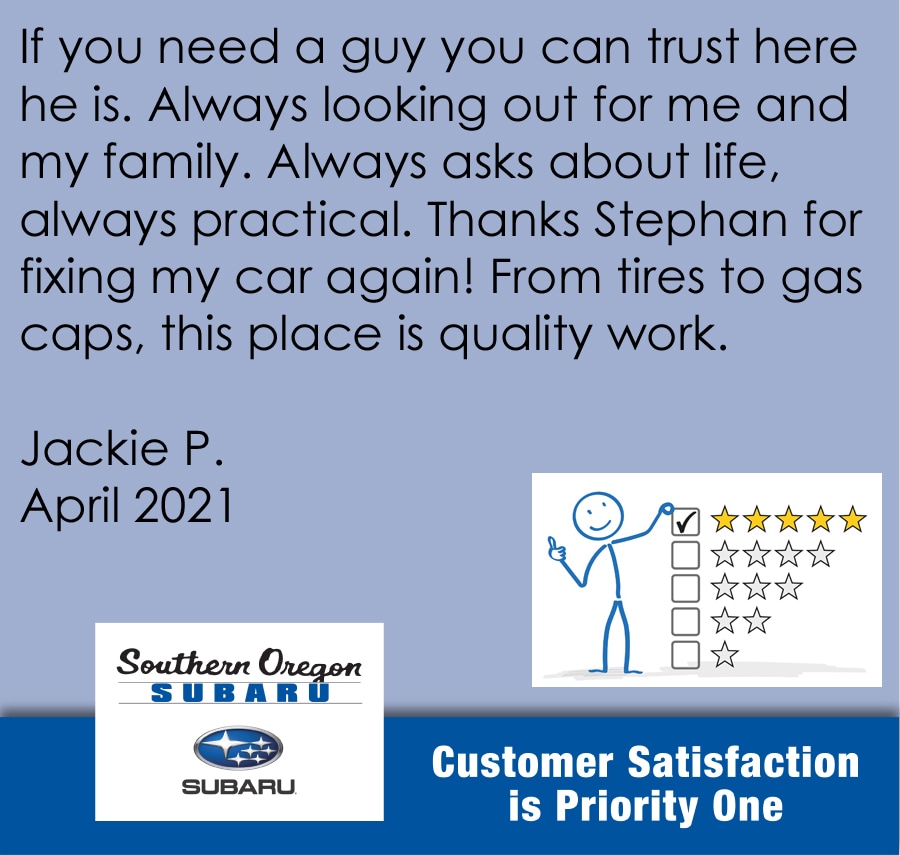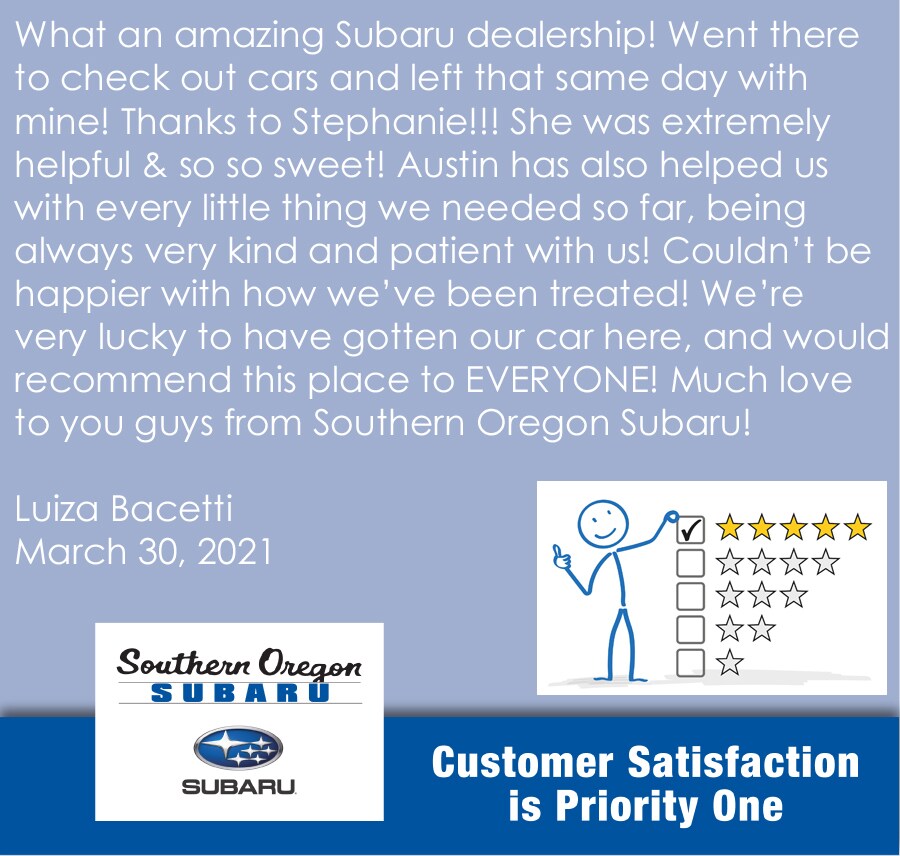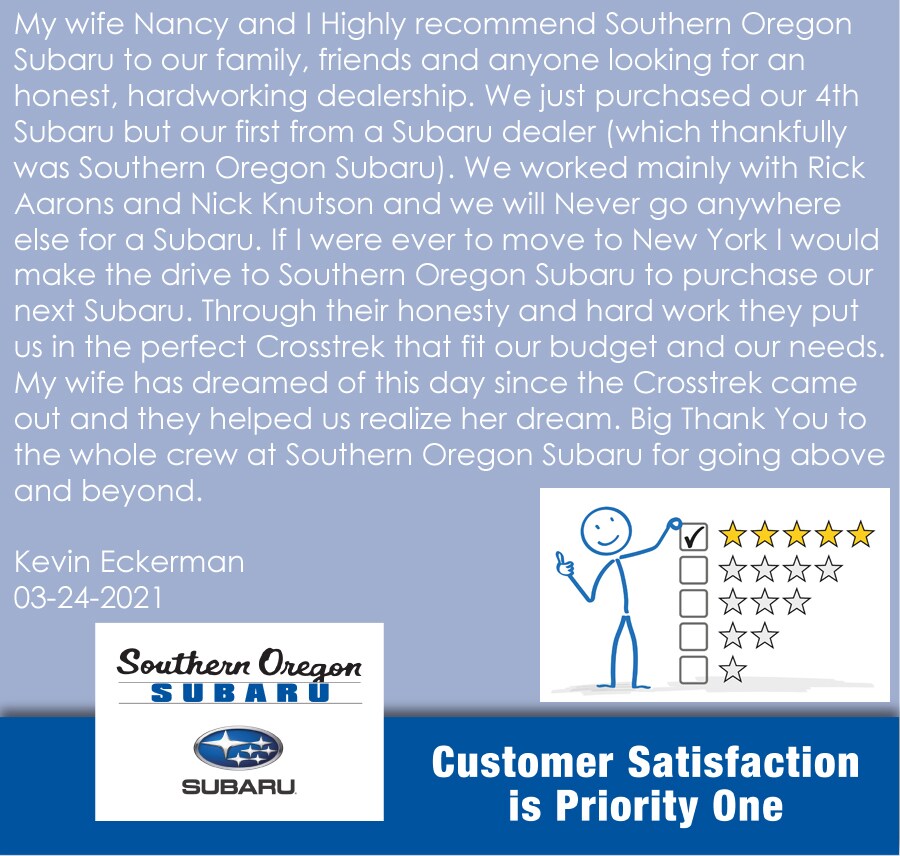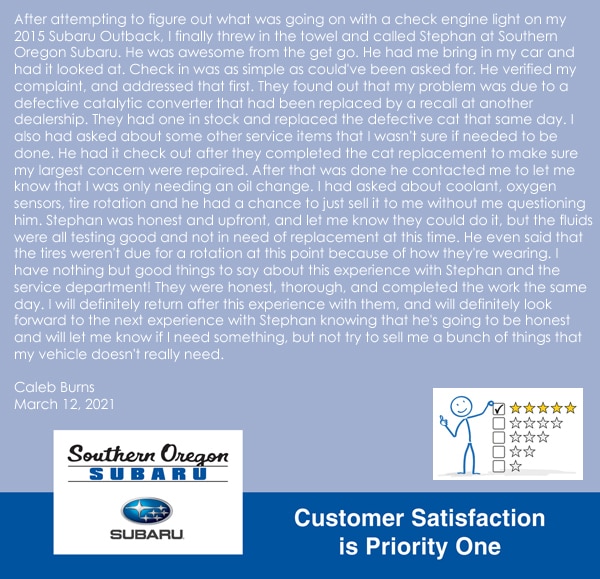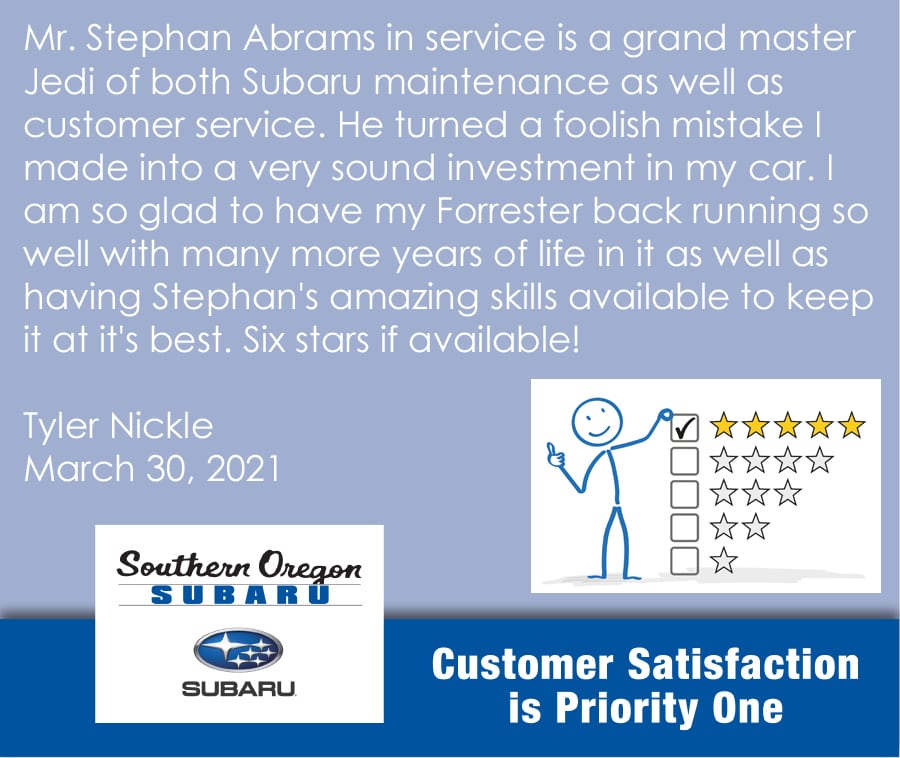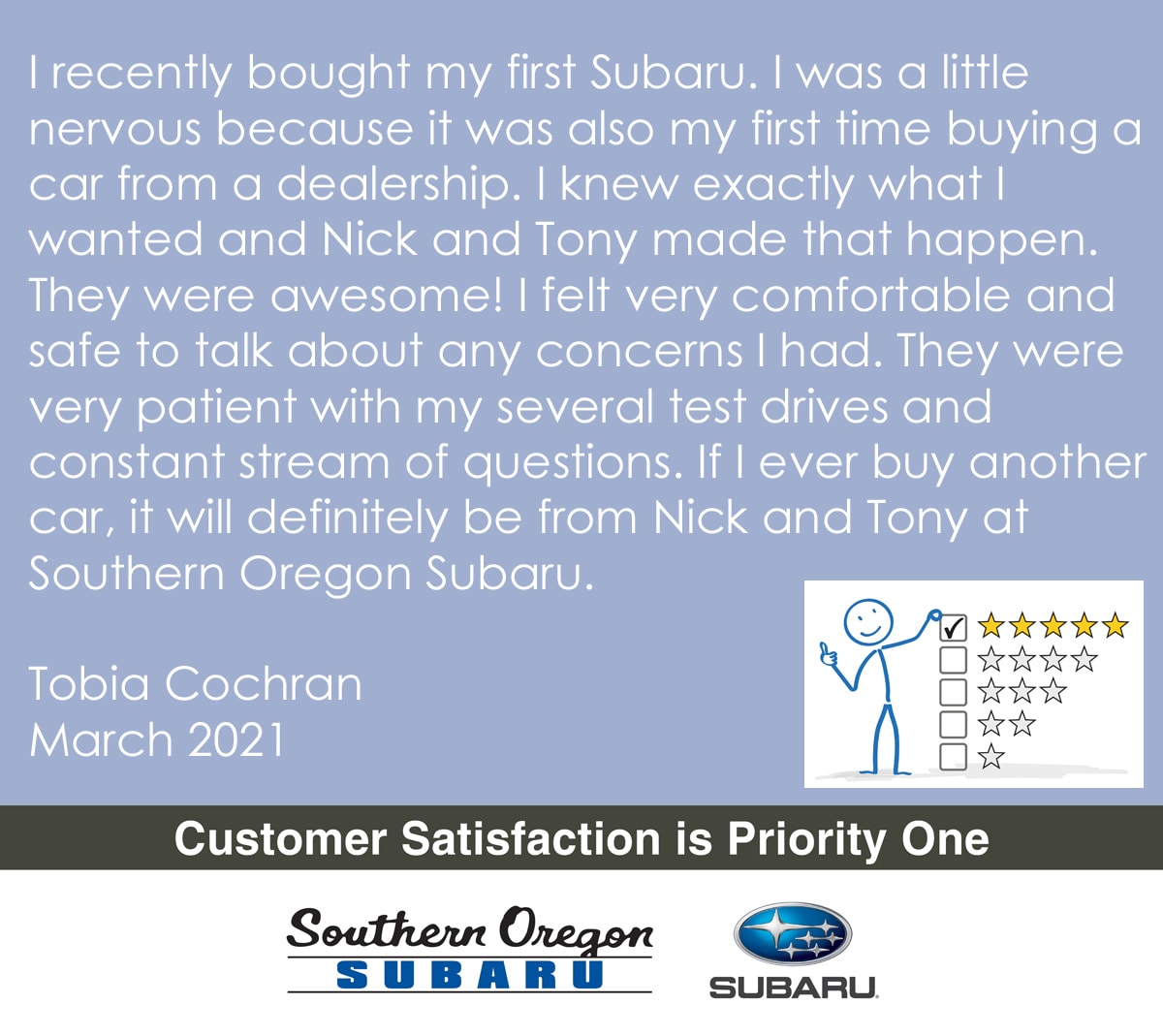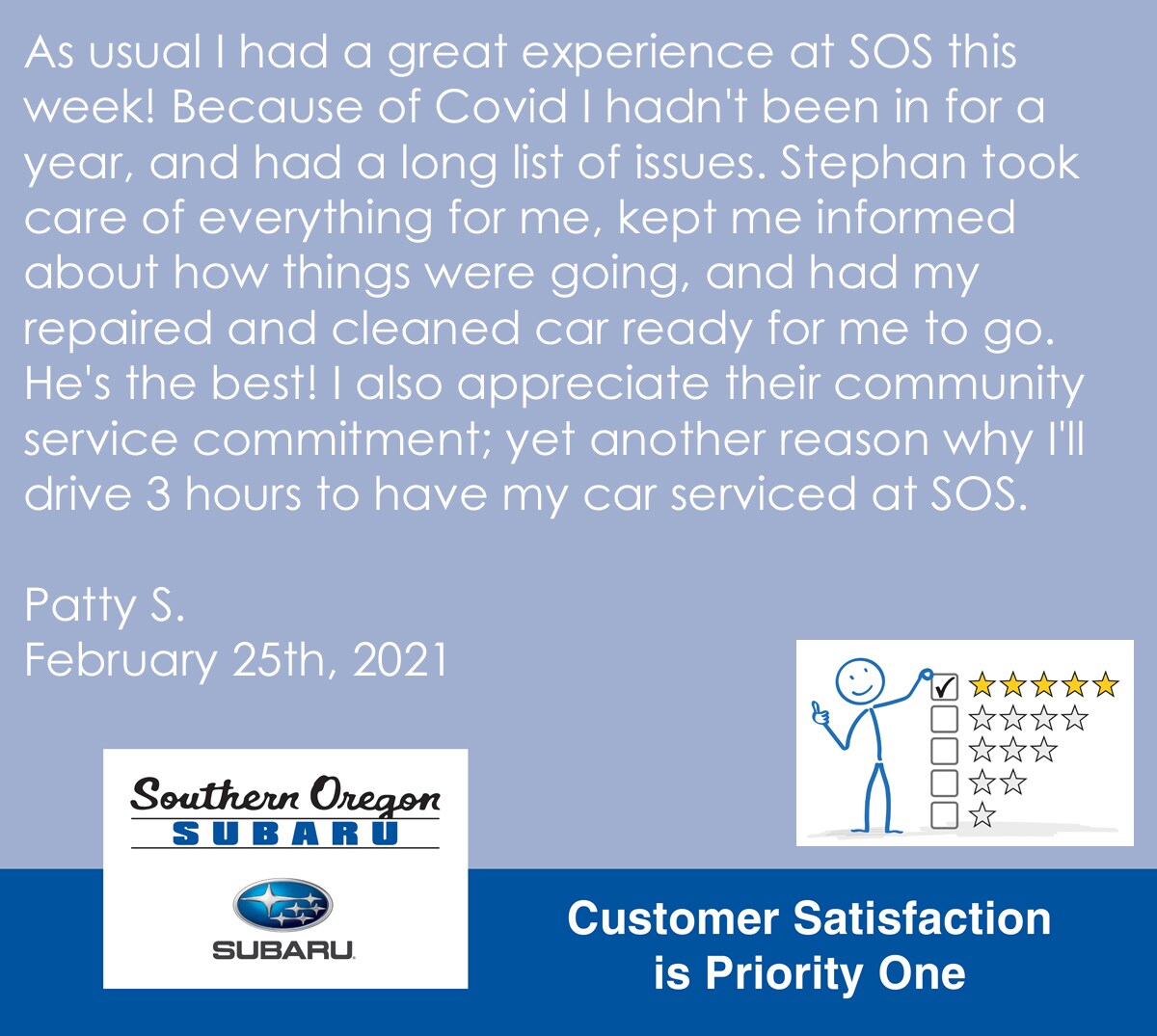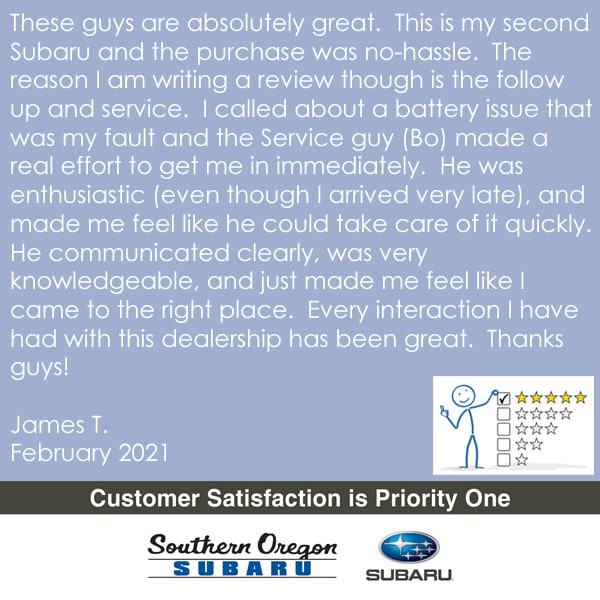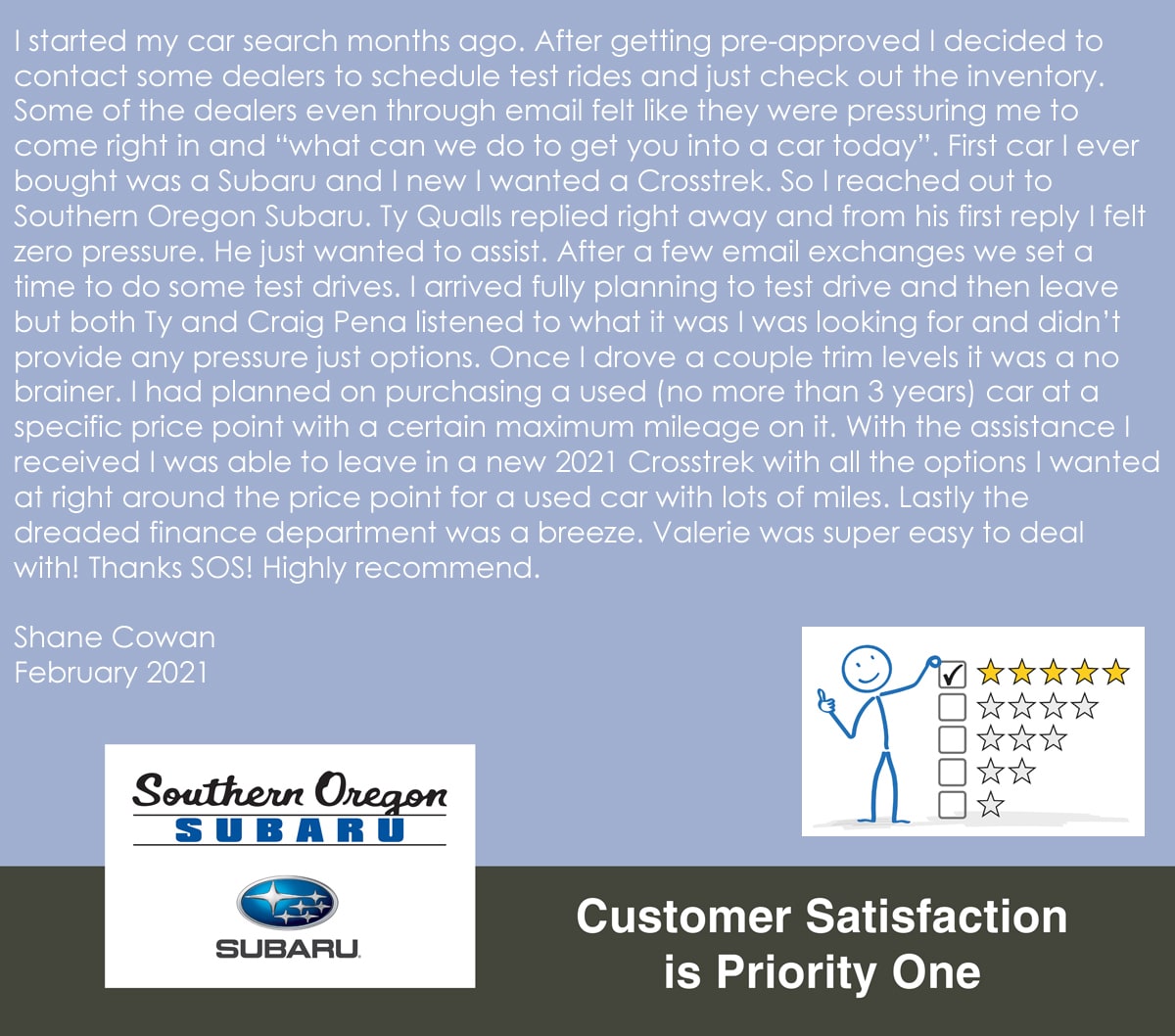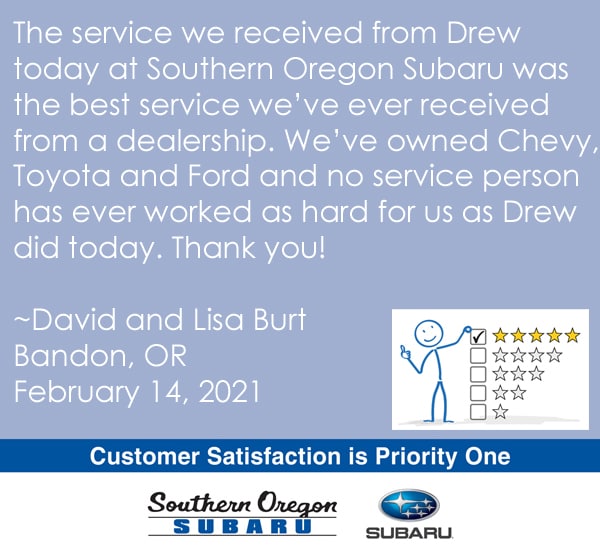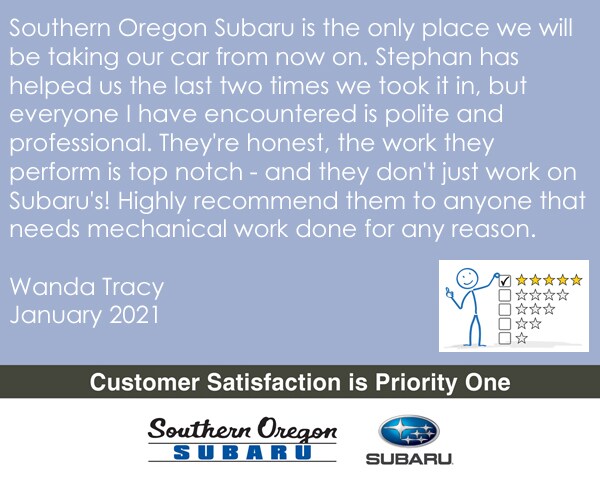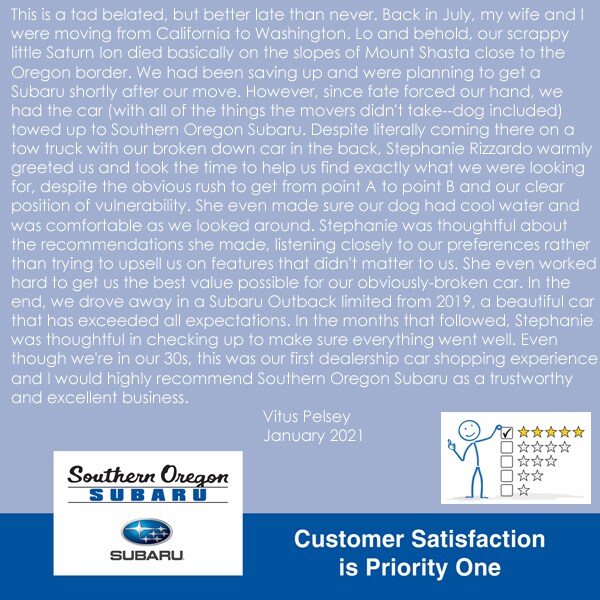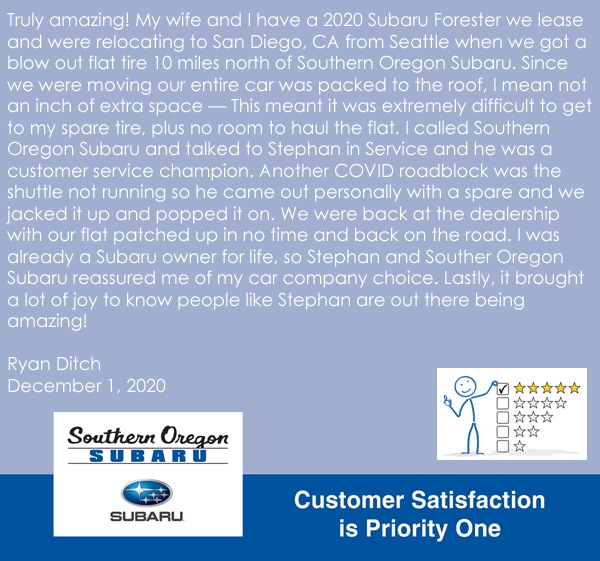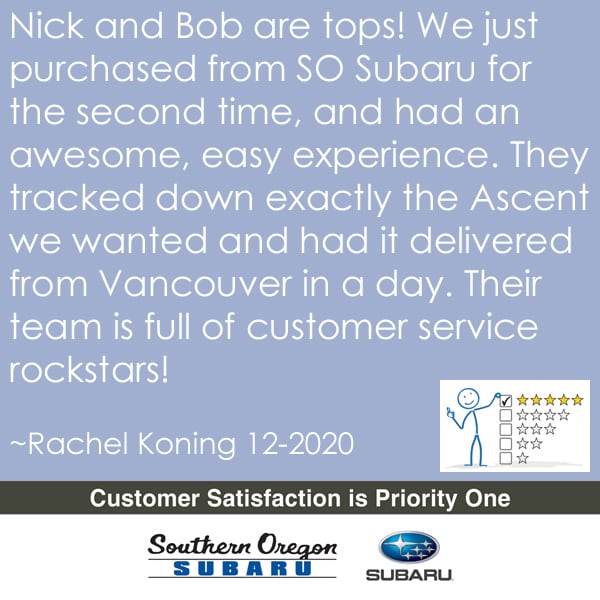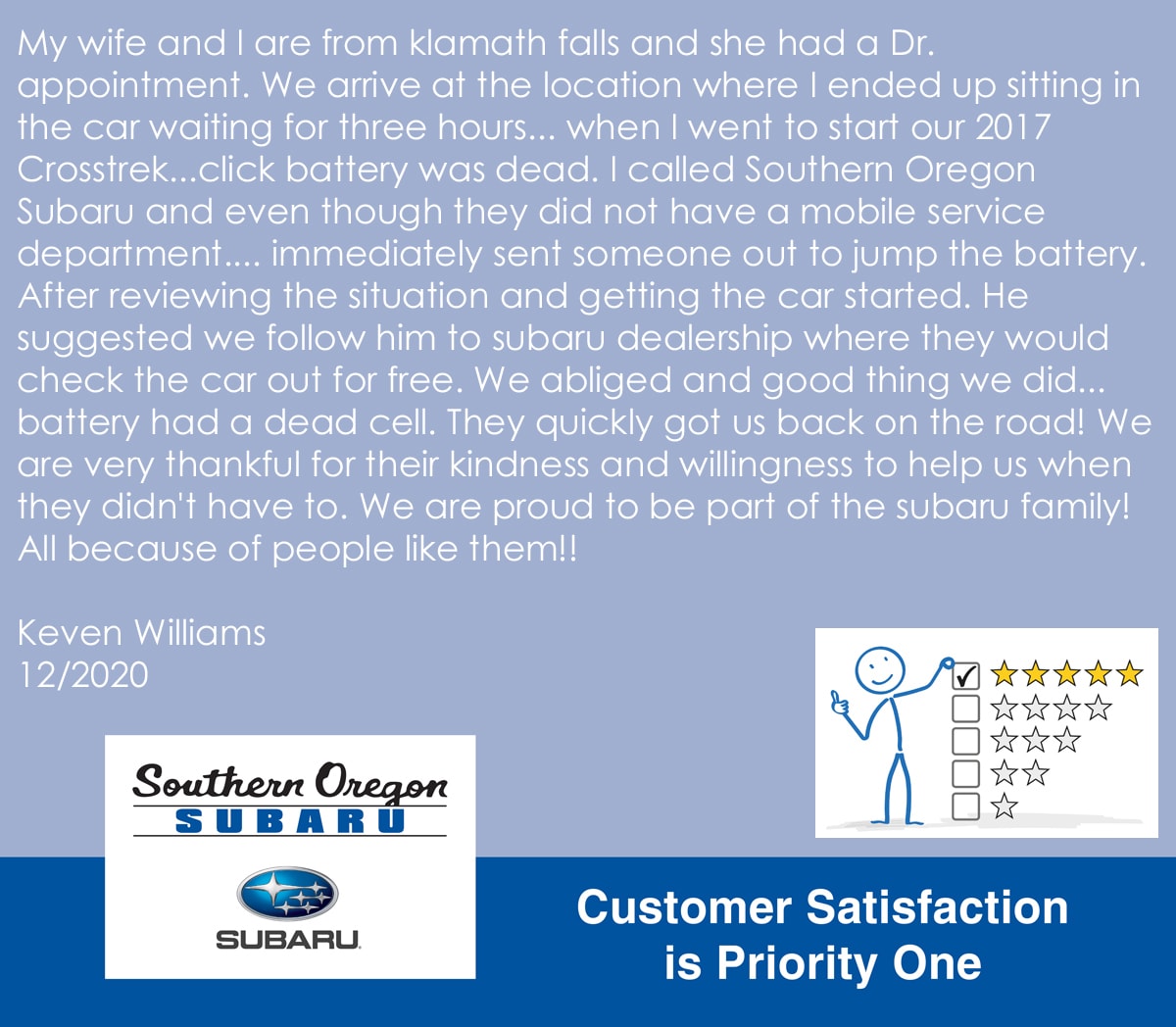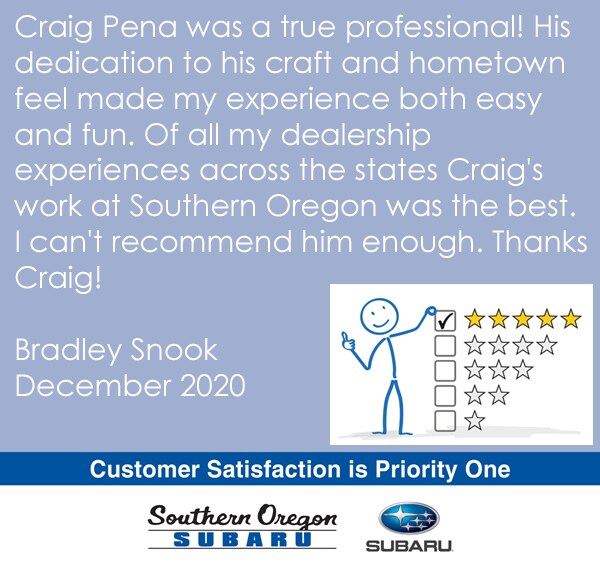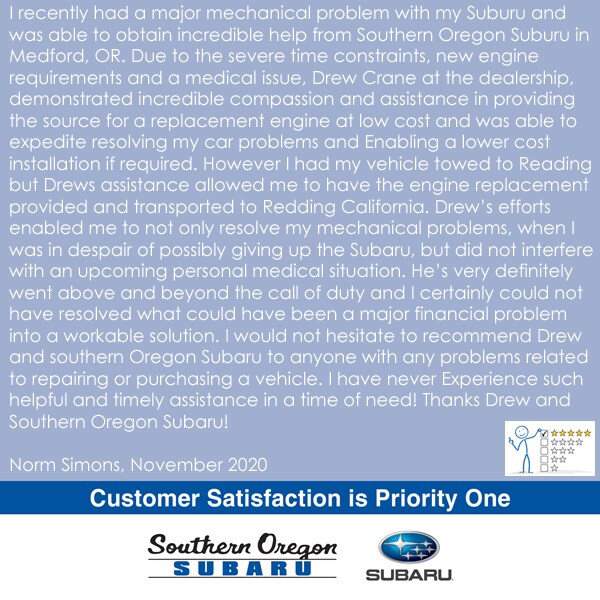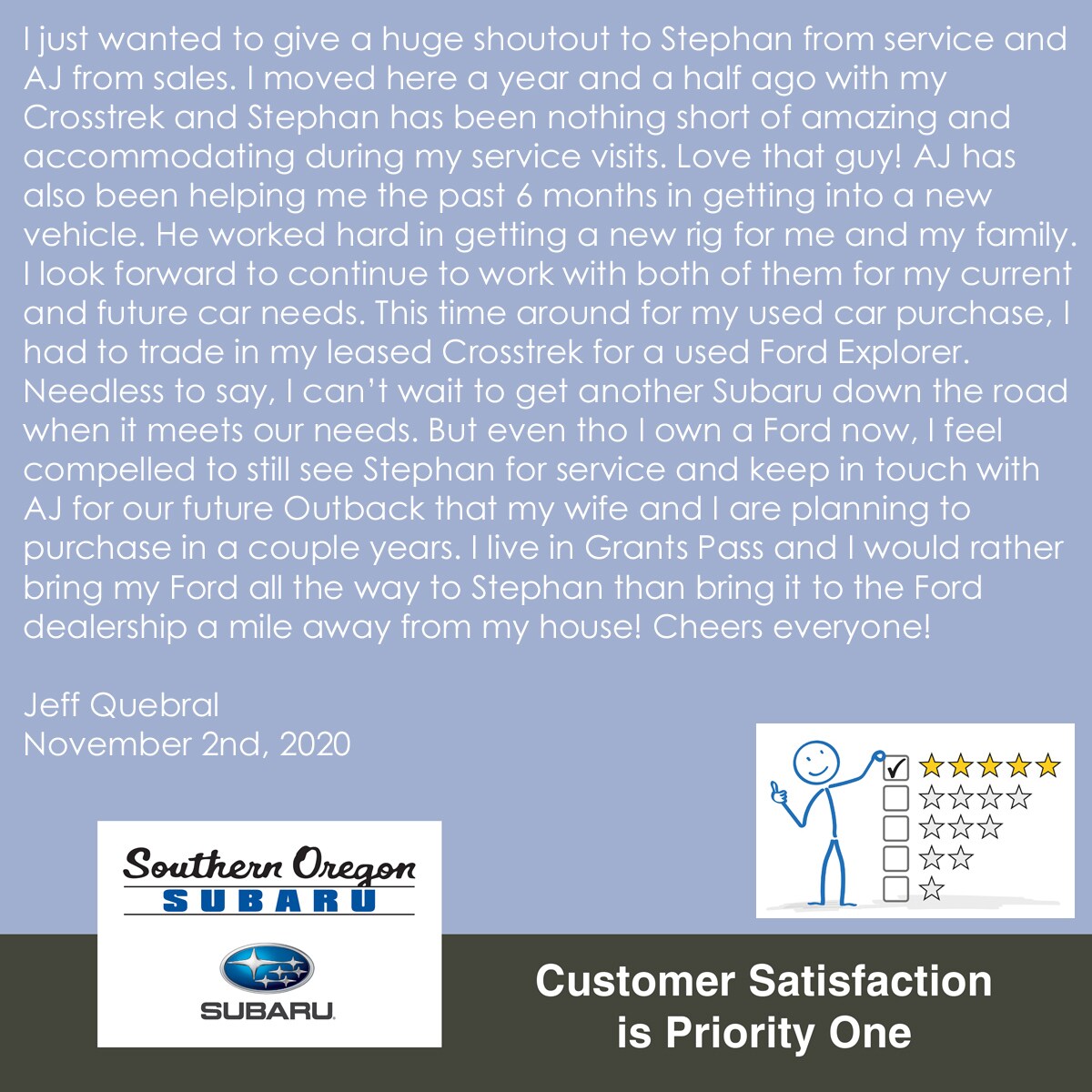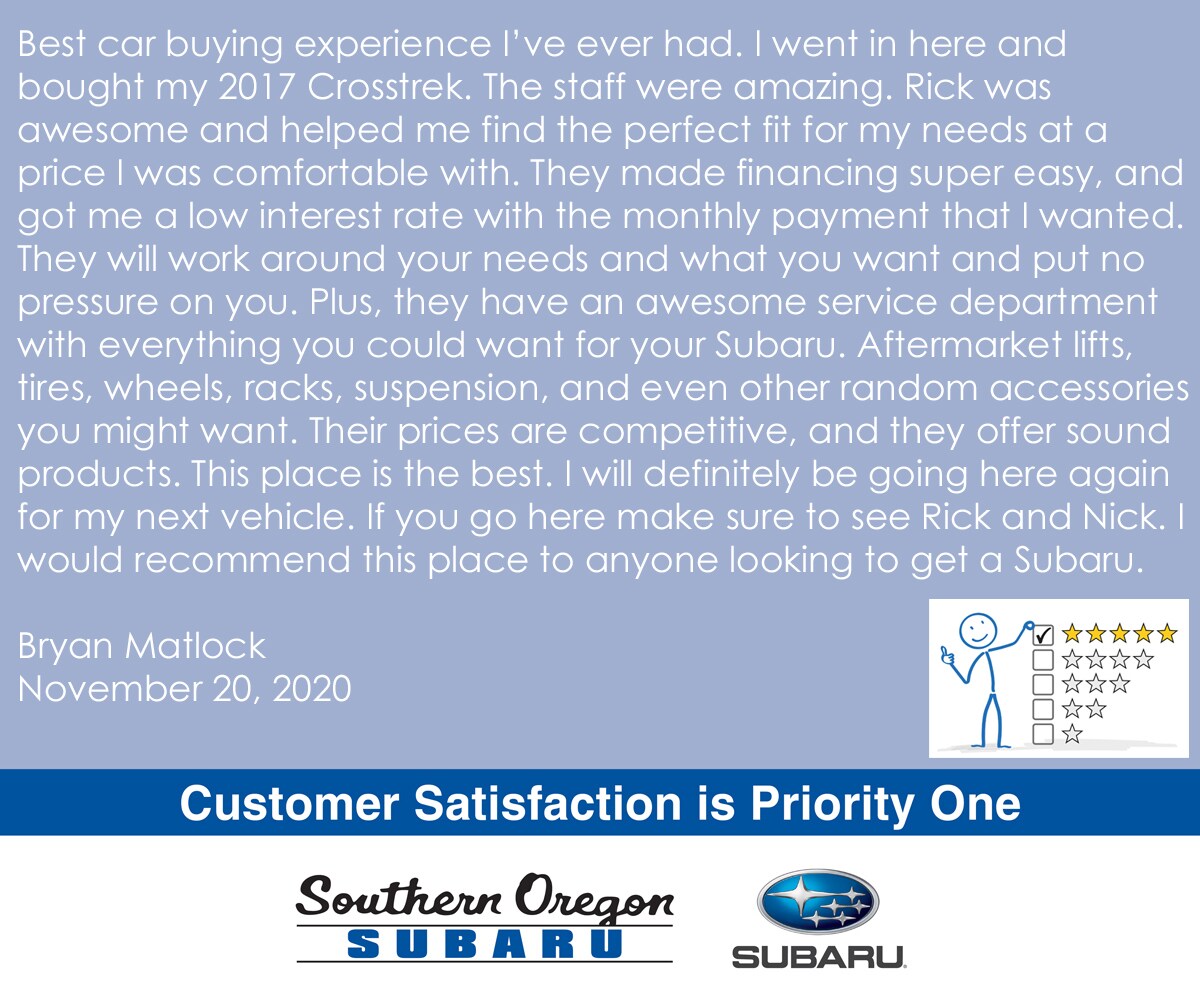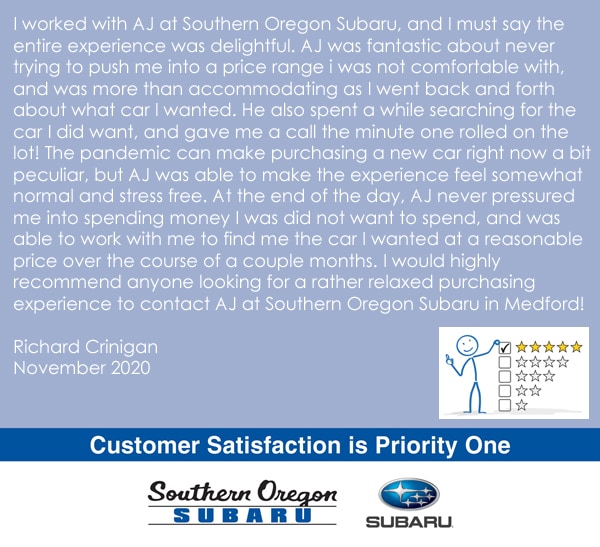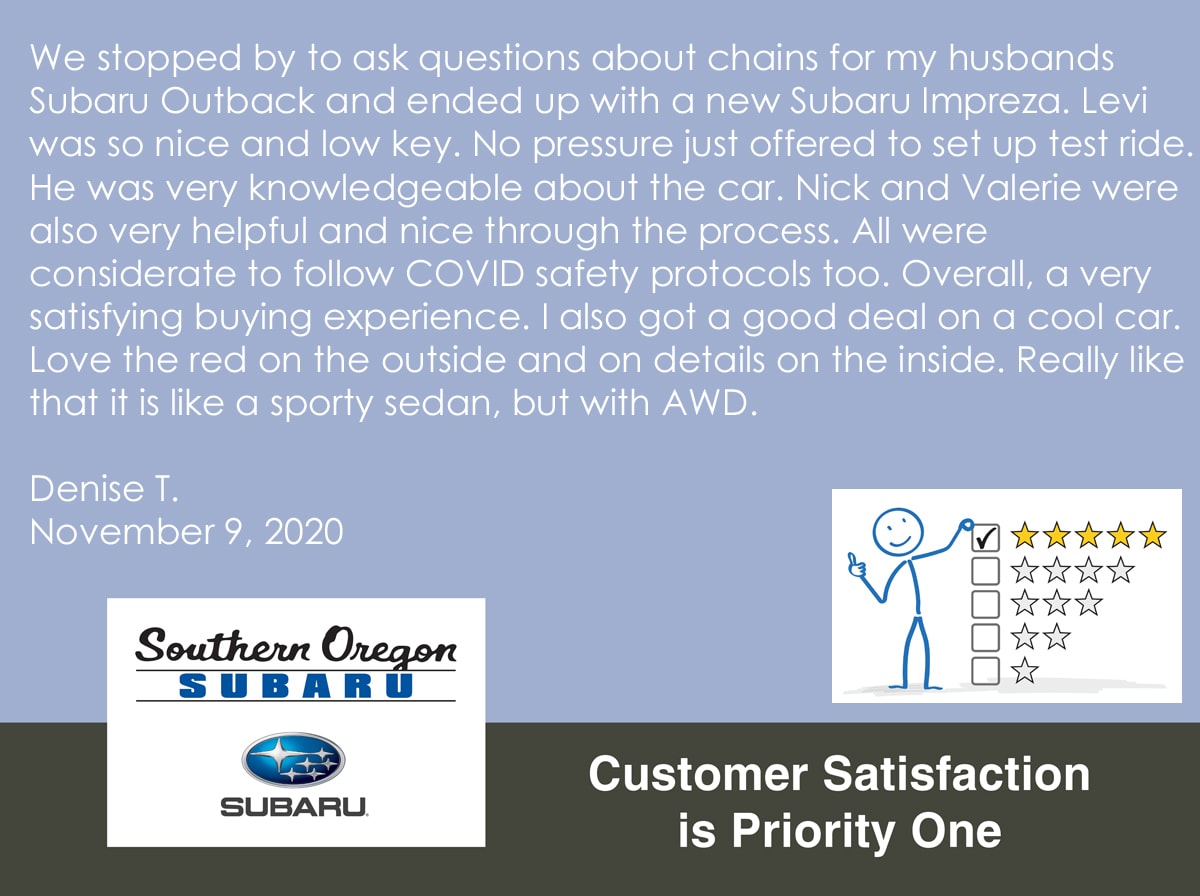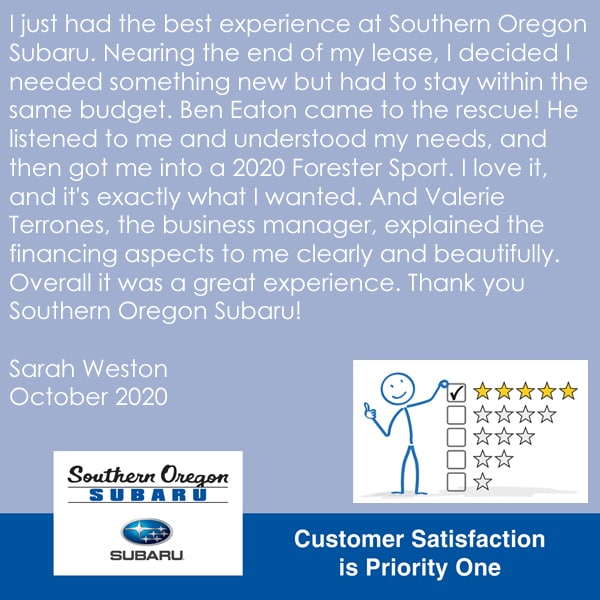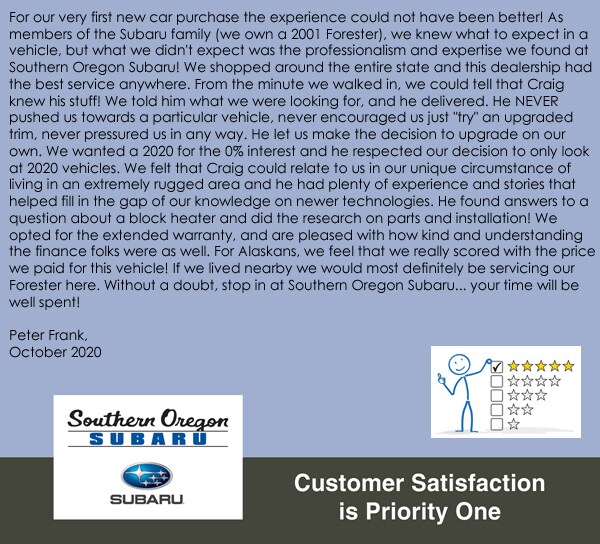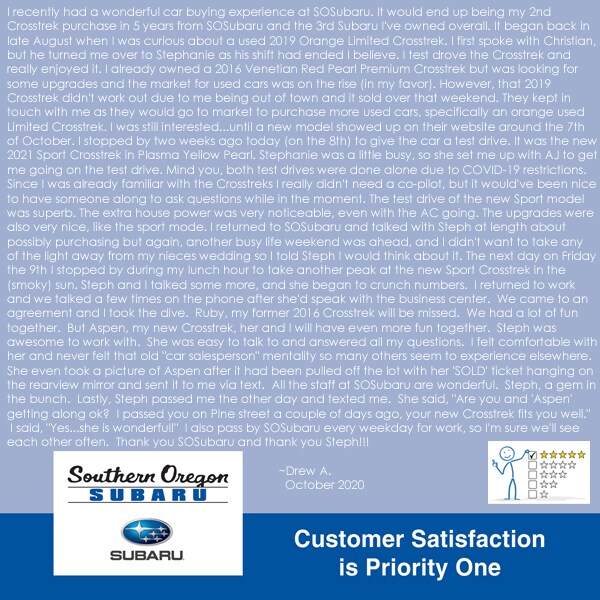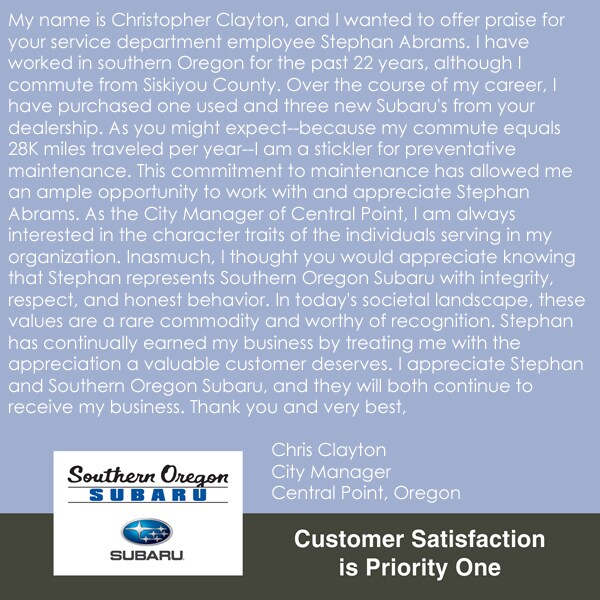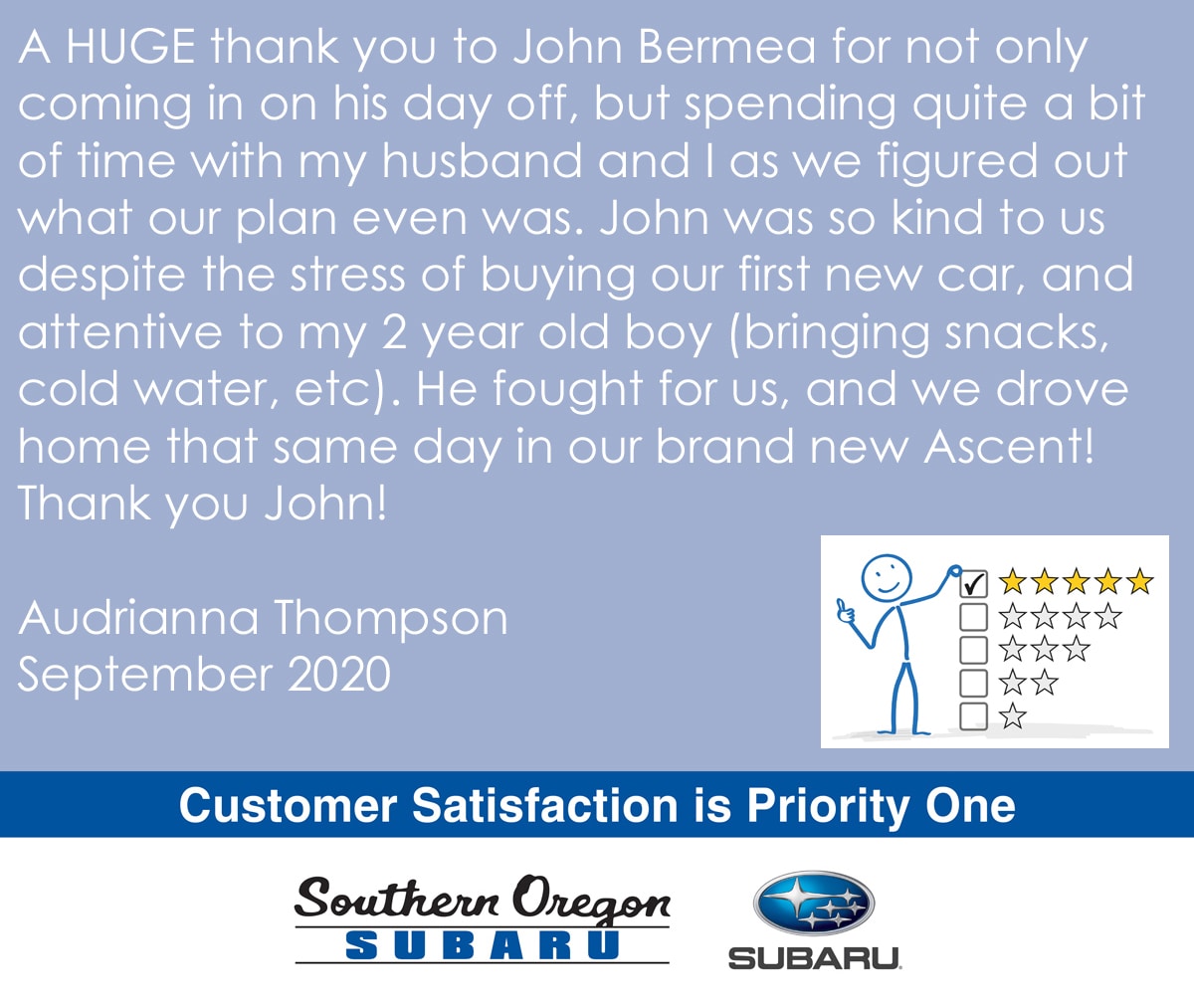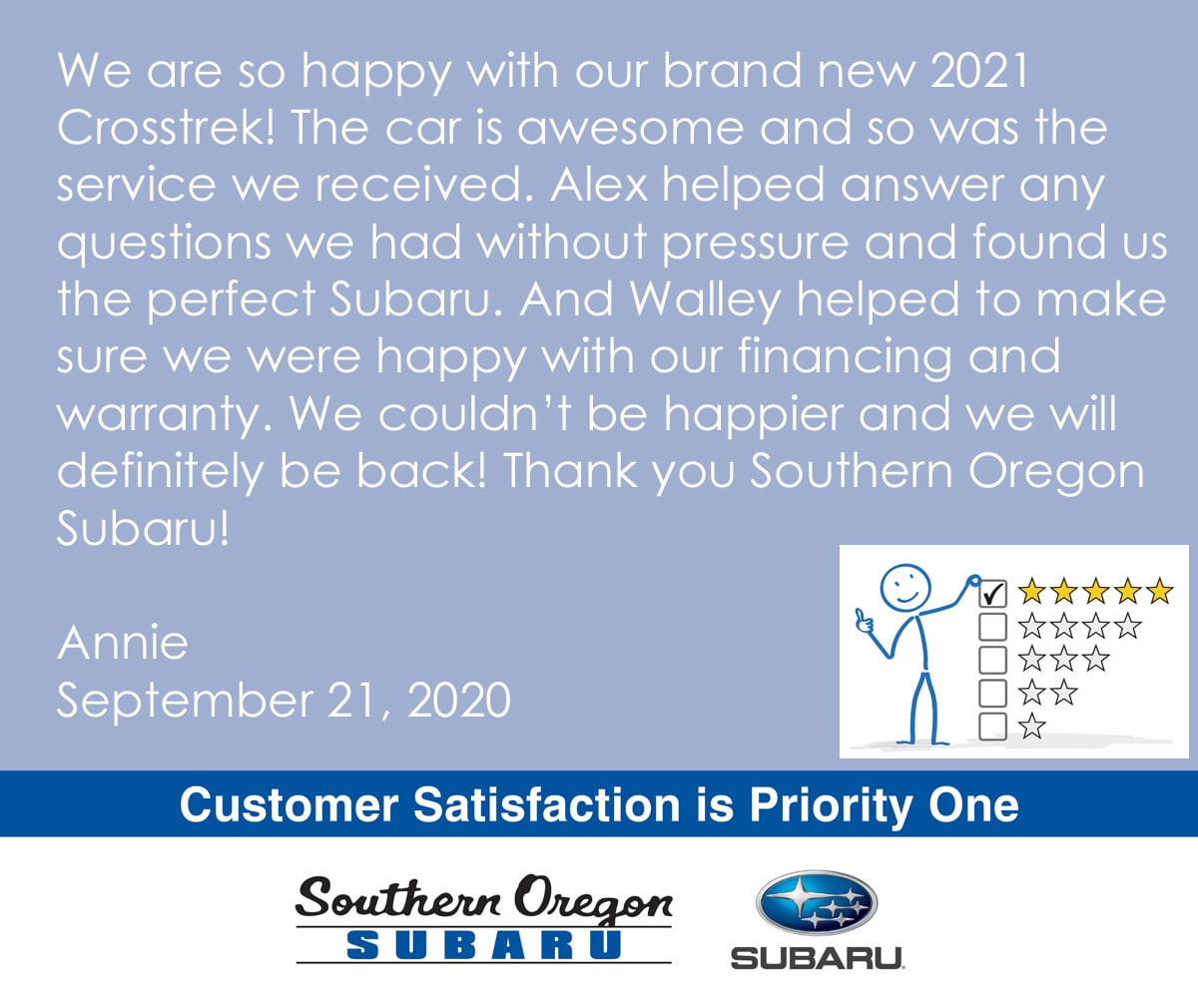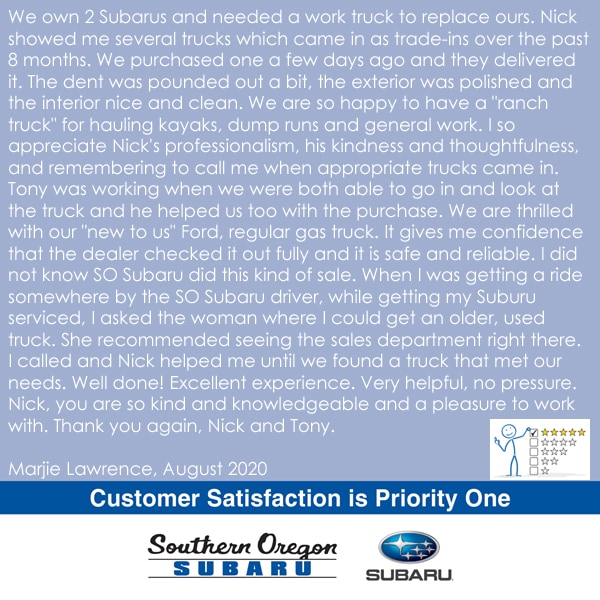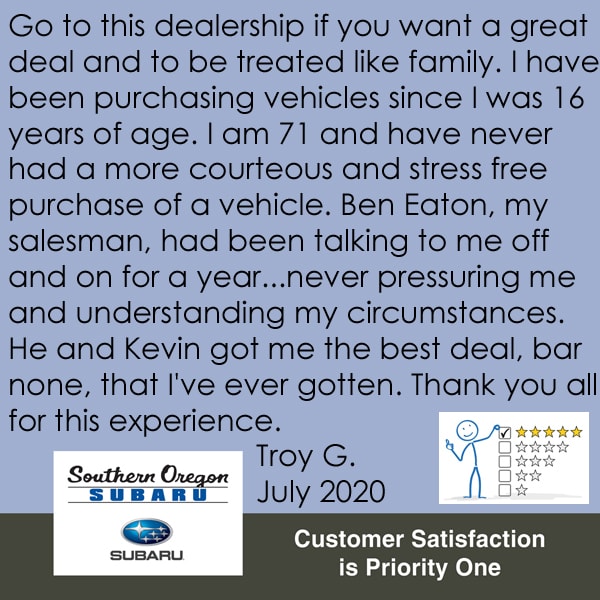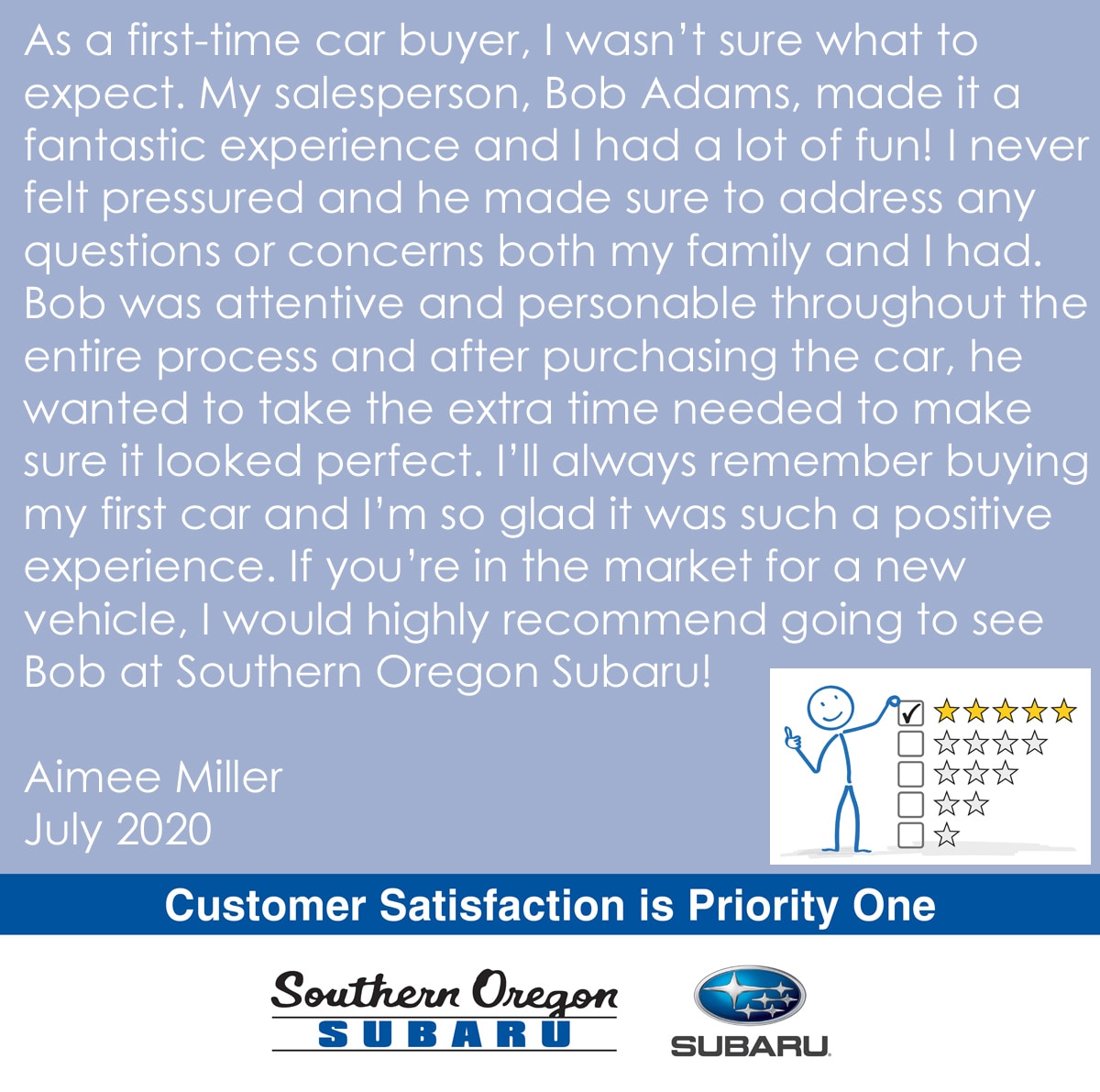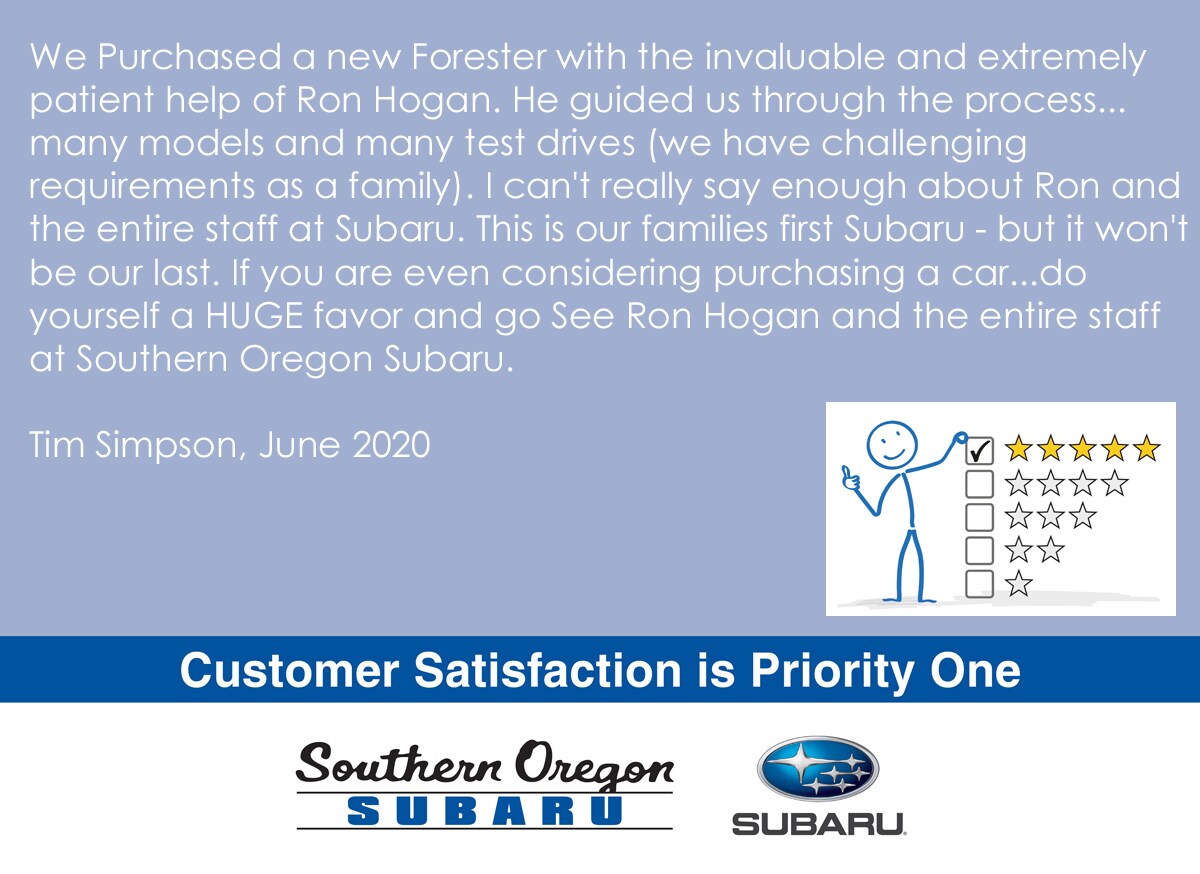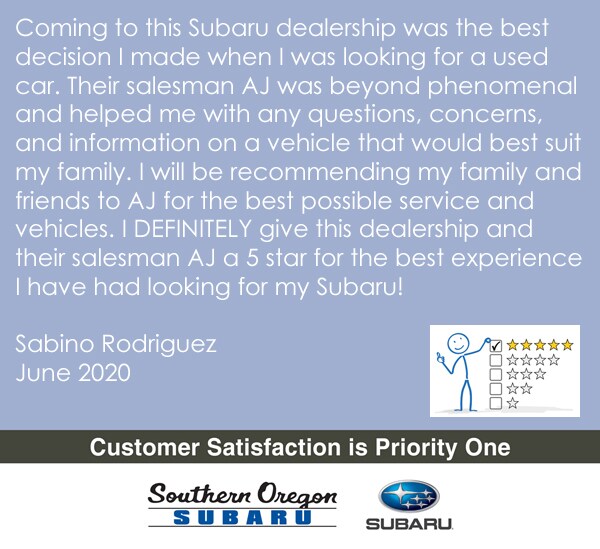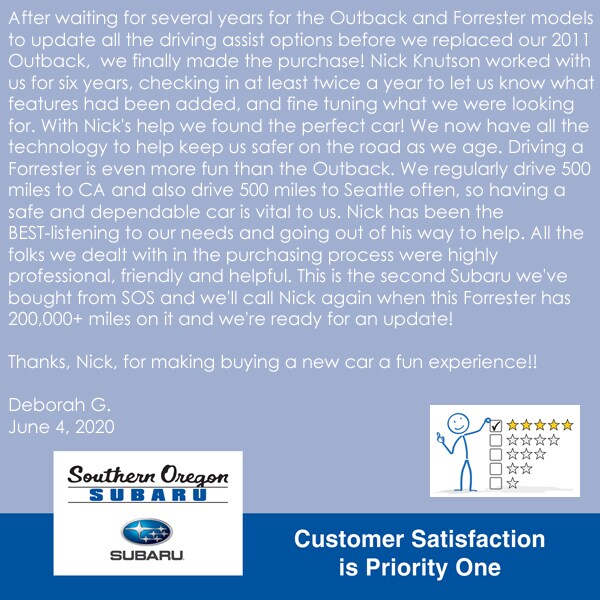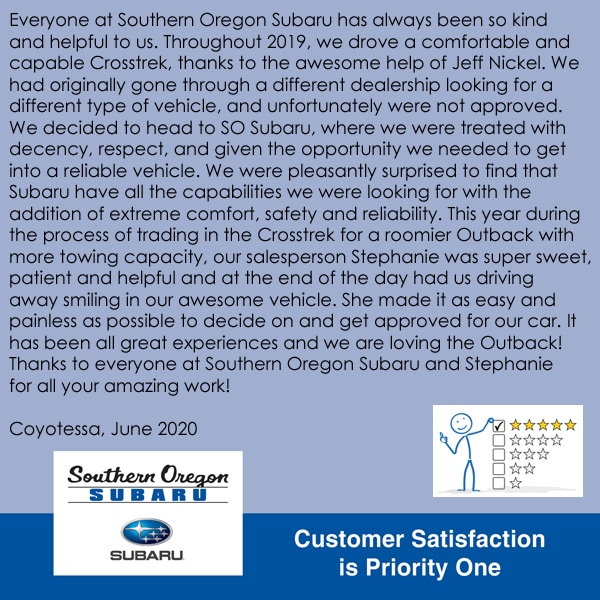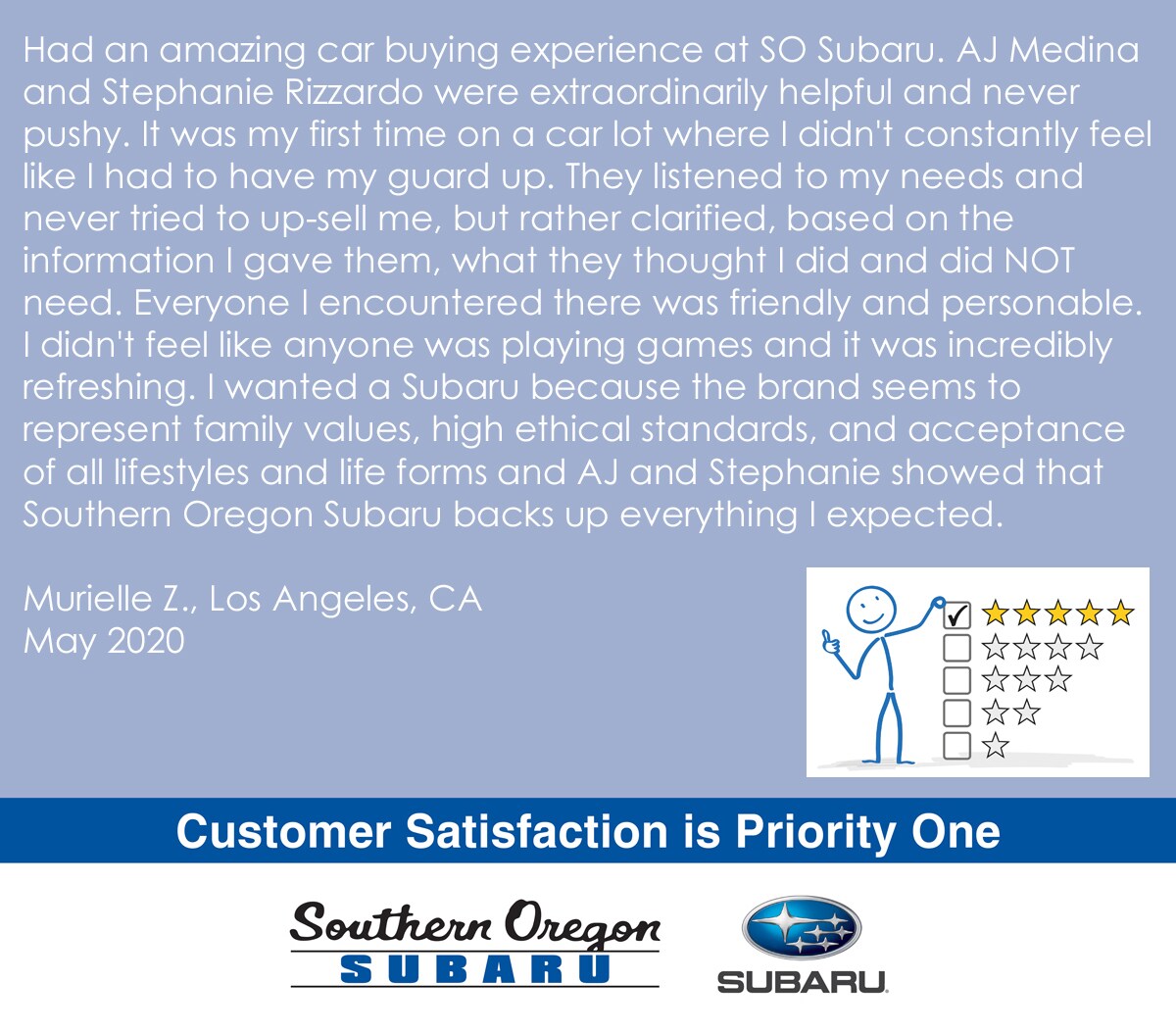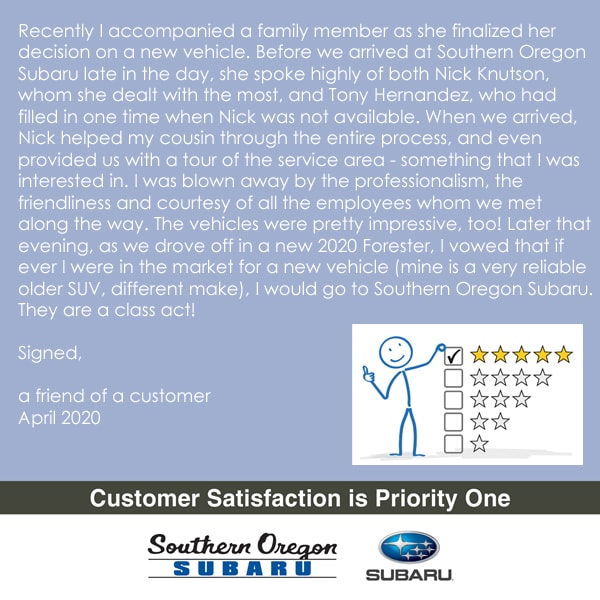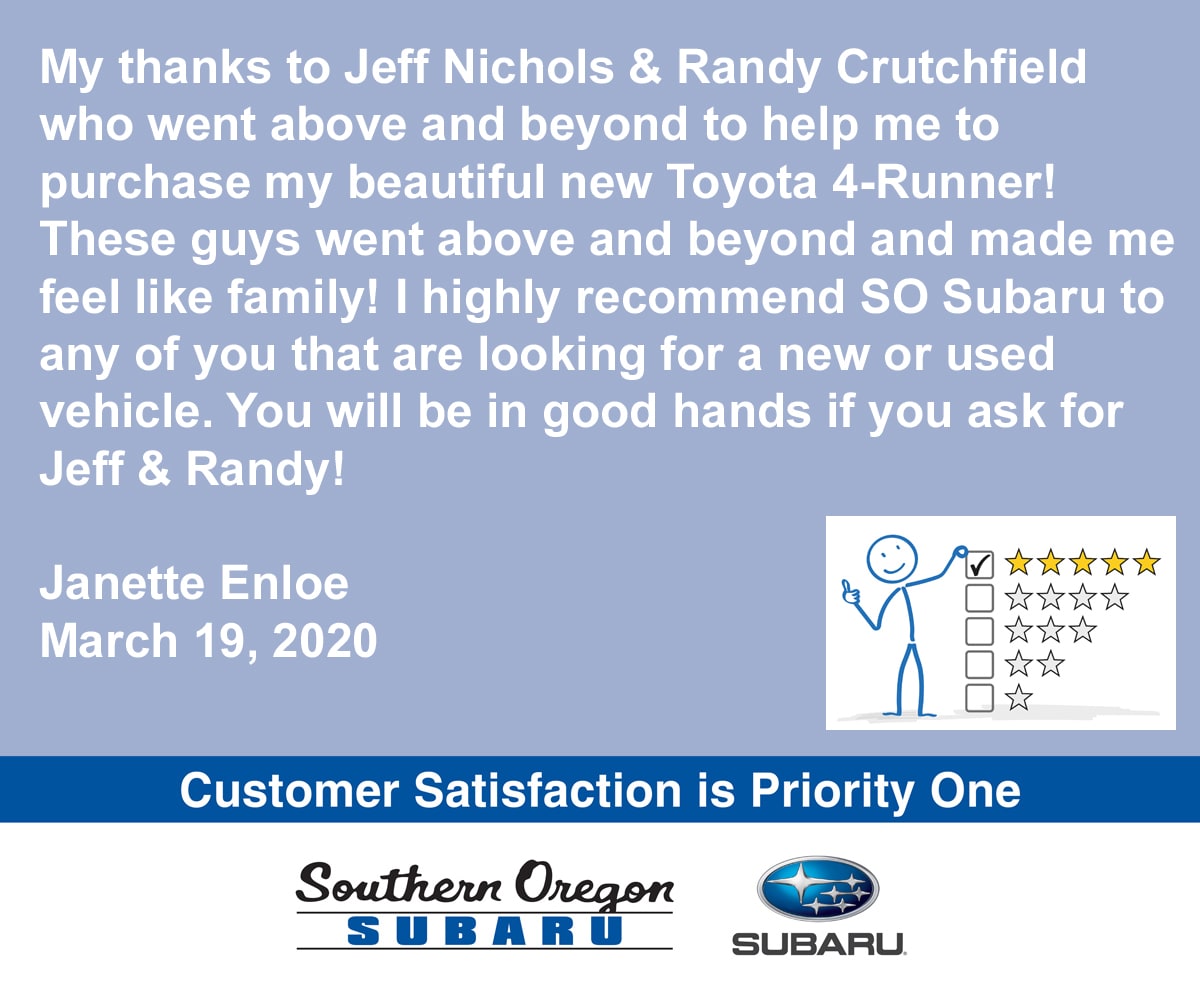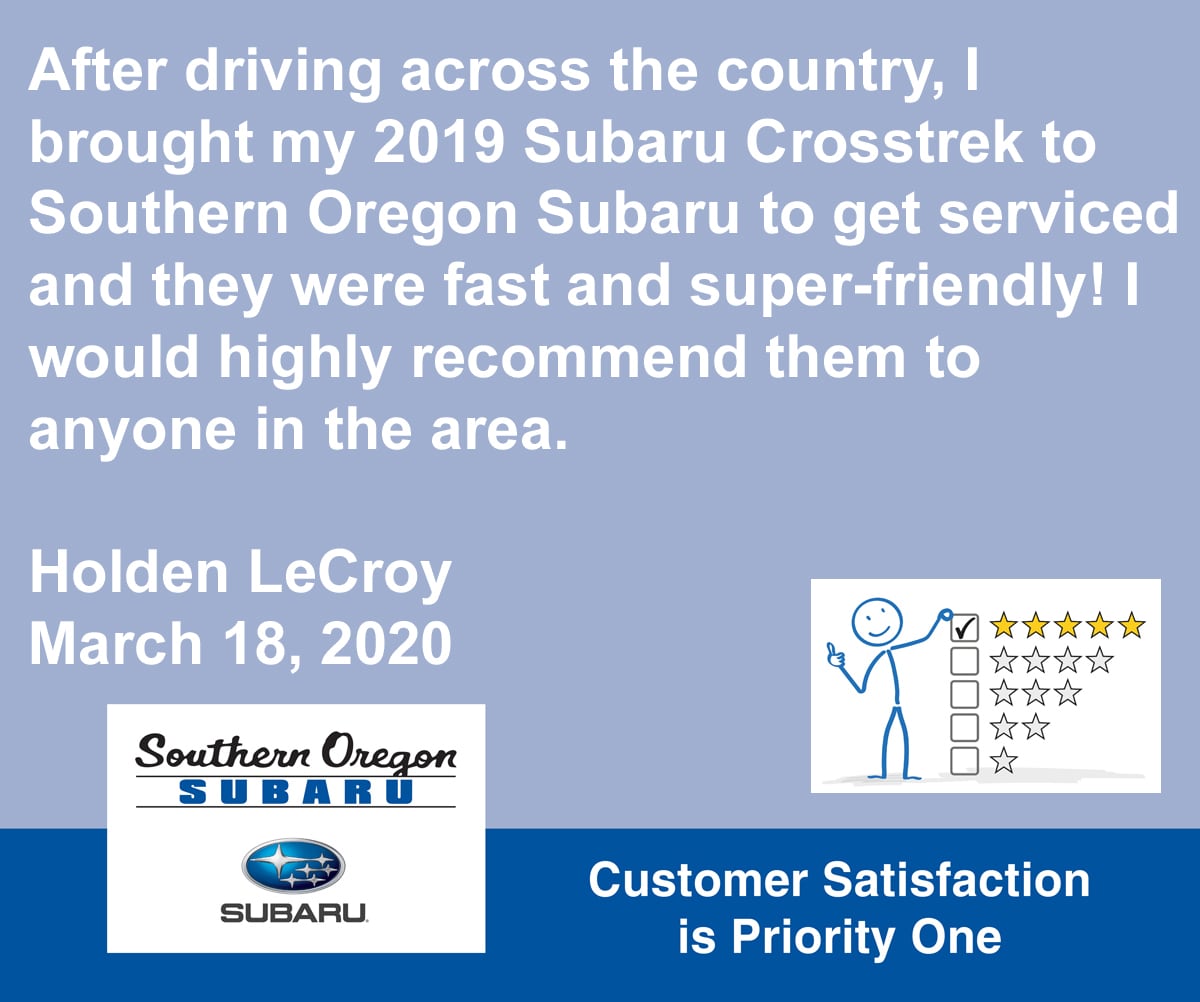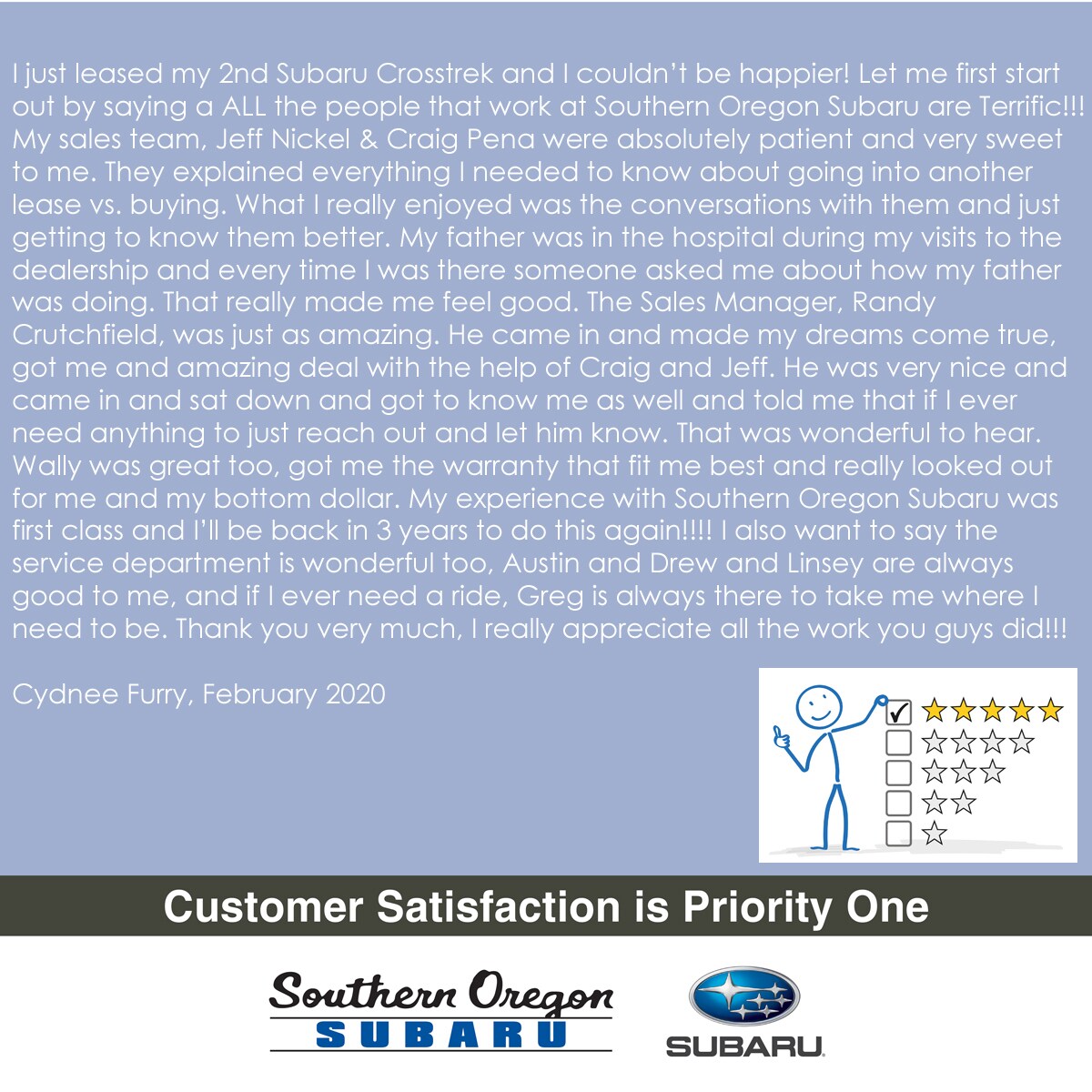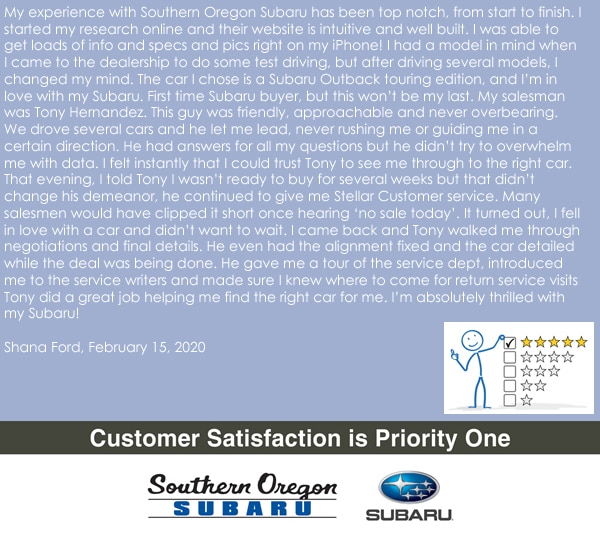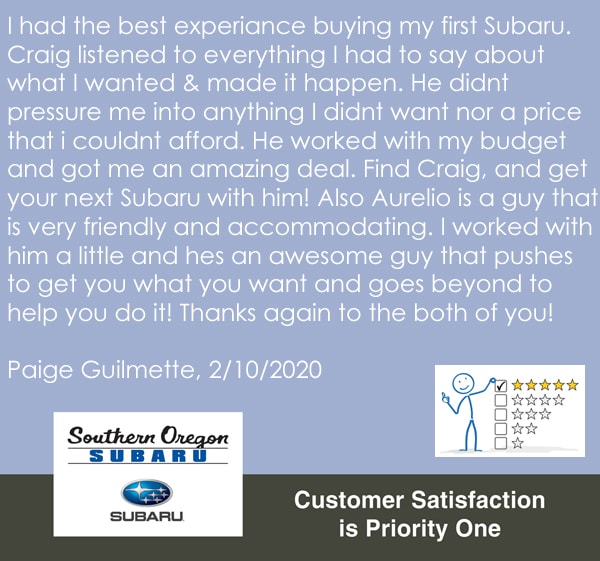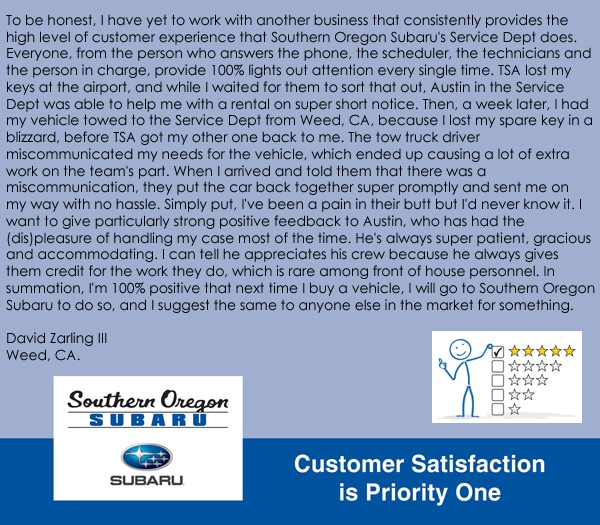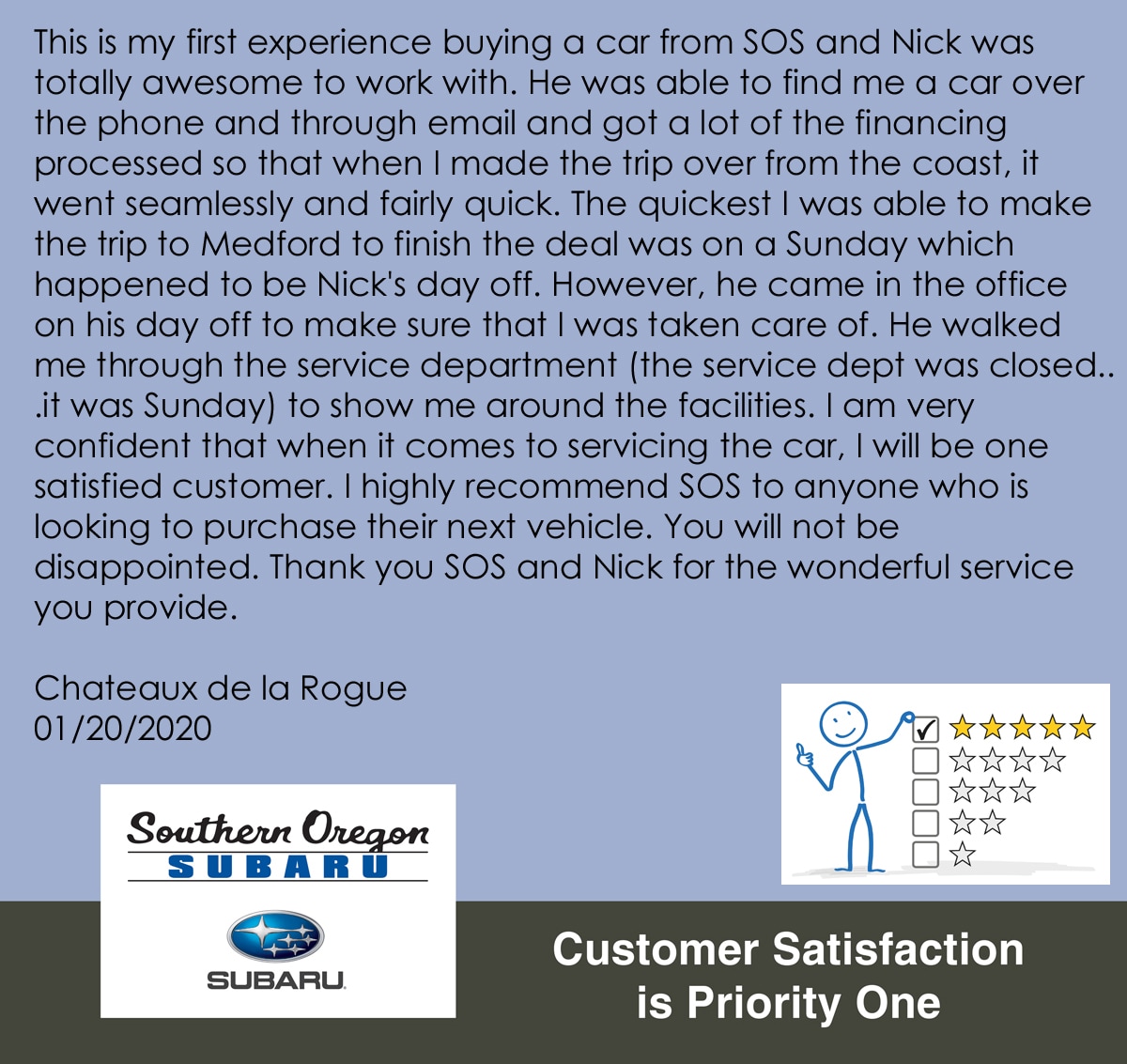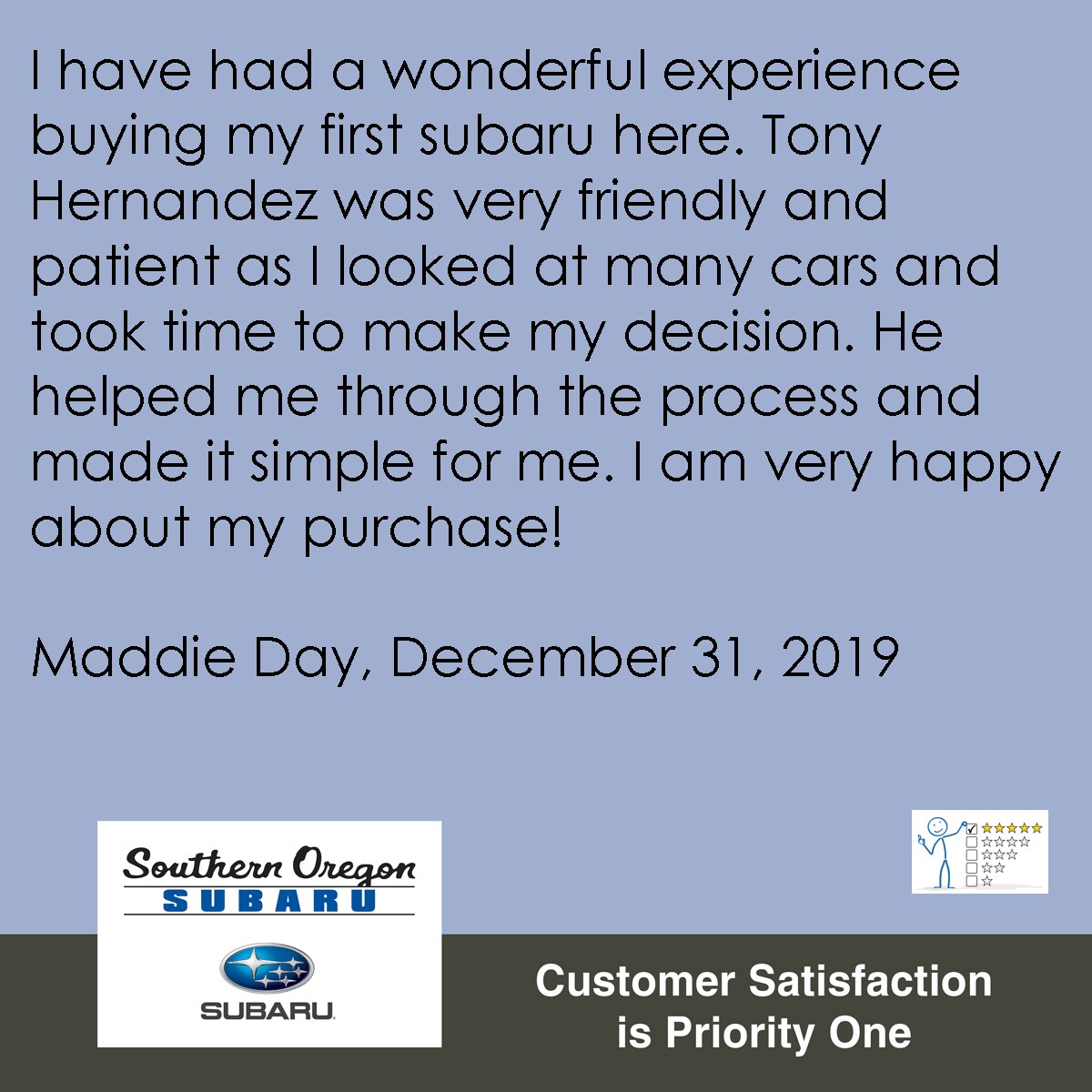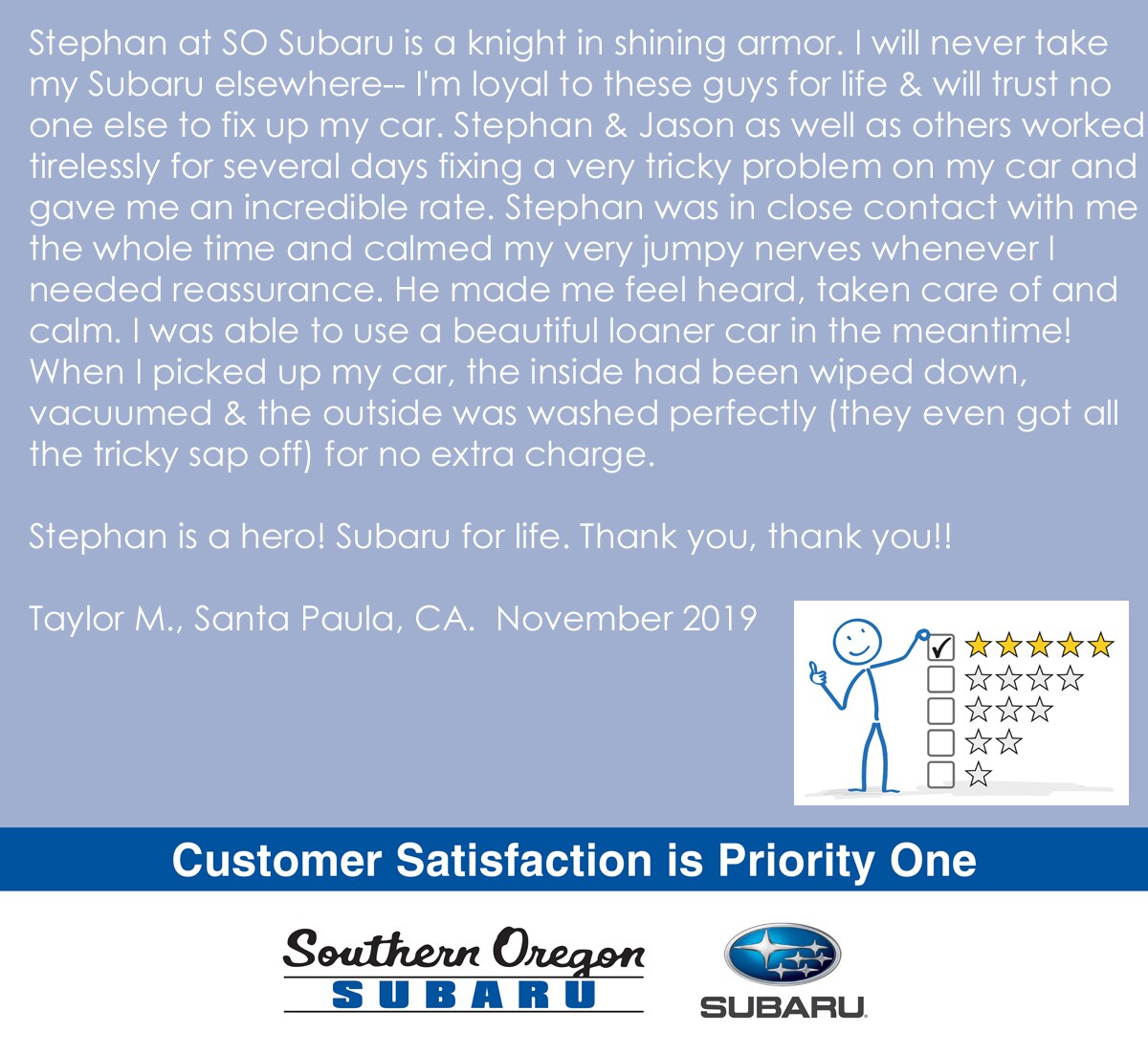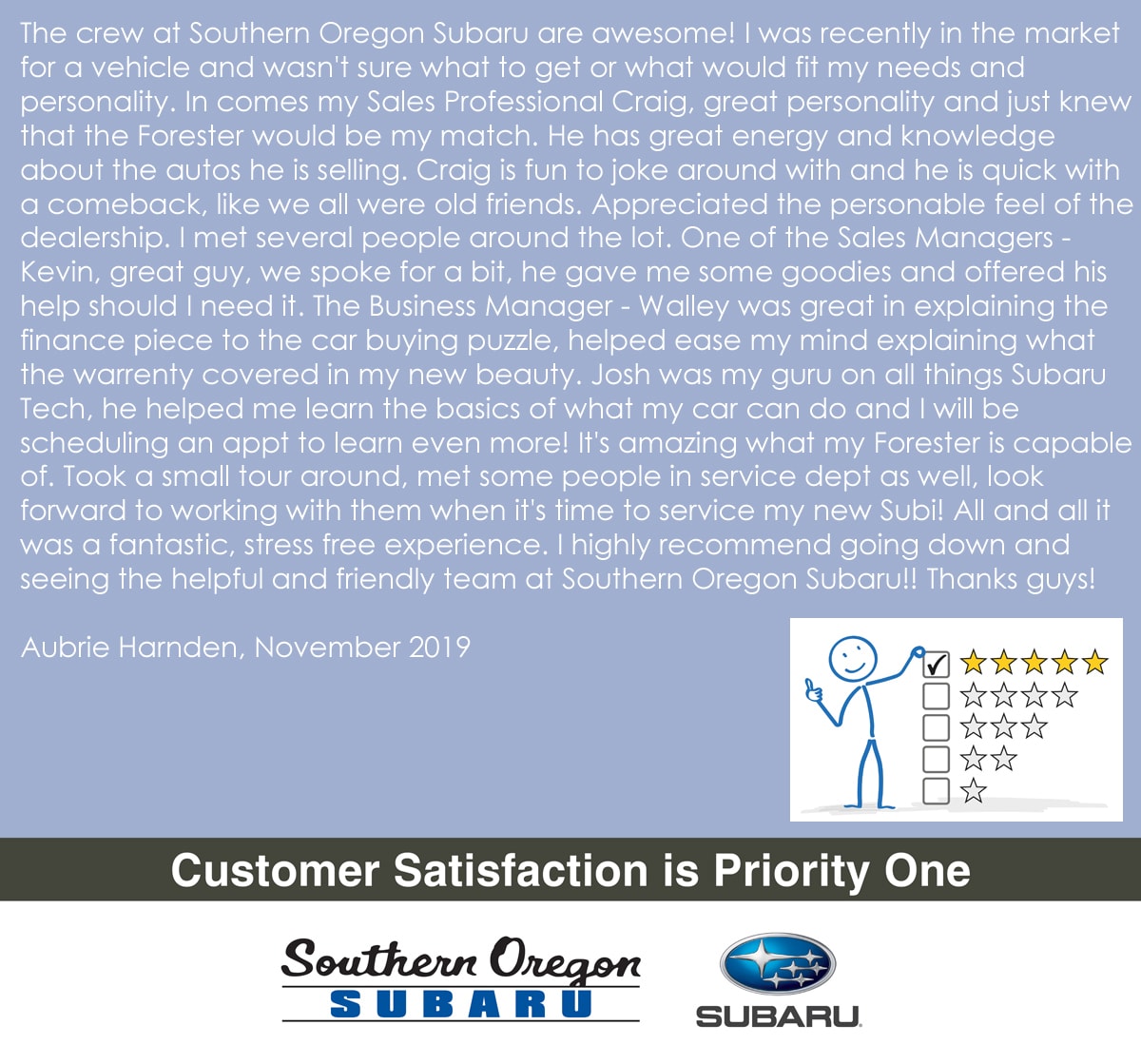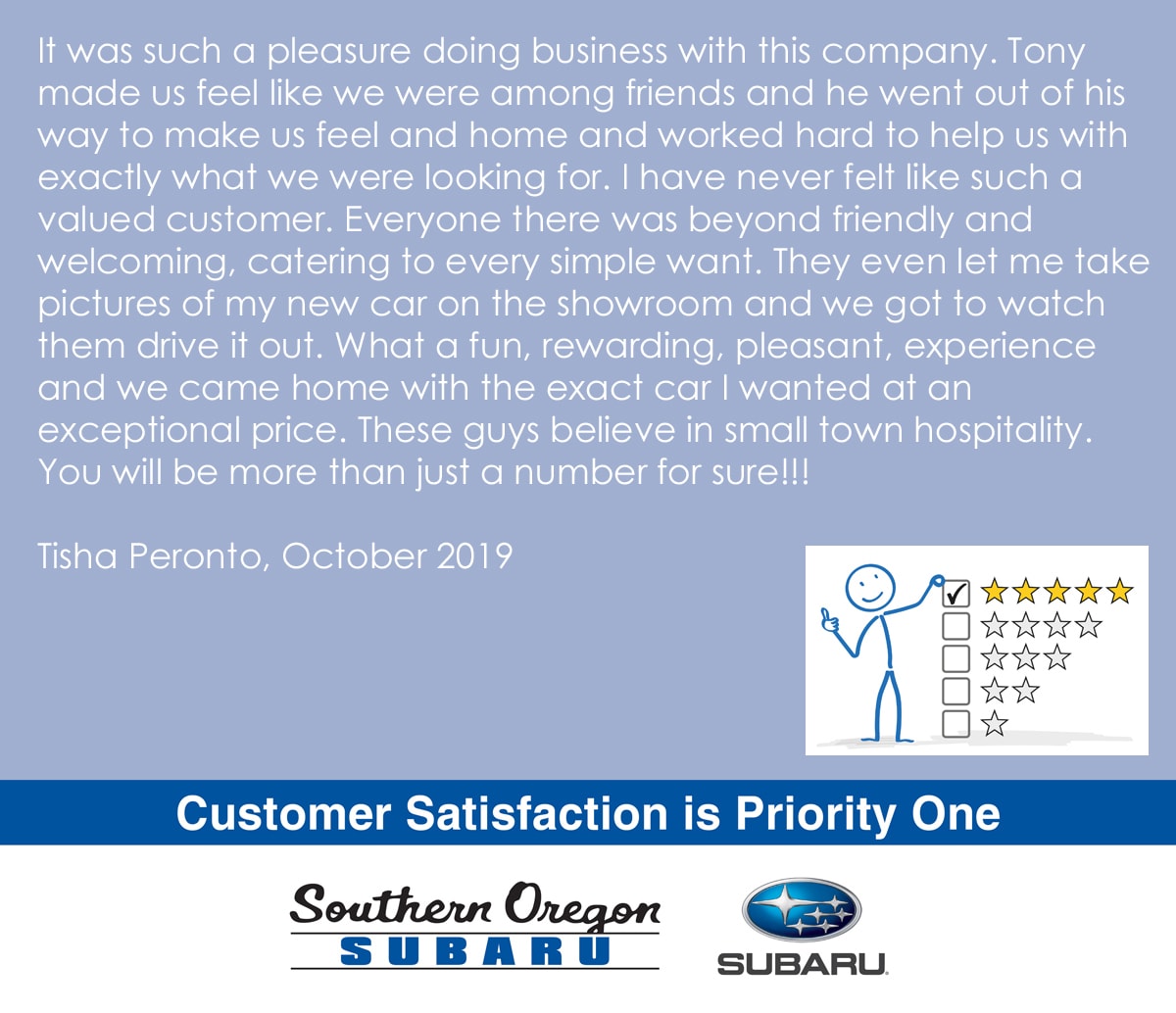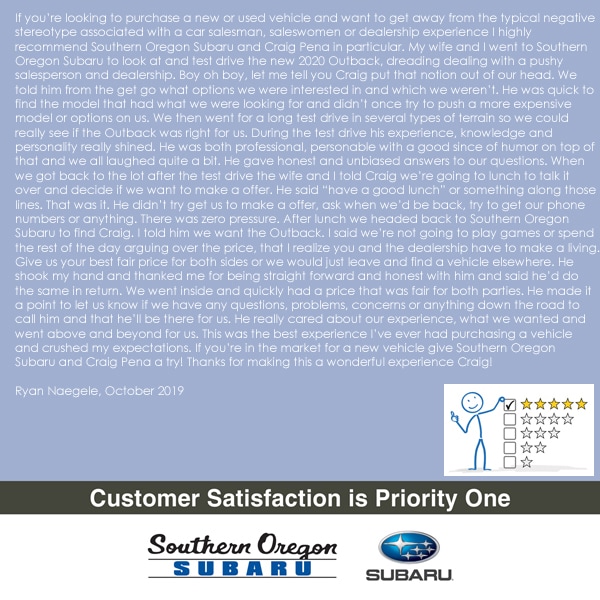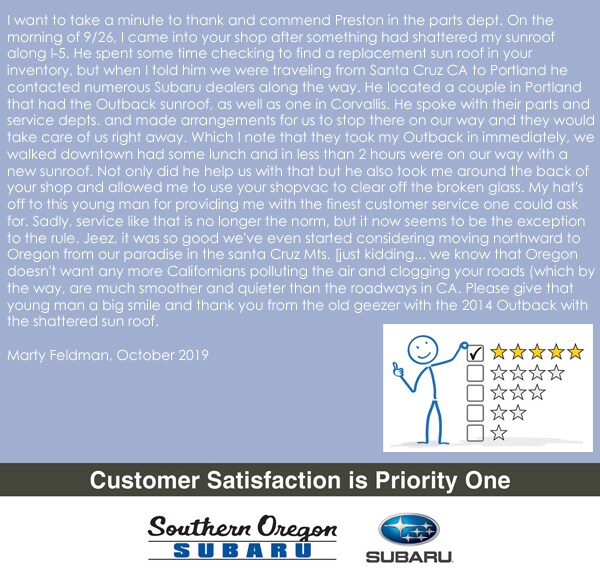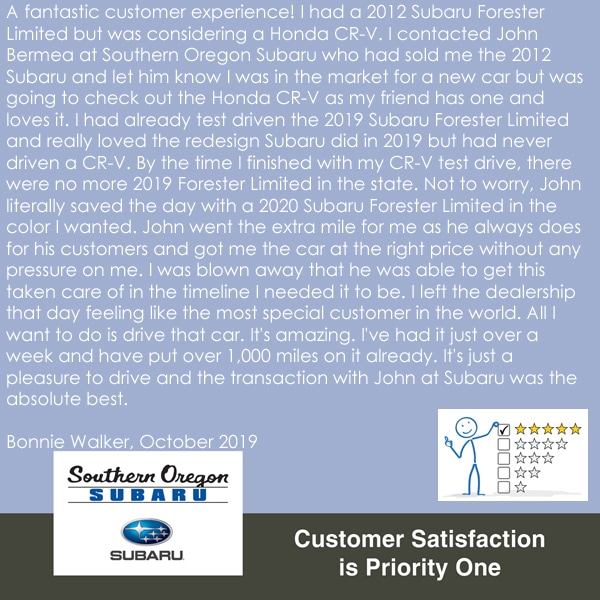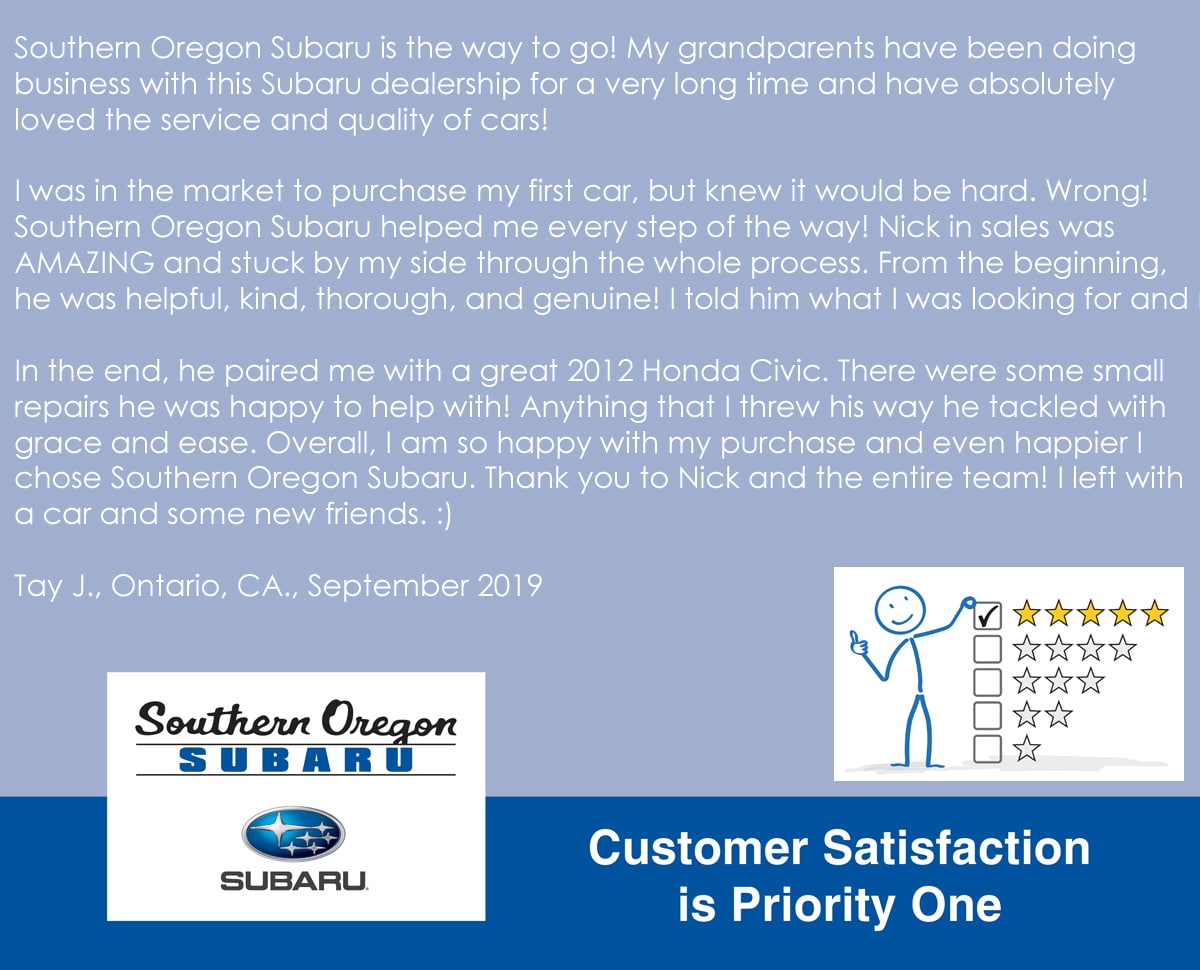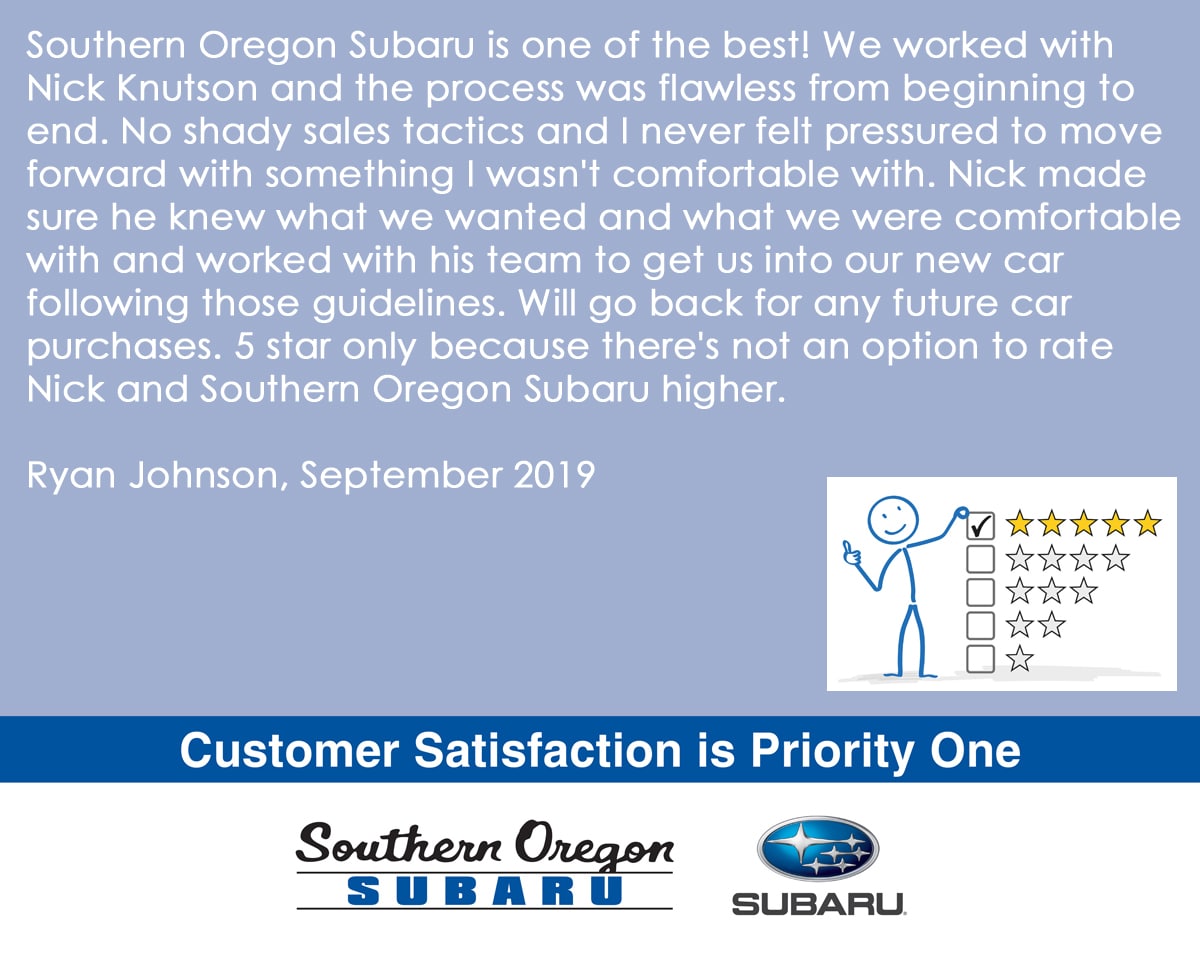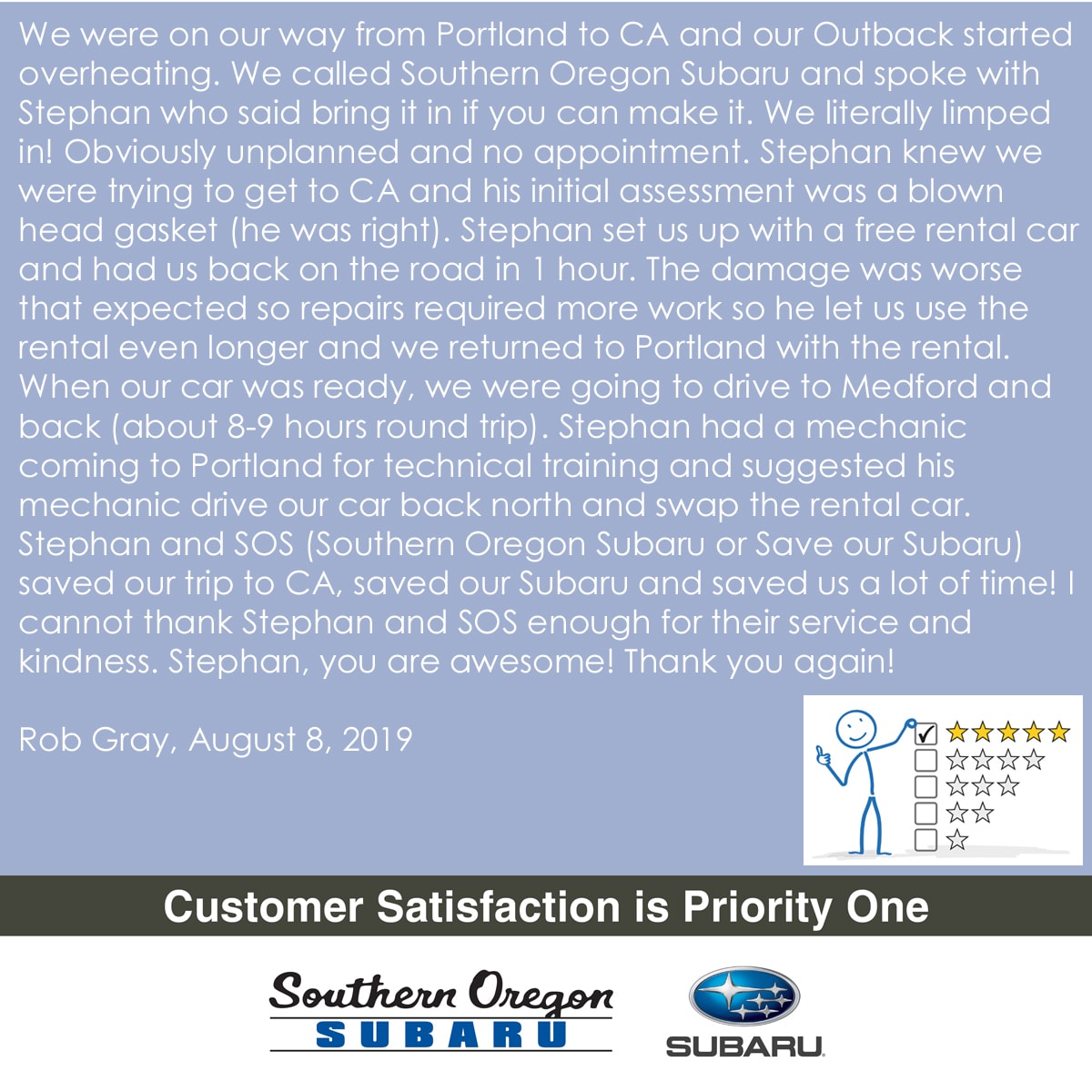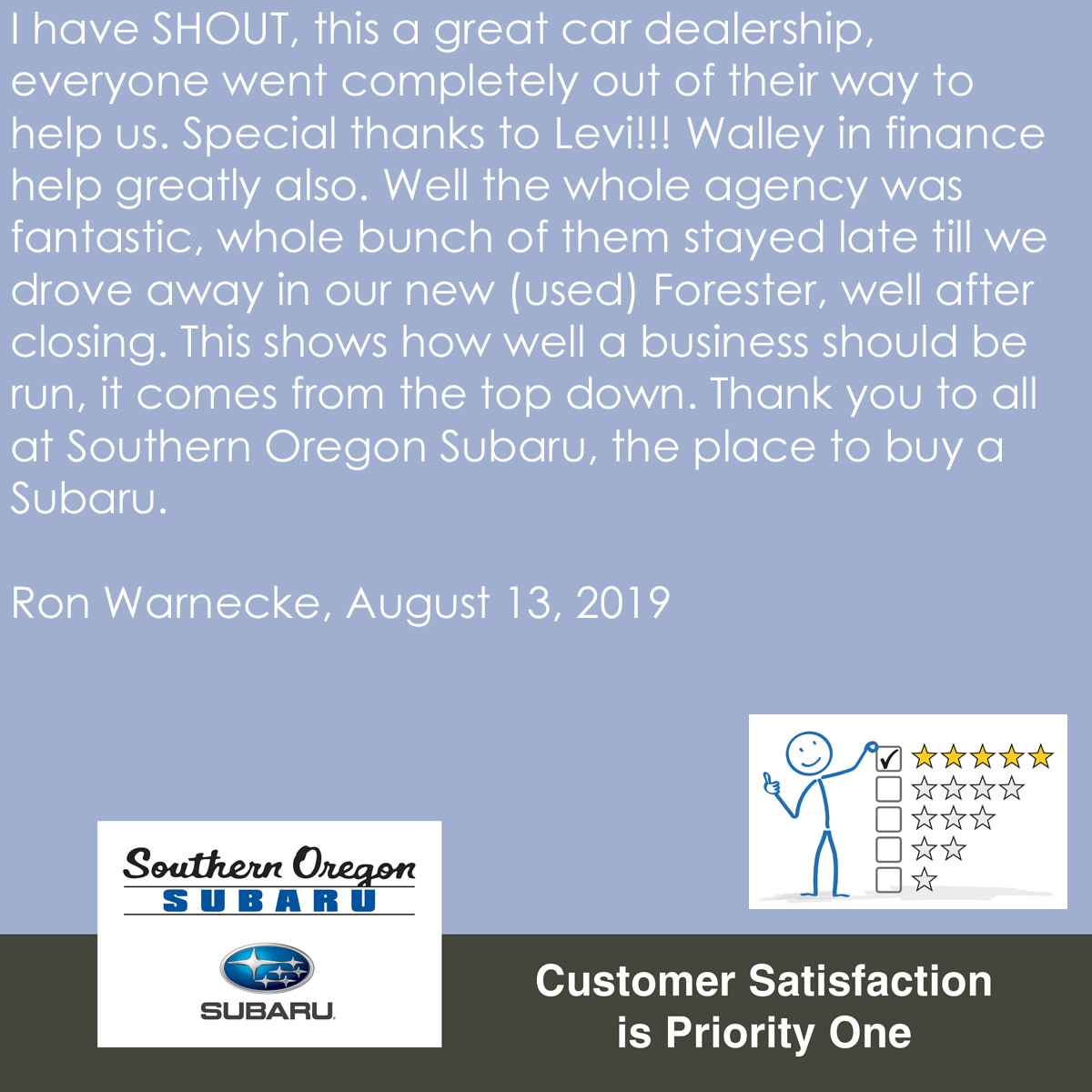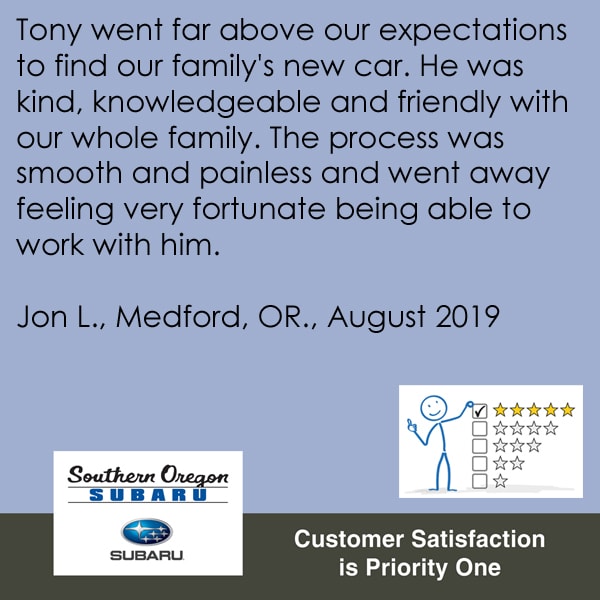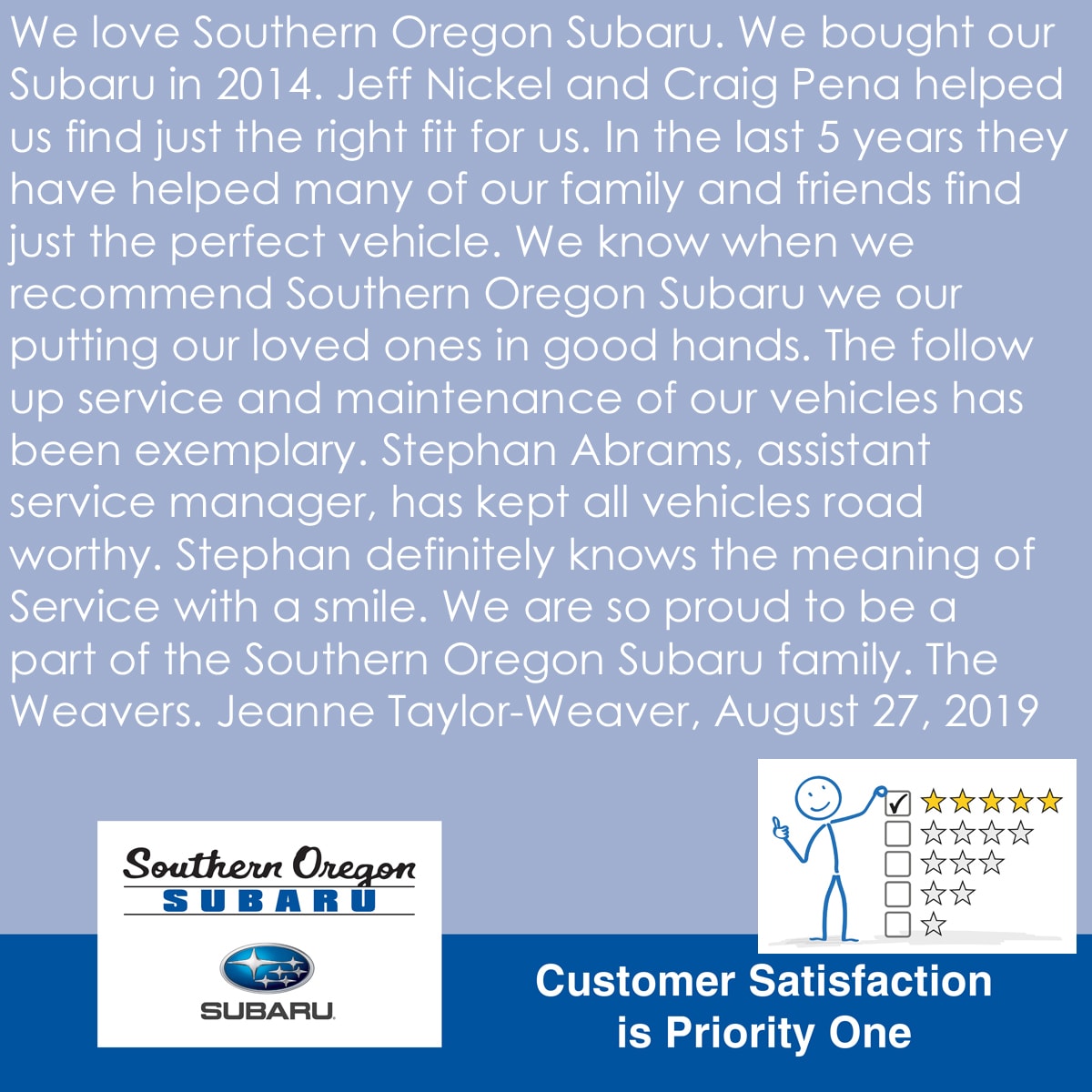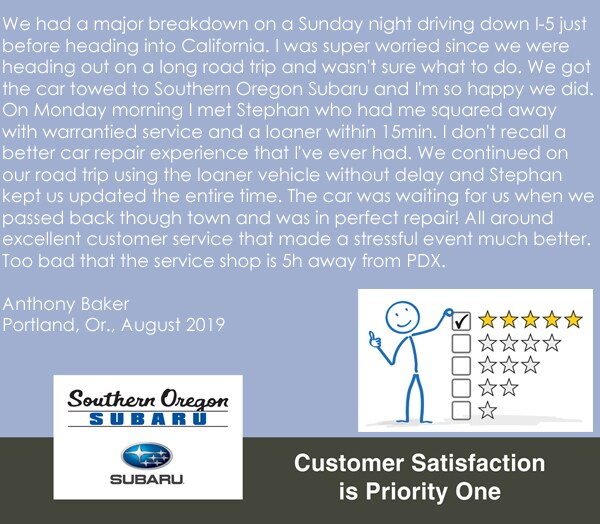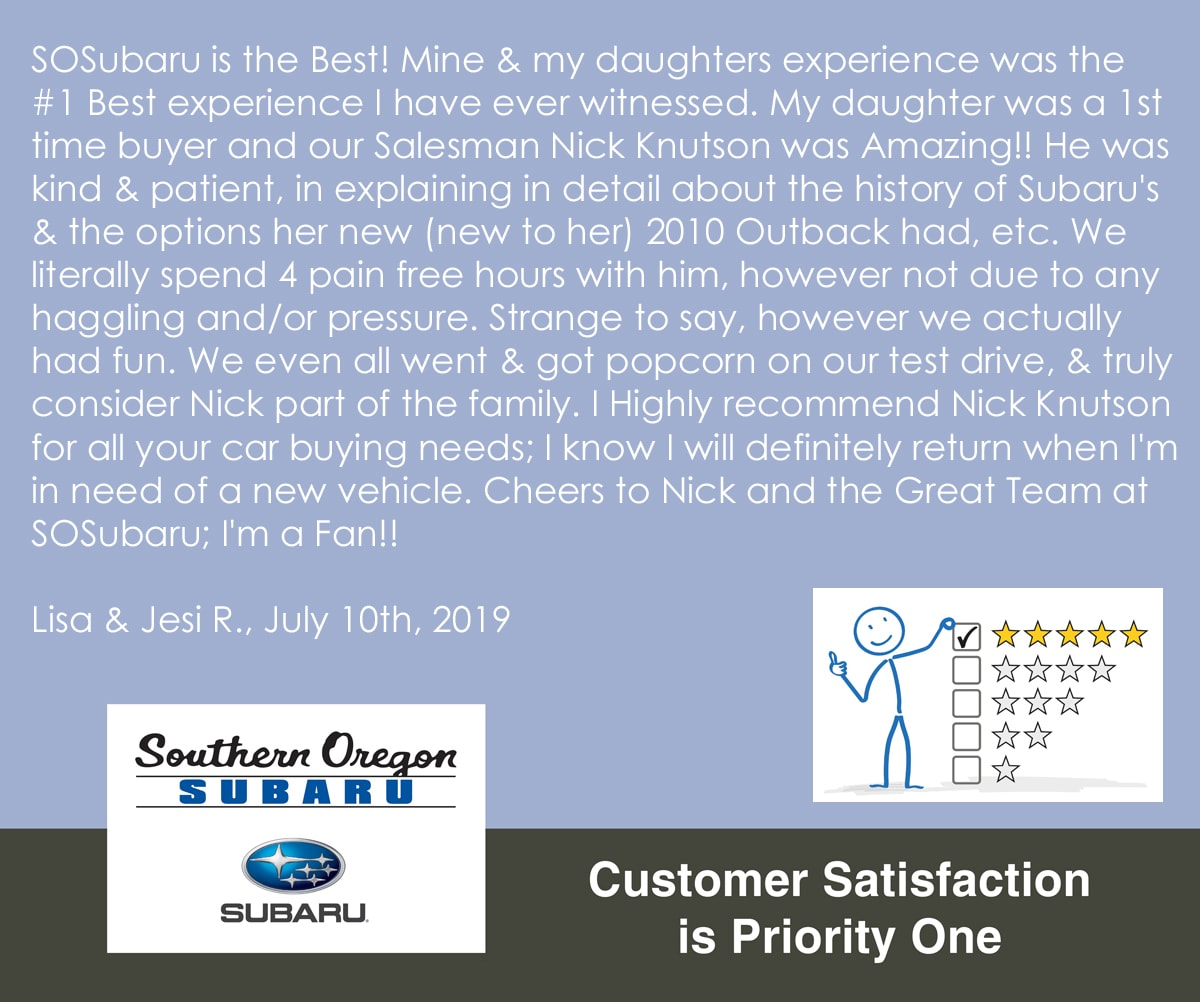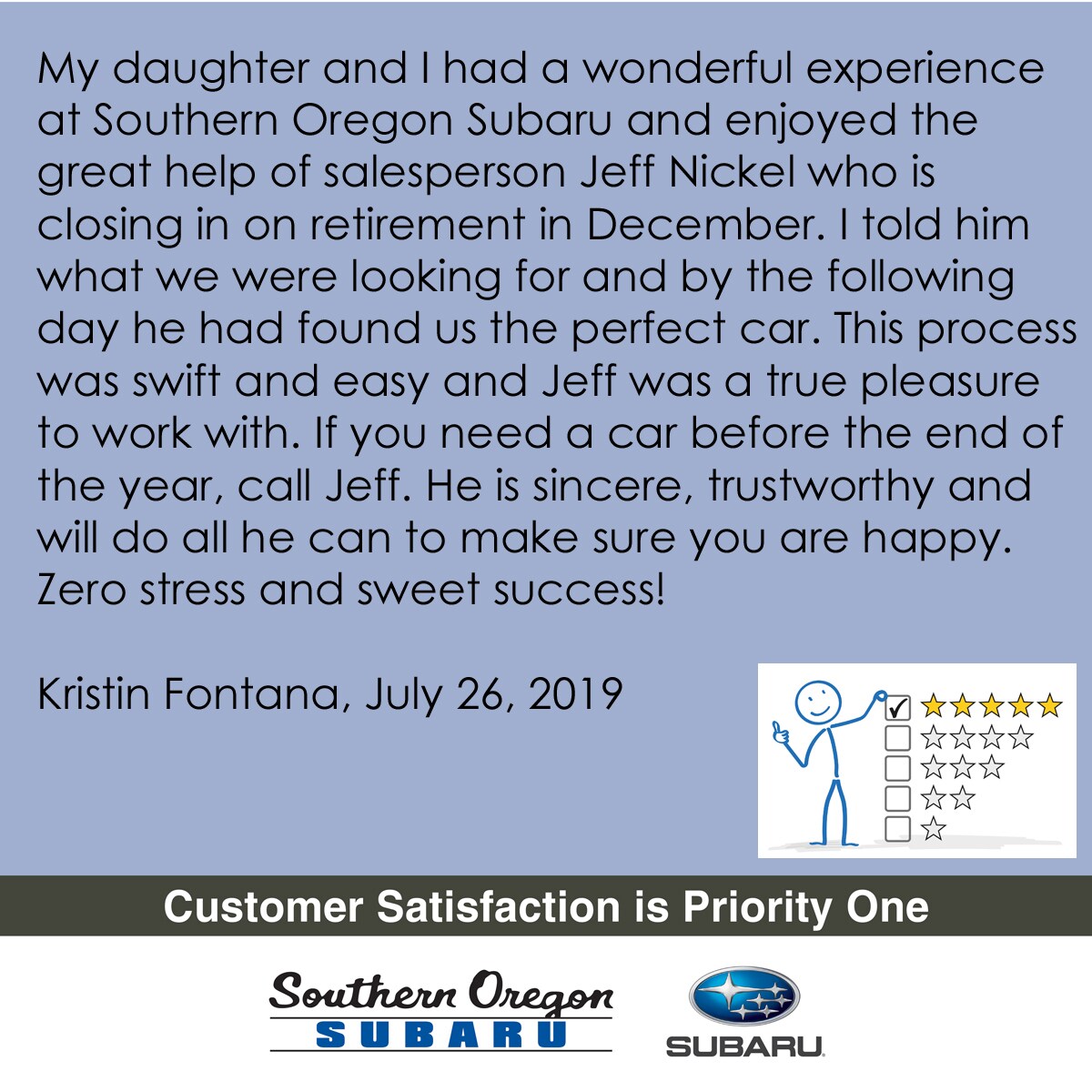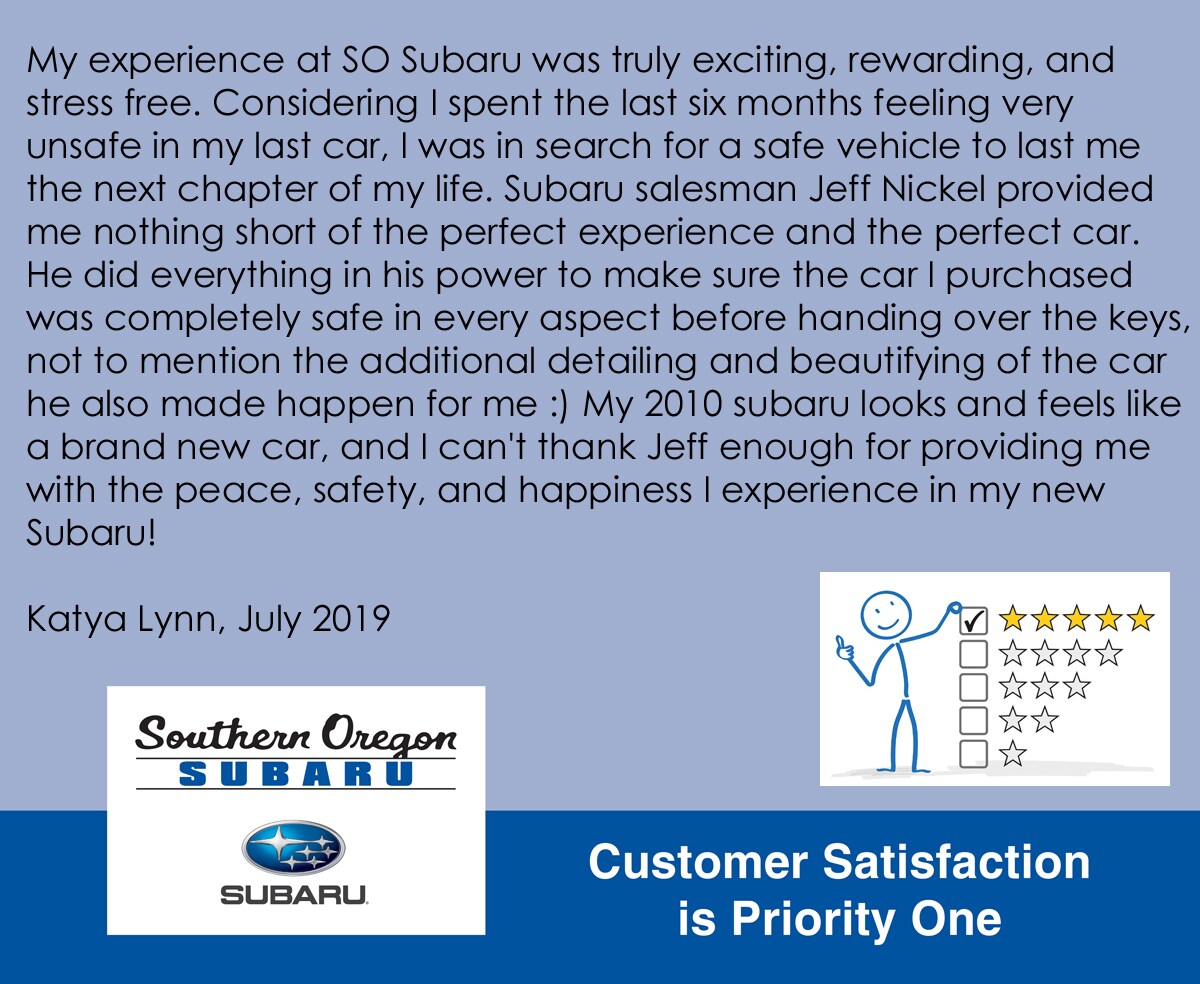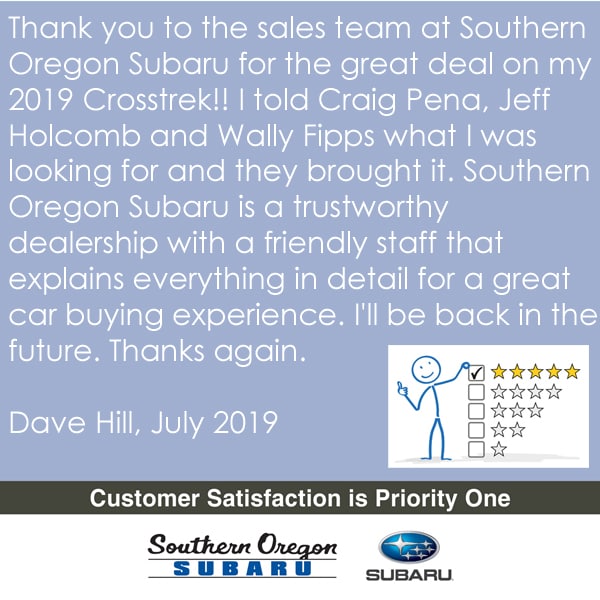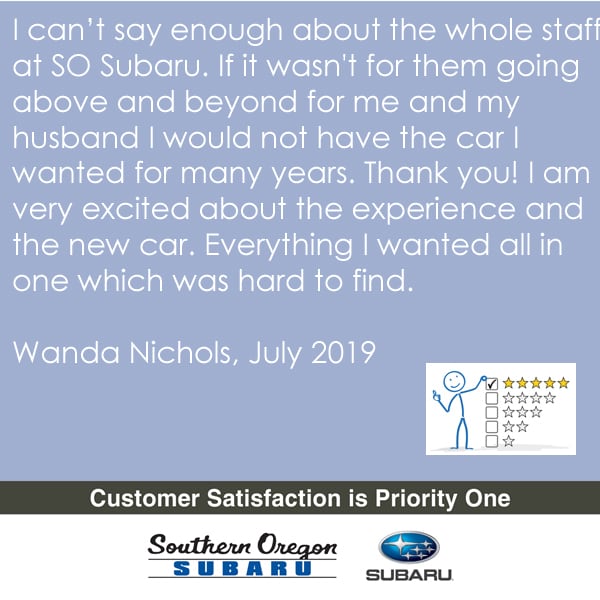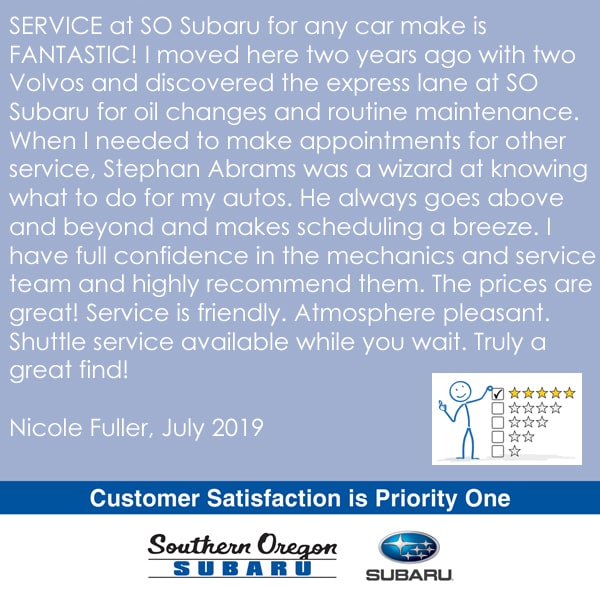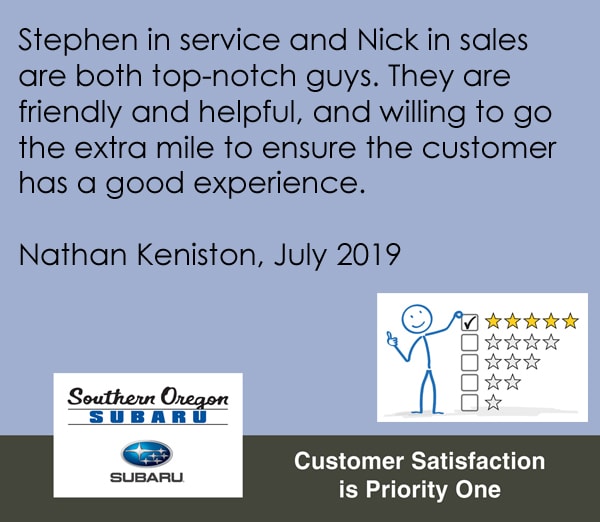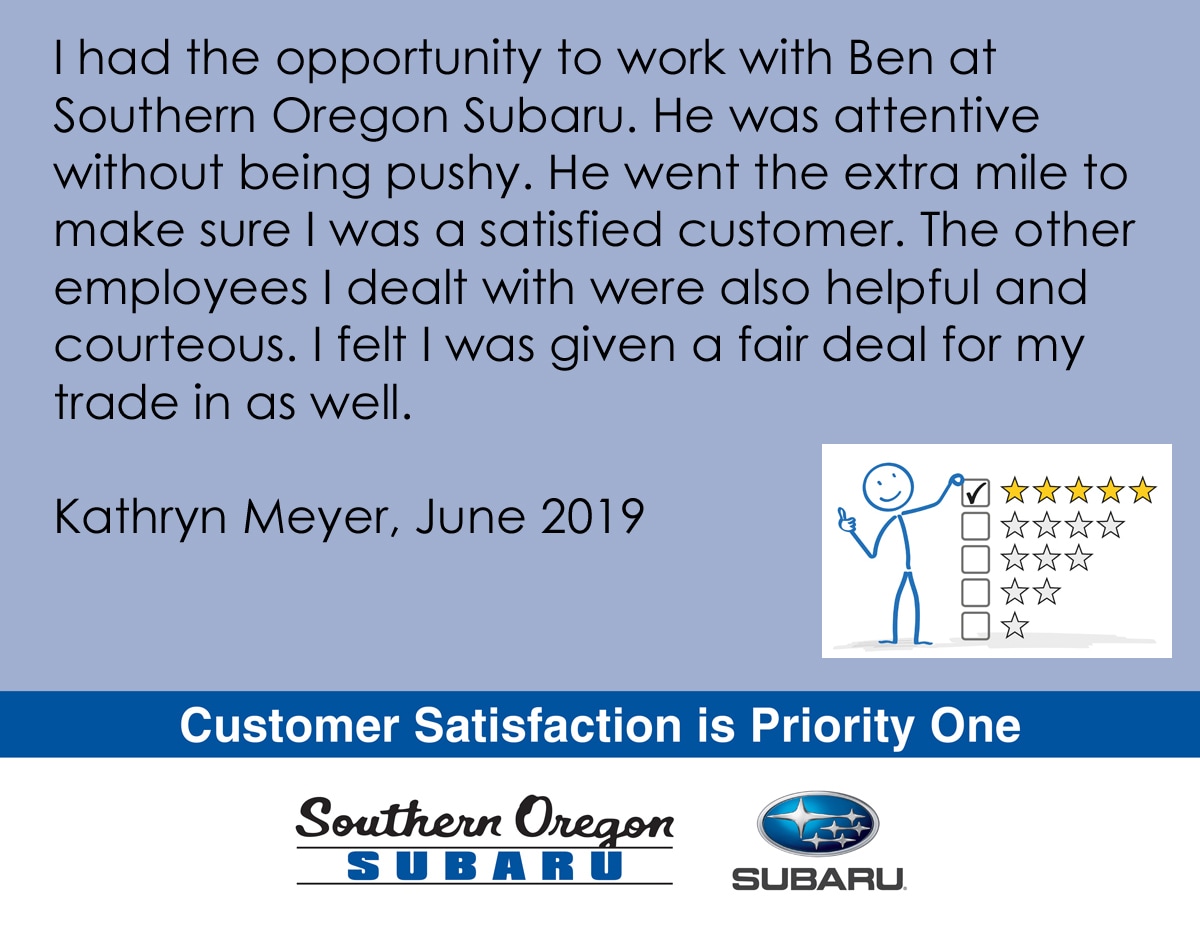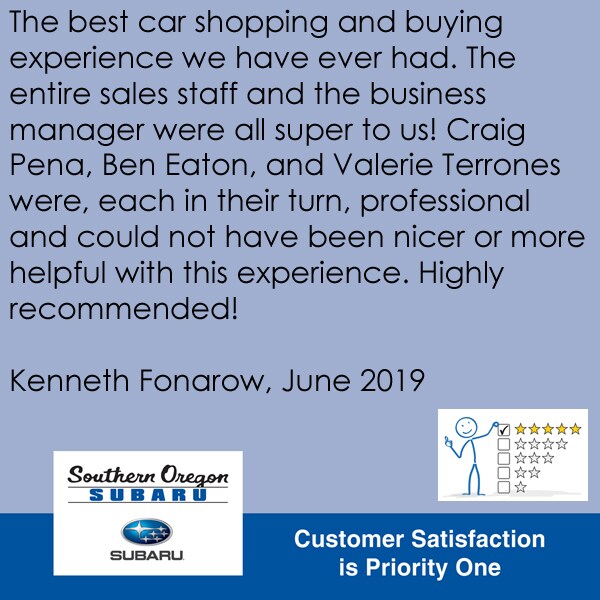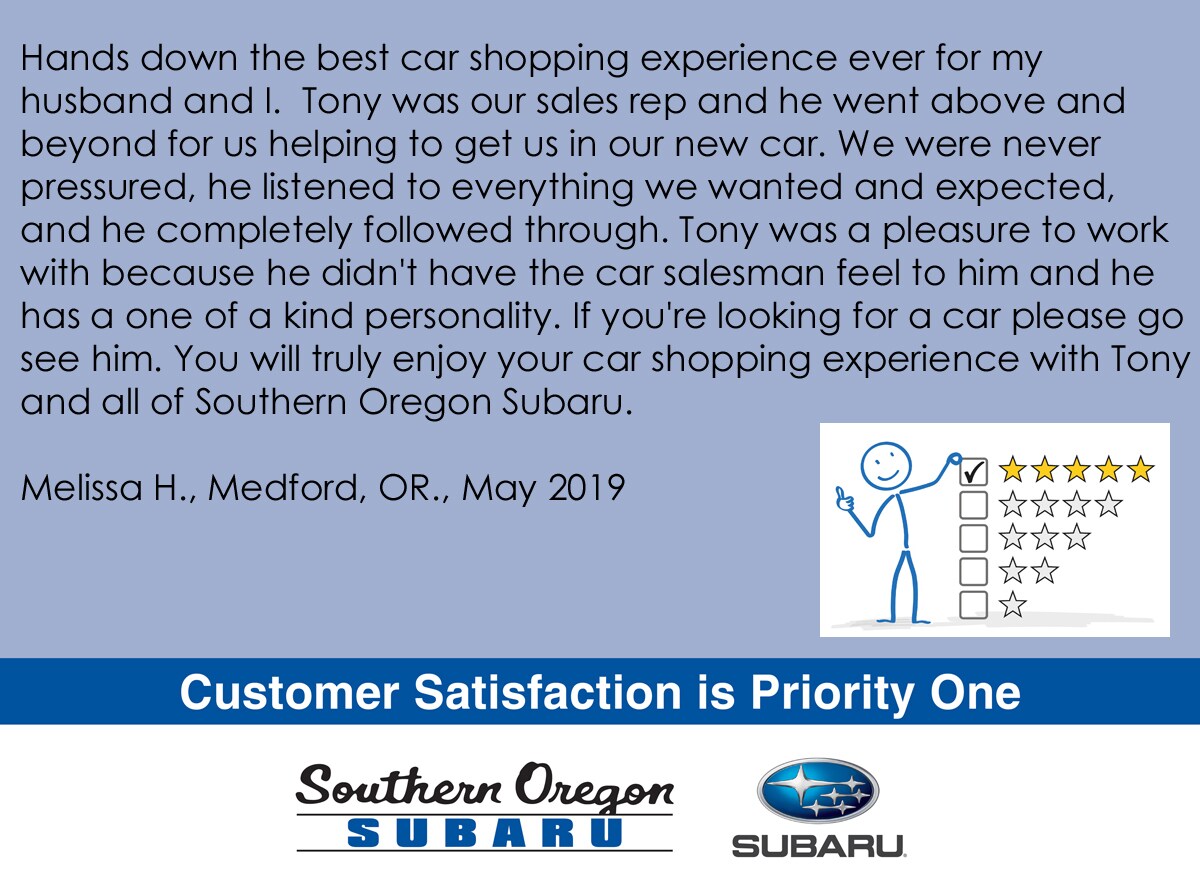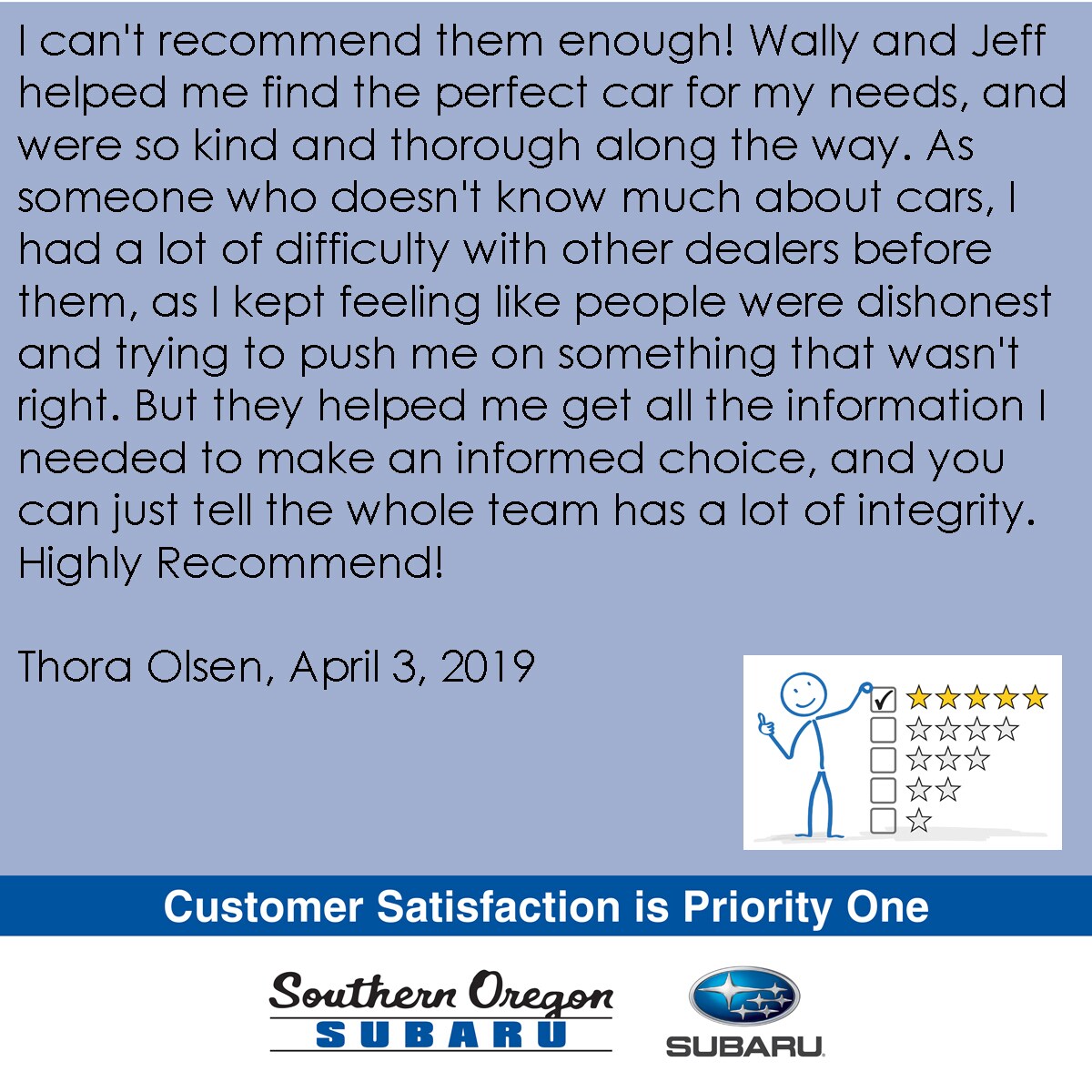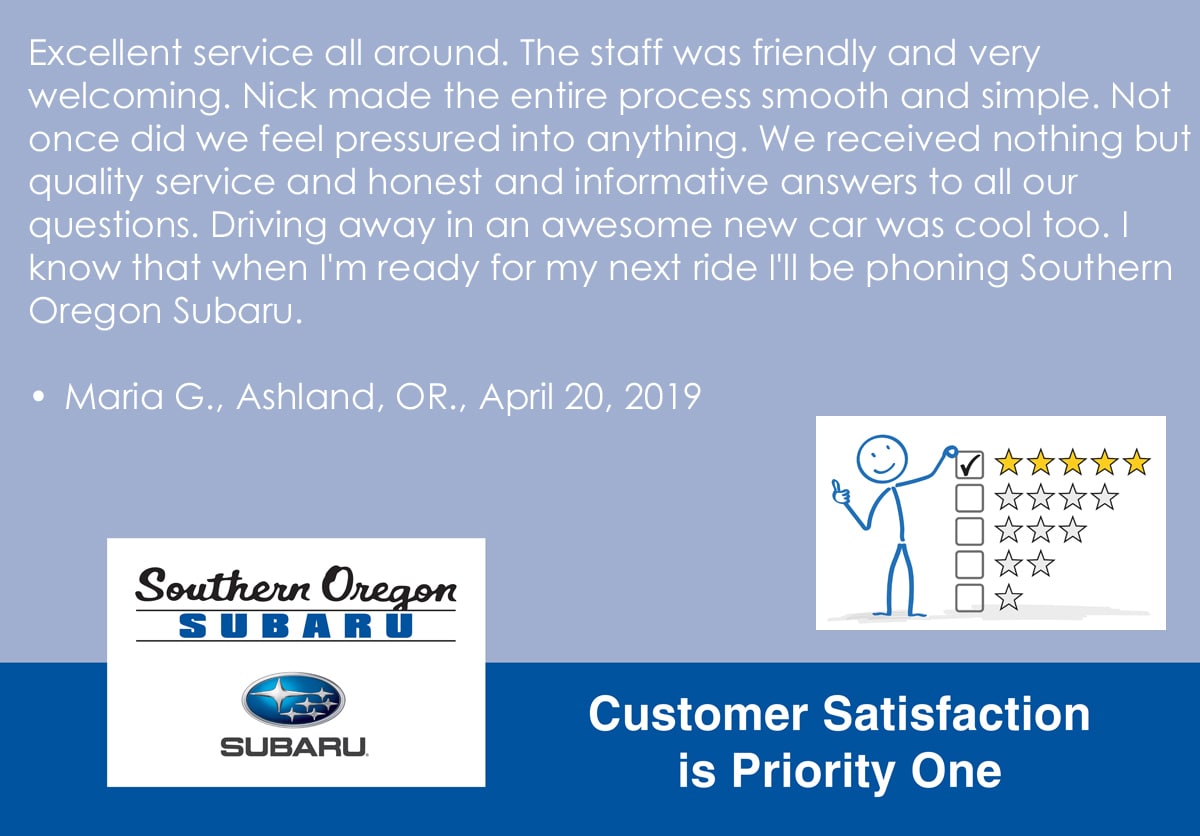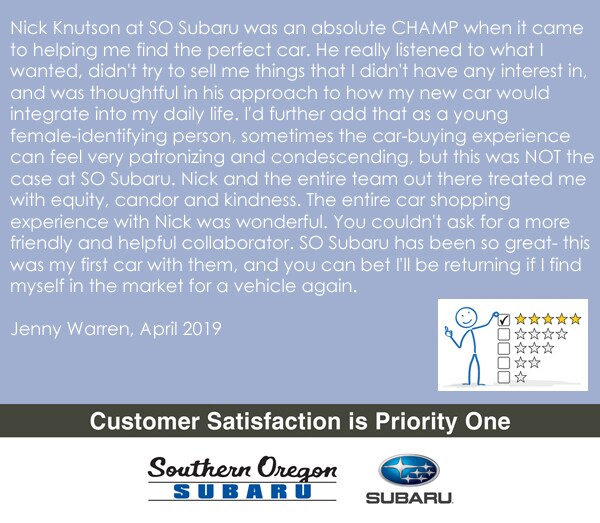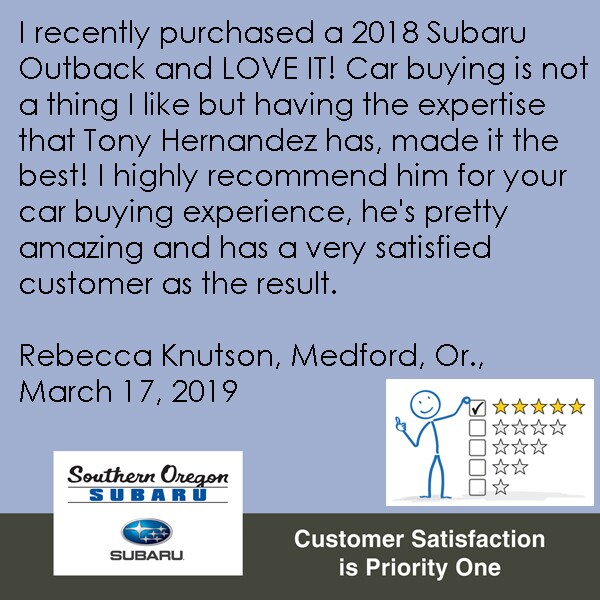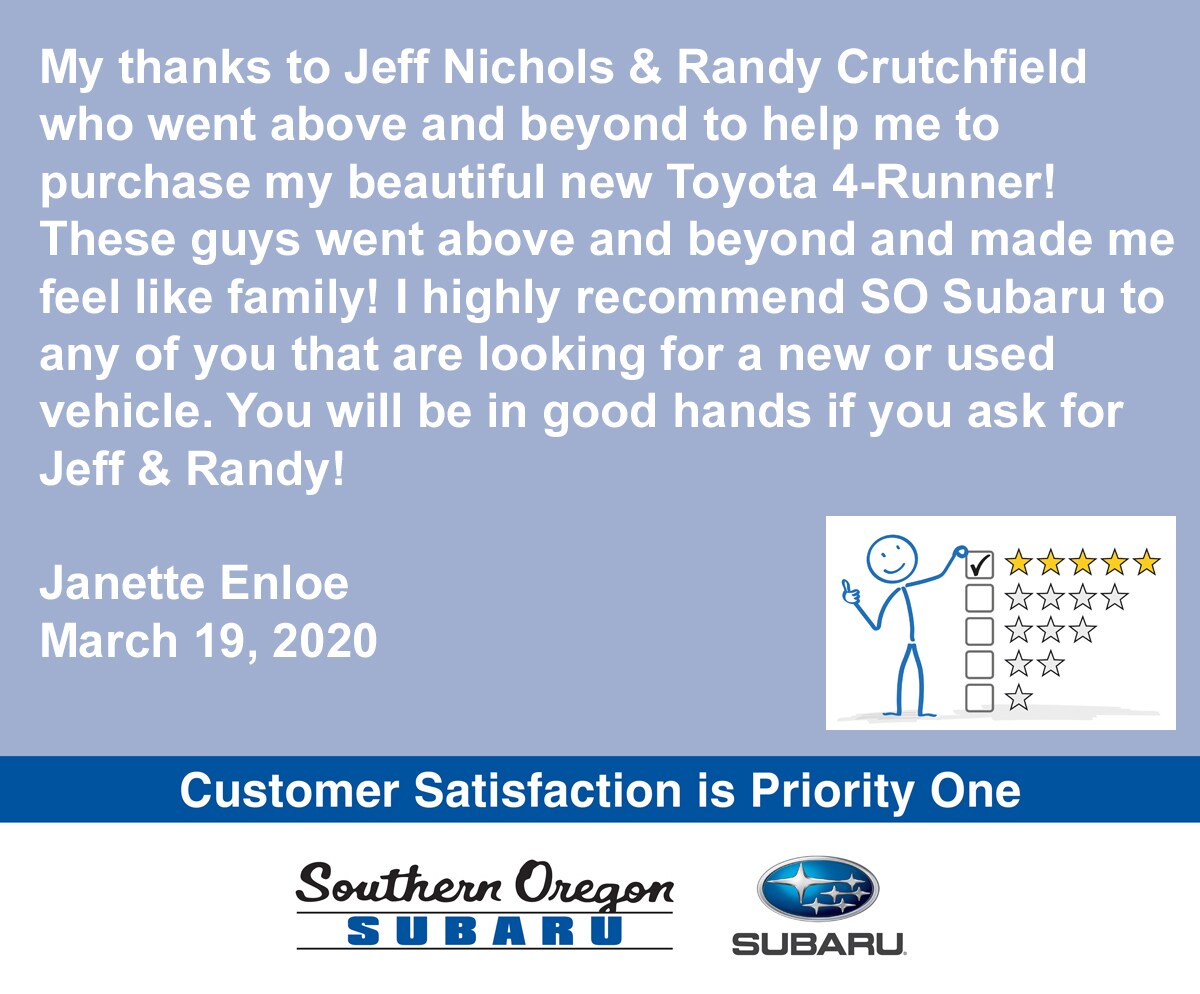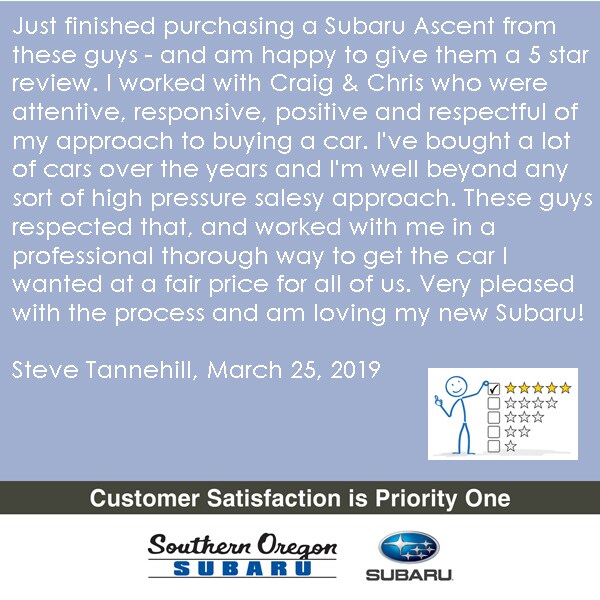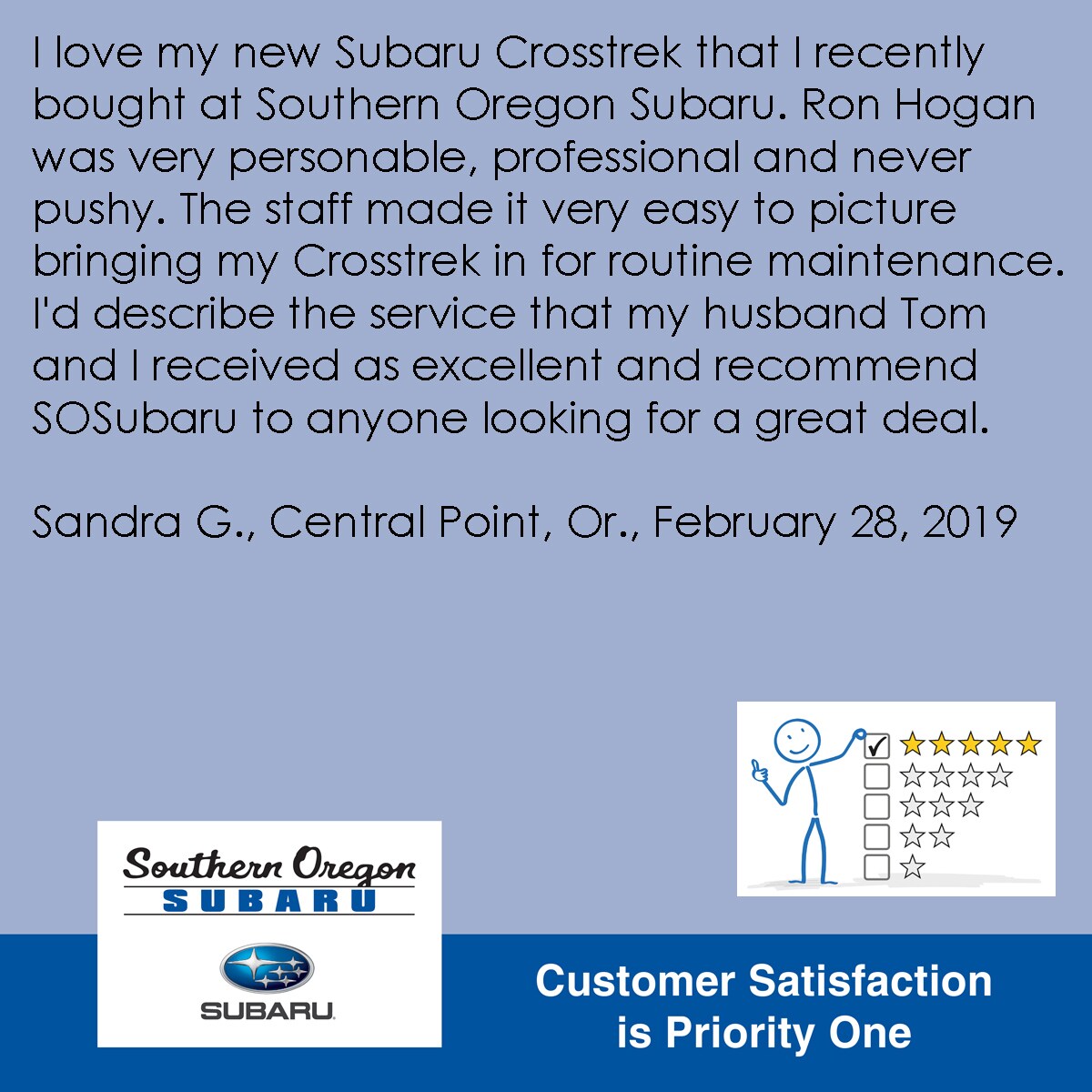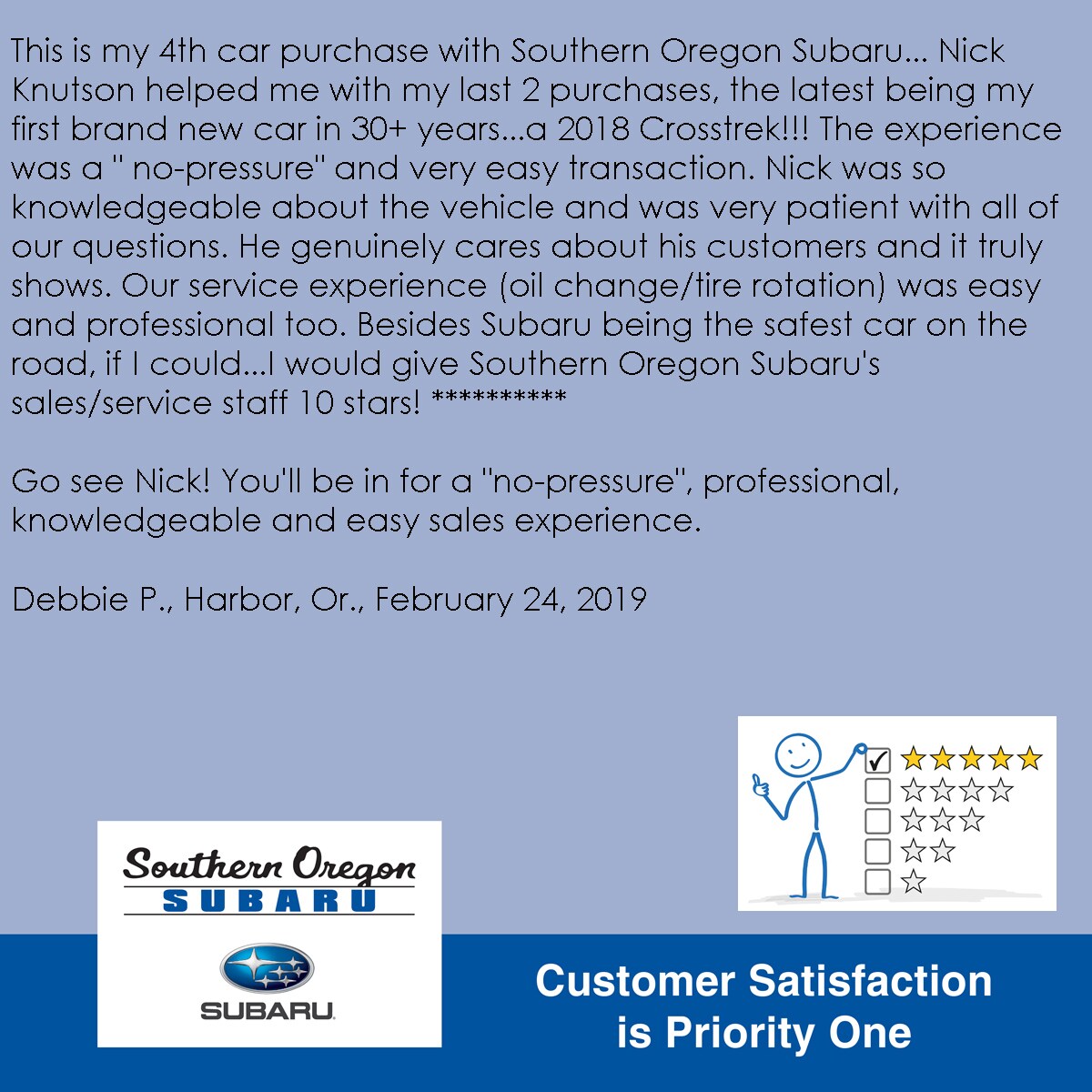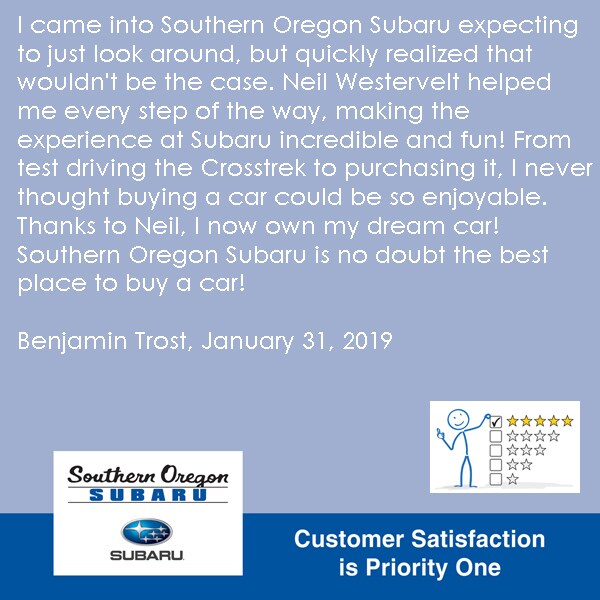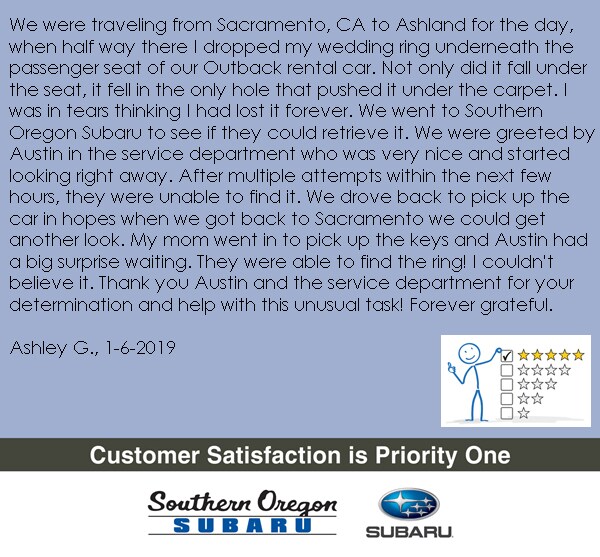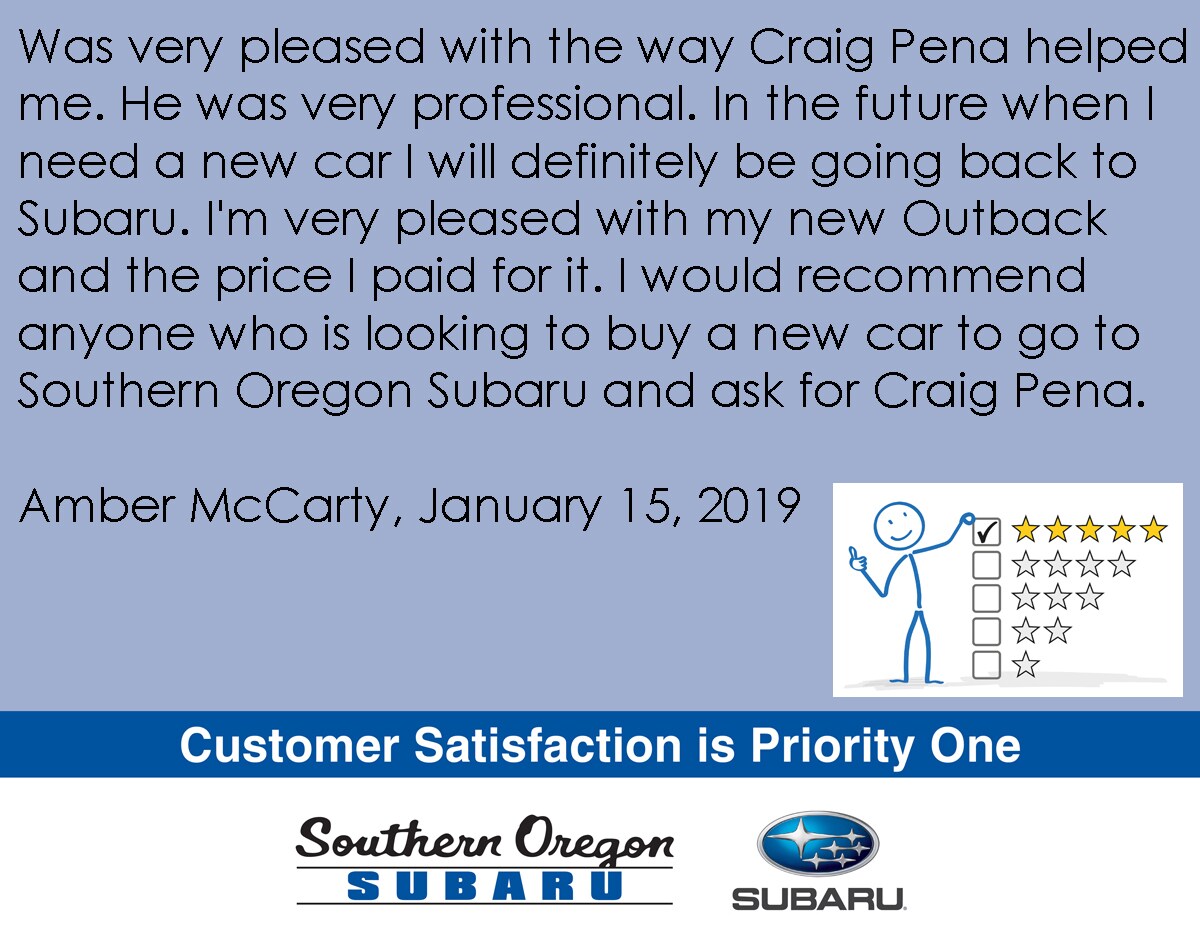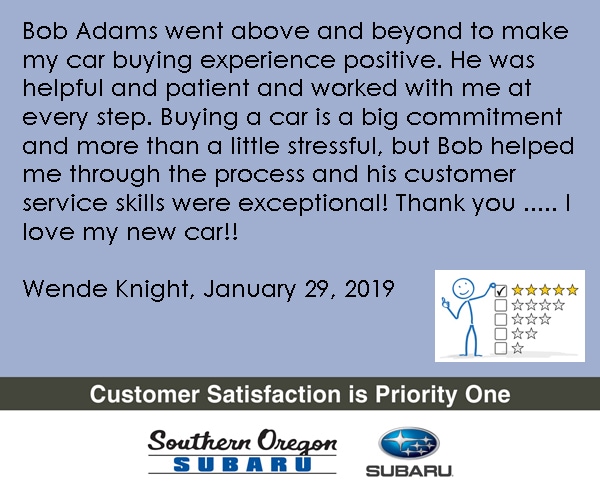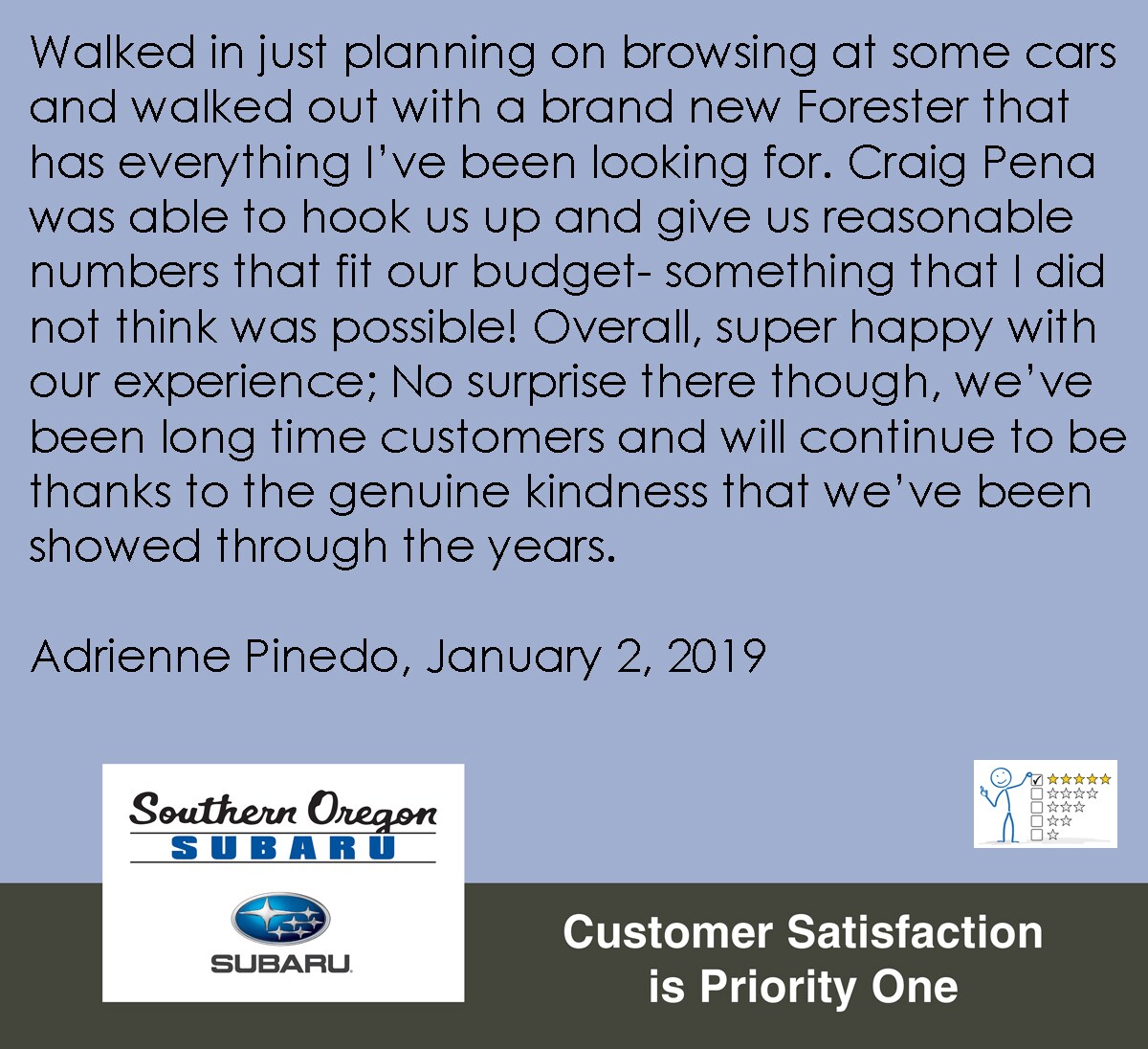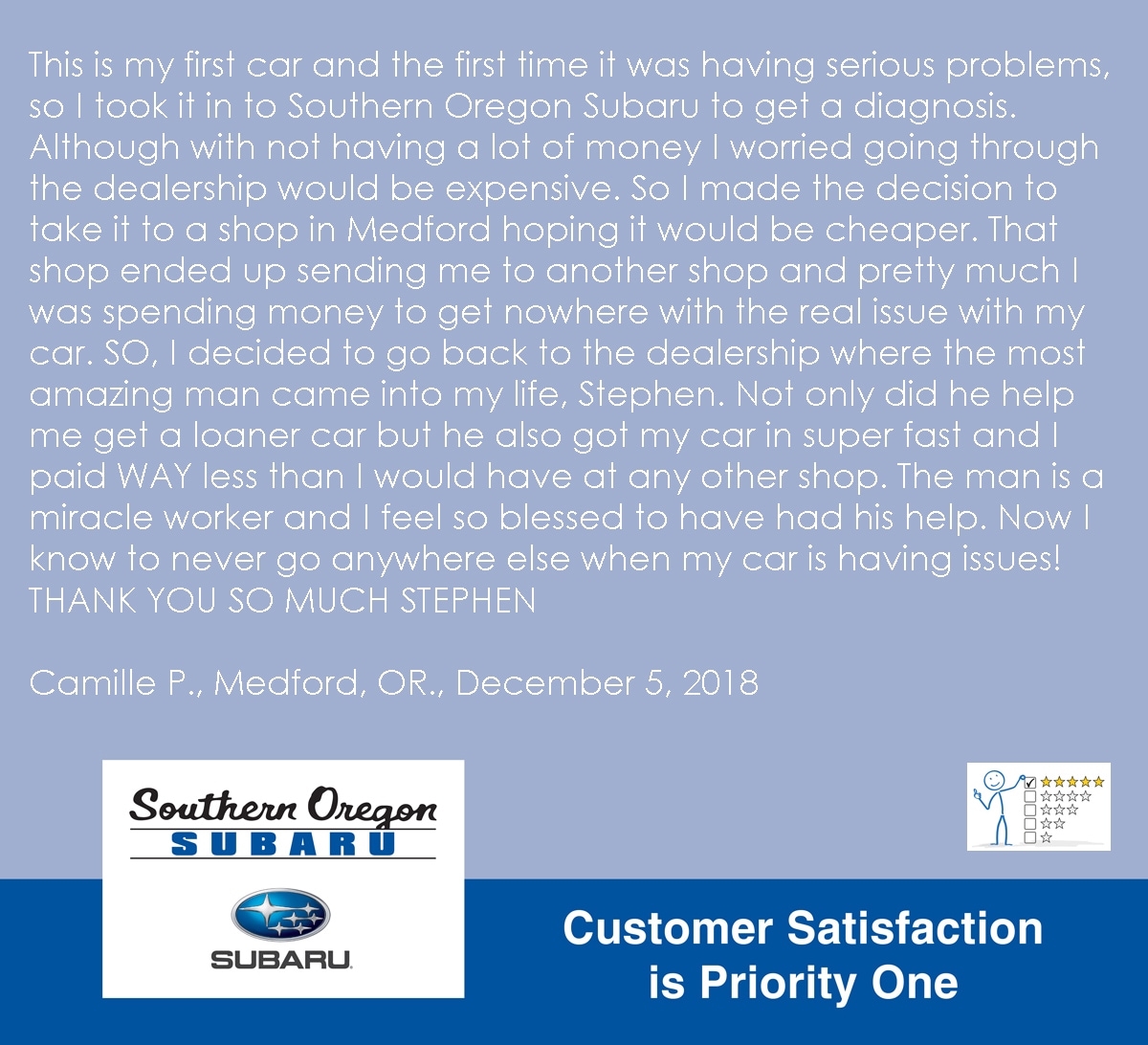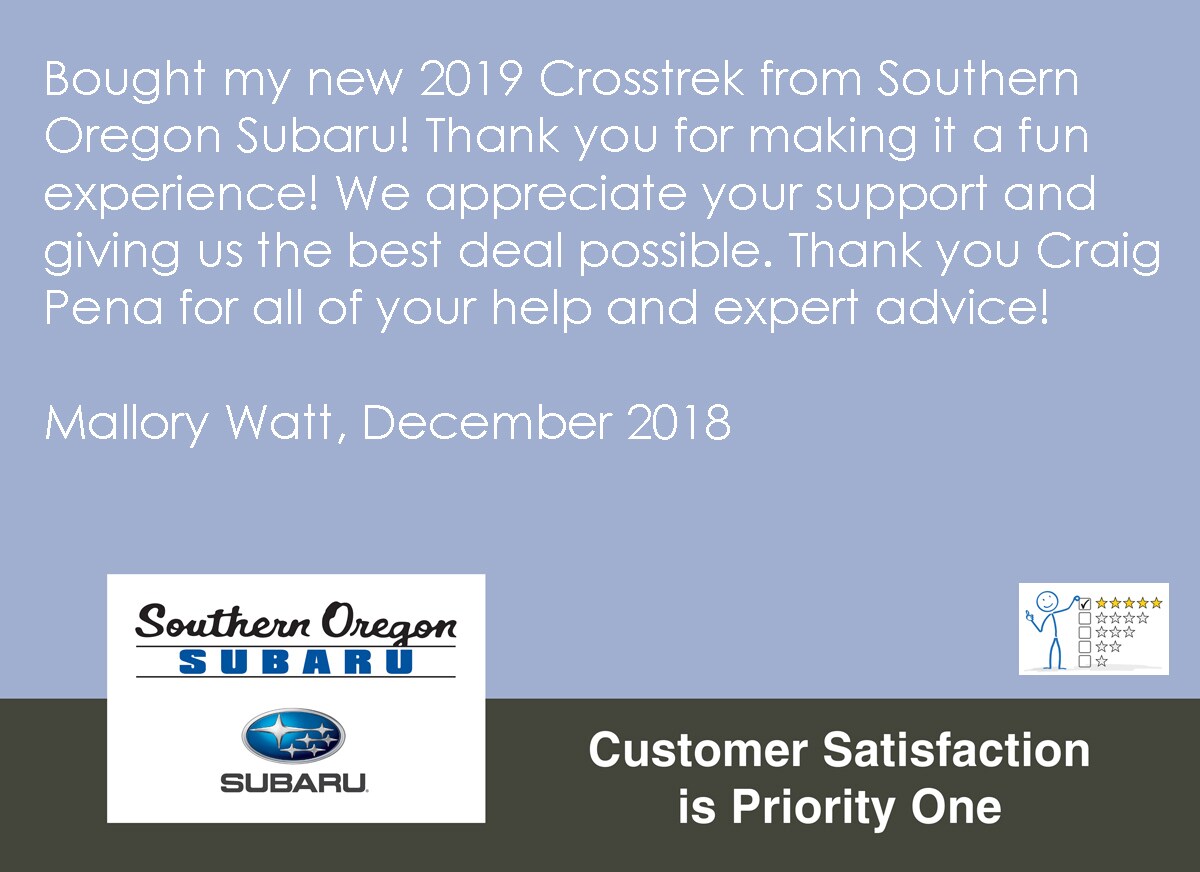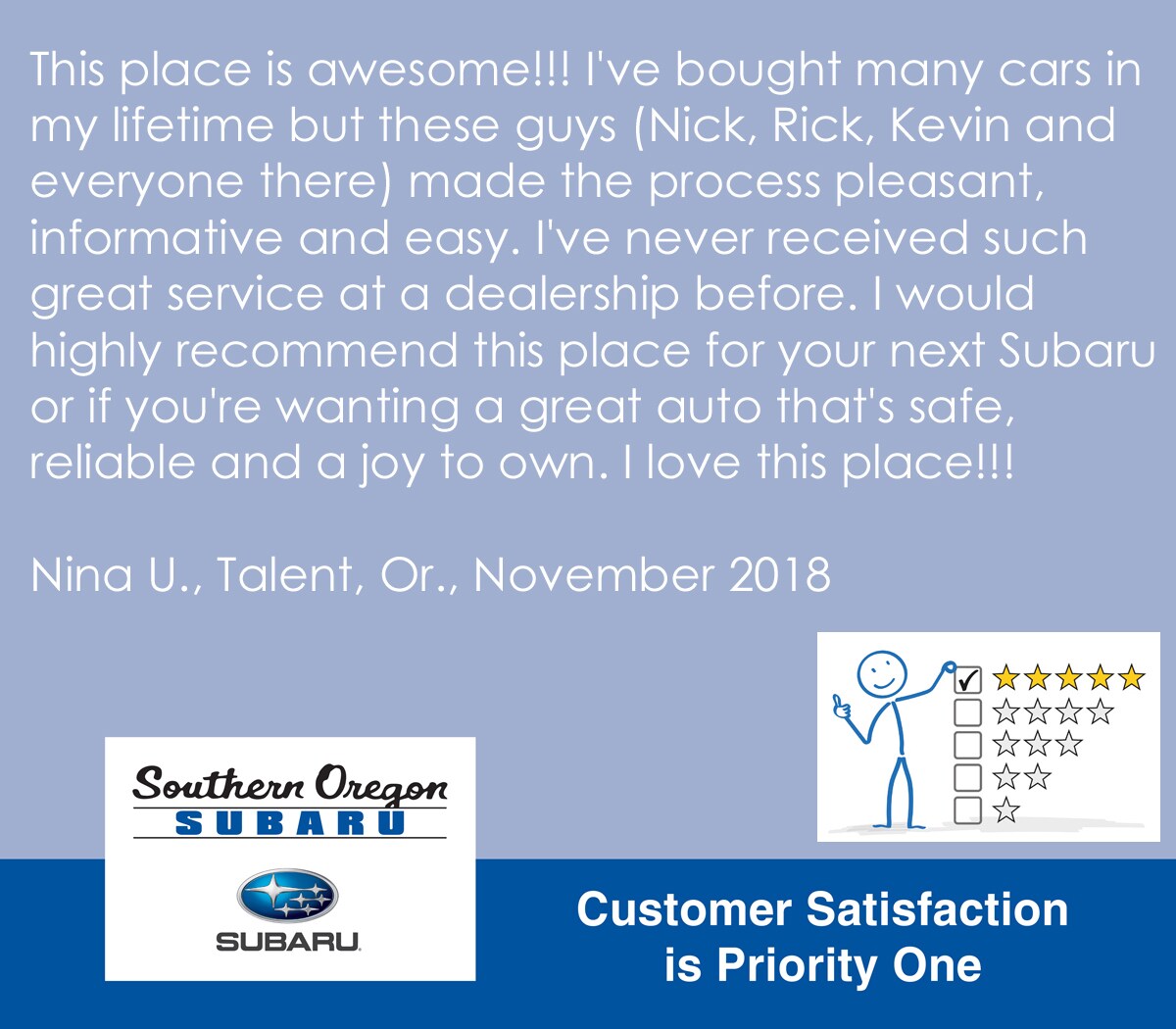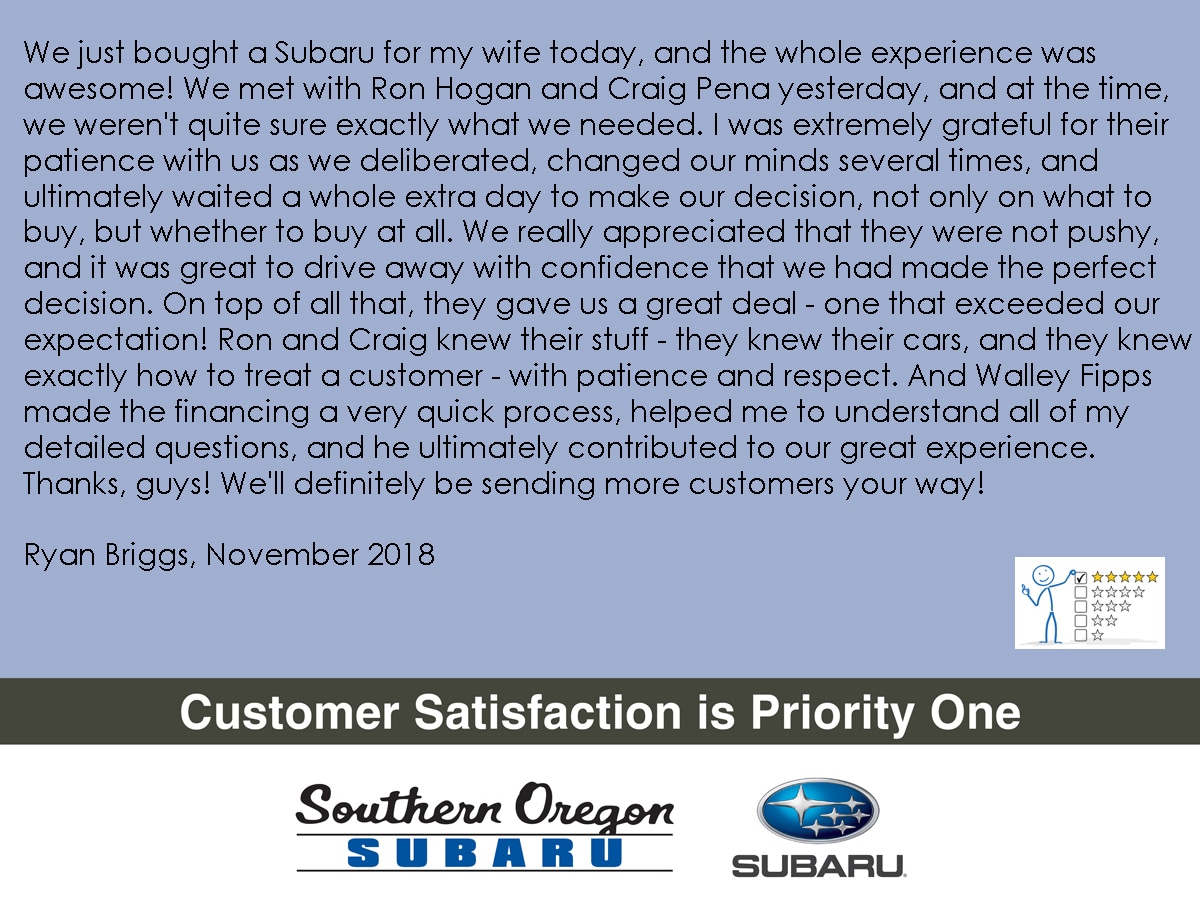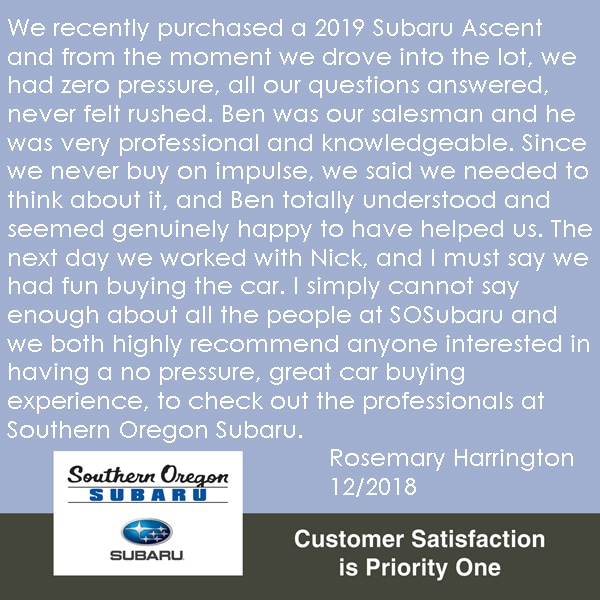 Tony is awesome. Easiest car buying experience ever. We're thrilled with our purchase and looking forward to picking it up today.
Miranda Caroligne, November 6, 2018
THANK YOU NICK KNUTSON!!!! You are one of a very few people in the car world that could get me to write a review. You took my mom (75 years young) and you gave her a car buying experience that she will hold for the rest of her life. This will more than likely be her last car and I could not have asked for a better person for her to have experience that with. I know my mom and you will be talked about from the gym to cards to church and everywhere in between. Thank you Nick for taking care of her and us like we were family. I say to anyone reading this young or old Nick Knutson is a young man who will take very good care of you. God Bless you Nick.
Laura Danner, October 2018
My boyfriend and I went car shopping all through the Rogue Valley for the weekend. Of all the dealerships the team at Southern Oregon Subaru was the most upfront and helpful we encountered. Our salesman Ty and Craig were straightforward from the beginning. They worked with us to find exactly the car we wanted and that could fit our financial needs. We will be return customers and would recommend them to all of our friends.
Steph G, October 2018
I had an excellent experience with Frank Liva. He was very patient, no pressure. He listened to what my needs were and what I could afford. He got me into a car that fit both. Everyone at SO Subaru was extremely helpful!!!
Cristin Horton, September 2018
Ted Bozenski was amazing. I would recommend him. He was extremely helpful and made us a great deal.
Karen Gayler, September 2018
Had the pleasure of working with Tony and Rick. My overall experience was fantastic! Admittedly, I am no expert when it comes to cars, and this was my first time looking for a new car. Tony and Rick were both able to answer my inane questions with ease. They were both so knowledgeable about every car i was interested in. They were able to help me choose the right car for my budget, as well as life style, without making me feel pushed. I don't normally write google reviews, but i was that pleased here. I would absolutely recommend working with either. I couldn't be any happier with the service, or my car!!! Also their sales manager Randy was so helpful throughout the process, and just seems like a genuinely nice man. I look forward to every drive now, i love my car!!! Thanks so much guys!!!
Benjamin Morales, September 2018
I had a great time working with Tony and Craig - in fact everyone I met at the dealership was super friendly and helpful. It's refreshing to work with salesmen that are not pushy or rushing/pressuring you into a buy. They were both very patient with all my questions/concerns/pickiness (thank you T&C), and I ended up in my dream car! Couldn't be happier with the experience. Who knew buying a car could be so fun ;)
Laetitia Guillet, September 2018
We were very lucky to work with Rick Aarons in buying our Subaru Crosstrek. He was so patient with all the questions we had and never pushy. He made us feel comfortable at the showroom and he showed us around and guided us through everything we would need to know about our purchase. I hope others are lucky enough to work with him.
Kim Rametes, September 2018
Had a great experience buying my new Crosstrek at Southern Oregon Subaru. They worked with me to take in my trade and got me the best price for both the trade in and my new Crosstrek. Could not be more impressed with the kindness and the care that sales rep, Frank Liva showed me. Have been to some lots, where all they are about is a deal and that's not the case here. He's not the stereotypical "pushy salesman", Frank looks out for his customers and makes sure to do whatever he can to make sure the customer is happy, even staying late to finish up the deal after I got off work (make sure to ask for him if you go in, you won't regret it!!) 5 Stars for everyone down at SOS who helped me get into my new car!
Raelynn Leffler, September 2018
Just purchased a new 2018 Outback from SOSubaru. What a wonderful experience. Benjamin our sales associate is fantastic. He's by far the best sales person I've ever encountered. Knowledgeable, personable, and highly intelligent. I wouldn't have bought the car if not for the outstanding service I received from everyone at SOSubaru, Wendy, Jeff, Wally and the whole team. If I could rate them a ten, I would. Benjamin is outstanding. Thank u.
Gino Vingino, September 2018
We checked out three dealerships in Southern Oregon and Eugene. Southern Oregon Subaru was by far the most responsive and gave us absolutely the best deal with the best service. We worked with Ben and he was awesome professional and knowledgeable.
Andi and Kevin Broadie, September 2018
Car shopping isn't typically something that I believe anyone would describe as the following, easy going, fun, and at times entertaining. Rick Aarons and Craig Pena made buying a car NOT stressful. They even fed me snacks to keep me happy and not hangry. If you are considering a car I would DEFINITELY recommend these two guys and Southern Oregon Subaru. P.S. Thank you for the beef jerky!
Coeli Dwivedi, September 2018
Stephanie Rizzardo is the greatest sale professional that we have ever worked with. She worked with us to purchase a car for our daughter with extra care and kindness. We live in the Bay Area CA and couldn't help out with lots of details and Stephanie stepped in for us. Her professionalism and kindness are worth much more than the price of the car. She is someone you don't forget. We would not hesitate to drive up from CA to Medford to buy another new car from her. Thanks a million! Mike and Margaret
Michael Brandl, August 2018
My recent car buying experience at SOS went far better then expected. Was super happy with the help and service of Frank Liva. He was not the typical pushy car salesman you fear at all. He helped me get into a wonderful new outback that will be great for myself and my family. Was treated well by the entire staff there! Love my new car!!!! Love Subaru!!! If you go in, ask for Frank!
Cassandra Black, August 2018
Superb Service! Very professional, not pushy!! I worked with Stephanie and she was wonderful! She worked with me, asking good questions and lining up test drives, to narrow down my search to the right vehicle! The entire process was easy, no pressure, and actually fun! This is how buying a vehicle should always be!!! Wish I could give more than 5 stars! I have used the service department several times since then, and they are always polite, professional, and fast. Plus they have fast wifi and a comfortable waiting area so I can get work done while they service my vehicle. My car is always clean and done within the time they promise.
David Veach, August 2018
Couldn't have asked for better customer service! They do whatever then can to help and always go the extra mile. Stephan is awesome and is there at the drop of a hat to do anything he can to help!! Highly recommend.
Madelyn Keepes, August 2018
I worked with Stephanie Rizzardo when buying a used Mazda CX-5 and could not have been more thrilled with my experience. First test-drove a used Forester which was not for me, but Stephanie kept her eyes peeled for CR-Vs and CX-5s (my real interests) and was very patient and eager to help me get my vehicle for the price I wanted. Other dealerships use very ironic tactics such as spam with e-mail and phone calls (which make me never want to step foot on the lot again) -- not SO Subaru. I visited many times before I purchased my vehicle and always felt welcomed and not like I was being bullied into purchasing. When I was having issues with my seatbelts after purchase, the service department was very quick to get me in and solve the issue. I worked with Stephan specifically and he was very friendly, kept open lines of communication, and was very easy to reach! Highly recommend both the sales and service department at Southern Oregon Subaru!
Rachel Thompson, July 2018
Craig Pena was so helpful and patient while we were looking for a new car. He listened to what our priorities were and showed us relevant cars. Made the experience fun and hassle free. Definitely would recommend!
Jessie Richardson, July 2018
Excellent all-around experience. Craig Pena was friendly and helpful. No pressure and no BS. They were accommodating to my trade in needs and made sure I was happy with the deal.
Jonathan Birdsong, June 2018
I had a great experience and probably the easiest car buying experience ever at Southern Oregon Subaru. My sales person Ben E was polite patient and totally guided me thru the buying experience by being very helpful and informative. He was very personable and polite. My car was purchased approximately a year ago but I have been lax getting this review completed. I would definitely would return to buy another car at Southern Oregon Subaru in the future. Its wonderful to be able to go to an independent dealership here in southern Oregon and be treated fairly and honestly. Thanks Ben for a great deal!! You are appreciated.
Coleen E, June 2018
I couldn't be more satisfied with the overall communication I've had regarding my Subaru transaction. John Bermea is trustworthy, reliable and a great person to work with. The process is very comfortable and at ease when you're in John's good company.
Brian Schnee, June 2018
I worked with John Bermea and I received the red-carpet treatment! I came in looking for a used Subaru but fell in love with the Impreza! It is beautiful, stylish and most of all it is a practical car even with bells and whistles. I really didn't know for sure what I wanted and John showed me several options within my price range. He listened carefully to my description of what I needed and why and got me exactly what I wanted. I was treated fairly, honestly and warmly by everyone at S.O. Subaru that is why I was a returning customer.
Diane Reichert, June 2018
Rick Aarons was a great salesman! He provided me with the best service, support, and help while purchasing my Subaru. Very friendly, stress-free and reliable process, which was exactly what I was hoping for from a salesman and dealership. I will recommend Southern Oregon Subaru along with Rick Aarons to all my friends and family, even strangers ;)
Alexis Mahoney, June 2018
The folks down at Southern Oregon Subaru are incredibly helpful, and genuinely care about their customers. Bob Adams and Tony Hernandez worked hard to help me walk out of their business with a car that fit my needs. They went above and beyond in every way to make sure I was getting the right car for my budget. I would highly recommend you give these guys a call today!
Dillon Holst, May 2018
Ben Eaton, was a huge help. He understood what I was looking for and was very quick with helping me in my situation. I was able to leave in the car that I wanted! Great place! Everyone was very friendly!
Jesseca Richards, May 2018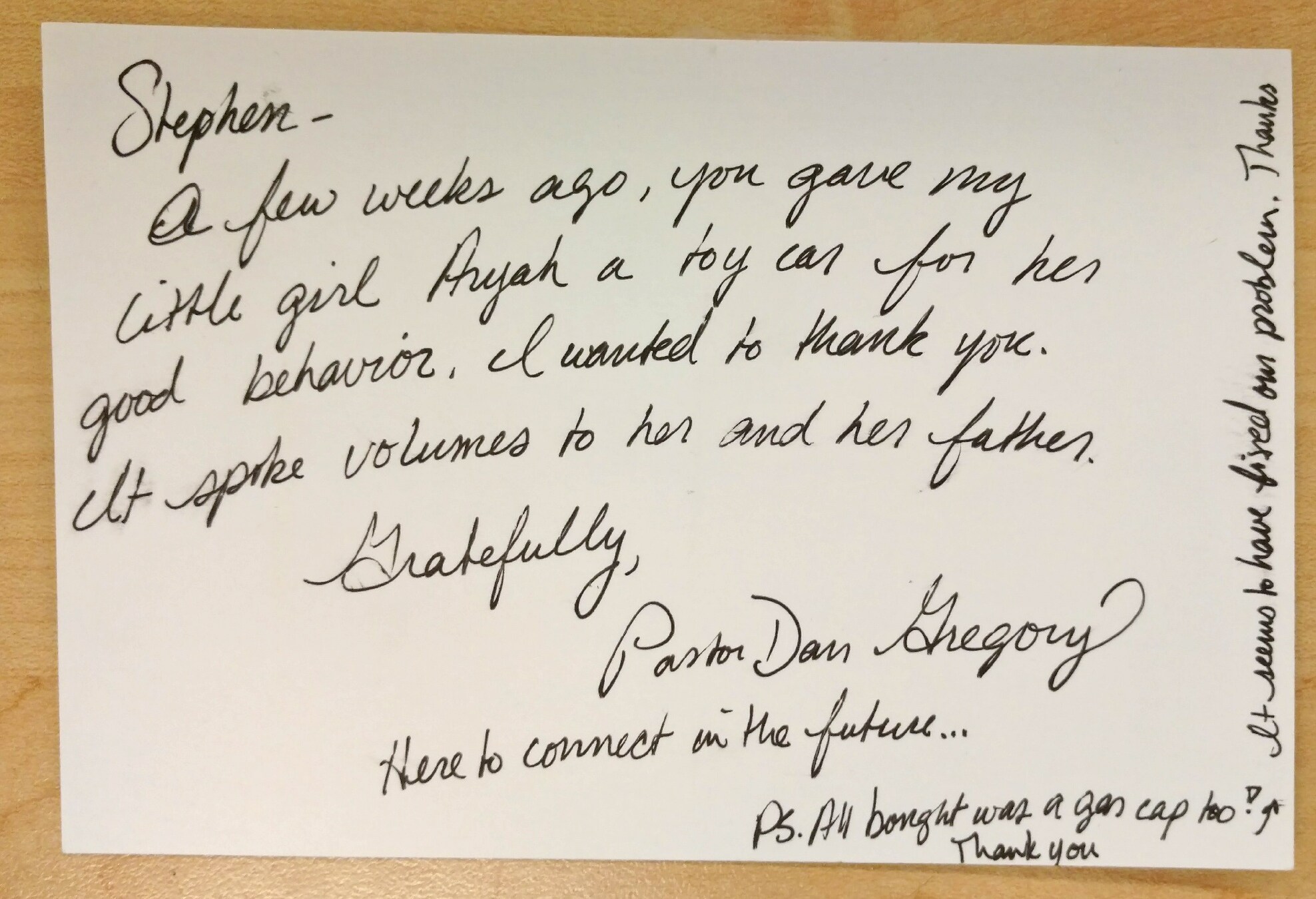 I recently purchased a Subaru Touring Outback and was extremely pleased with the service. Nick was excellent and helped us through this process which was the best that I have ever experienced in my years of buying new cars. Kevin worked with us and was willing to go the extra mile to make us happy being this was the first Subaru we have purchased. I just can't say enough about this experience and will continue with any of my future purchases through Southern Oregon Subaru.
Jimmie Abbott, May 2018
We would like to congratulate Southern Oregon Subaru and there team on having the best customer service around. In April of 2018 my husband and I purchased a 2018 Subaru Legacy, with the assistance of Stephanie Rizzardo in sales and Jeff Holcomb General Manager. Somehow there was a mix up on both ends and we received the wrong car. After calling and explaining our situation, 24 hours after we bought the car, they were very understanding and wanted to make sure we received the right car. A few days later we went back and got the correct car. We would recommend Southern Oregon Subaru Dealership to anyone who is looking for a new Subaru and who wants outstanding customer service. Sincerely,
Andy & Harmony Jackson, May 2018
My husband recently purchased a used Outback from them and the clutch went out just over a month after he took it home. He didn't purchase the extended warranty. After talking with Ben and Stephan, his clutch was fixed promptly and at no charge to him even though it was no longer under warranty and they had no obligation to fix it without charging him. They went above and beyond.
Haley Rubin, April 2018
Oil change, no appointment, in and out 35 min. Swell waiting room. Hot decaf and fresh fruit. Big plus...almost half the cost of oil change in my home town. Almost forgot...a real carwash...inside and out.
Robt. Montz, April 2018
Really great car buying experience. Tony, Nick, and Wally were very helpful. Everything was straightforward and easy. Thanks a lot!
Ben Hicks, March 2018
My husband and I bought a new Subaru Crosstrek today, and had a great experience at Southern Oregon Subaru. We were greeted by Frank Liva in the showroom, who spent time with us finding our car. It wasn't an easy find, as I was looking for manual transmission. Frankly, I didn't hold out much hope that we'd even find what I was looking for, but there was ONE on the lot. Frank was low-key, knowledgeable and very friendly. He made us both feel right at home, as did the business manager and the customer service representative. The whole process was made simple and straightforward, with no 'hard sell', or tricky maneuvers. I can heartily recommend to you Southern Oregon Subaru and Frank Liva, an excellent salesperson there. I am now the proud owner of a beautiful burgundy Crosstrek! This is my third Subaru, and I couldn't say enough good things about these dauntless and excellent little cars.
Pat O'Scannell and Philip Woolf, March 2018
This place makes finding the right car as quick and painless as possible. Craig was our salesperson - he was friendly, asked the right questions to streamline the process, and had informative answers to every question asked. This will be the first place I go the next time I need a car!
Matt Wing, March 2018
It was an unexpected event for my husband and I to have to buy a car when we did but due to recommendations from friends we decided to first check with Southern Oregon Subaru. The experience was as good as buying a car can be, Craig was great and the next time we need to buy a car this will yet again be the first place we look.
Sydney Wing, March 2018
We got our 2018 Outback from Frank Liva. We were being specific and discerning (or stubborn and picky) about the car we wanted, and Frank worked with us to find just the one. Frank is a regular guy. We liked buying from him. The Outback is good,too. We've noticed several things where they've put some thought into designing for ease of use.
Collee McLean-Bowen, March 2018
I just purchased a new Subaru Outback, and the whole process went very well. I am not an impulse buyer, and I do a lot of research upfront to determine which vehicles I am interested in. I visited the lot several times while making up my mind about which car I wanted to buy. I worked with Rick Aaron, and he was great to work with. He is very knowledgeable about the various models, and did not use any high pressure sales techniques. Once I made my decision about which car I wanted to purchase, he continued to be supportive and helpful, without some of the usual gimmicks that car salesmen can use. Even price negotiation went very smoothly, and I am very happy with my new Subaru Outback, and the whole buying experience. I would highly recommend both SO Subaru and Rick if you are considering buying a new car.
Juli Di Chiro, March 2018
Today I had a great experience with the service department at Southern Oregon Subaru thanks to Stephan Abrams. Yesterday, all the lights started flashing on the dash of my 2012 Subaru Impreza. The issue was with my transmission; I just knew this was going to be very expensive. Stephan worked with me on a prior issue and I knew I could trust his advice. He contacted Subaru corporate and explained the history of my vehicle and convinced them to cover the entire expense to fix my transmission. If you need a service manager you can trust and will go to bat for you, Stephan Abrams at Southern Oregon Subaru is your guy.....
James Dykstra, February 2018
Searched the state for the cheapest Subaru I could find. Almost traveled 8 hours to get it. Buuuut... The value and time saving that I got for staying local and working with Craig Pena was worth it all. Got a great deal. Was easy to work with. They located the exact vehicle I wanted and are diving it down, as I type!
Joe Maya, January 2018
Best buying experience ever!!!
I bought my first Subaru Forester in 2003 from a dealer in Reno. We lived in Lake Tahoe, so owning a Subaru was super important to navigate the snowy roads there. Long story short, I put 209,000+ miles on my trusty Forester and it was time for a NEW 2018 Subaru Forester!
Living in Southern Oregon I researched the new Foresters and where to purchase the vehicle...hands down it was Southern Oregon Subaru! Southern Oregon Subaru is fantastic!!! We drove there with our dog, and Sparky was welcome to join in the hunt for my new Subaru.
Also researched which Sales Professional to work with, and again hands down it was Nick Knutson!!! Nick is great to work with! Super knowledgeable about Subaru, and gave a great demo drive for my 2018 Forester Touring model, and made sure Sparky had a water bowl in his office.
Buying the vehicle was super easy too, no back and forth with "the manager", just very quick and easy.
Everyone at S.O. Subaru is great to work with, had some extra options installed afterwards and Austin in the service department was also great to work with!
If you're in the market for a Subaru, Nick Knutson is your go to person! Give him a call, or better yet, go see Nick and enjoy buying your new Subaru!!!!
Thank you Nick Knutson, I love my new Subaru Forester!
Sara T., Crescent City, CA., January 1, 2017
The service department at Southern Oregon Subaru is so awesome. I always work with Stephan, because he is very knowledgeable, helpful, understanding, and kind. The process is always quick and easy. They do not try to sell me things I don't need, but know that I want to take great care of my car. They are the one and only service department that I will take my car to because I trust them to treat my car how I would treat it. I plan on being a lifetime customer and recommend them to friends and family. Thank you Stephan for always making me feel welcome, understood, and well cared for.
Kali Wiedrich, Medford, OR., August 2017
I just bought my first car from Southern OR Subaru and had a wonderful experience. After initially visiting Kendall Subaru in Eugene I decided to go with the Medford dealership. Through several phone calls with Nick I felt much more comfortable with my choice to drive the extra distance and I am so glad I did. Nick was awesome with helping me find my Crosstrek and he was an honest salesman who gave me a great price. Thanks Nick!
Phoenix Villanueva, Roseburg, OR, July 2017
My wife and I bought our fourth Subaru from Southern Oregon Subaru yesterday. I just wanted to write to thank Jeff Nichols and all of you for such a great experience. Jeff is the reason we go there for our new cars. He's always friendly, honest and makes sure we are satisfied with our selection. We consider him a friend, and it is always nice do business with a friend. We know we can rely on him for great customer service. He knows I dislike sitting around waiting so he made every effort to move the whole process quickly.
Thank you,
Patrick Beste, June 2017
They were very friendly, helpful and helped us find exactly the car we needed and wanted. Made plenty of time for us and discussed all options so we knew exactly what we were getting into!!! Outstanding customer service!!!
Star N., Ashland, OR., May 2017
My first Subaru, a 2017 Forester, is a great car, and the most fun car to drive I've ever owned. Also, it feels heavy and safe, as well as roomy, but I am averaging 25.6 mpg for city driving. And I can parallel park it perfectly the first time, every time. Only one other car I've driven could I park like that! The experience of buying my Forester was unlike any other car-buying experience I've ever had. I met Nick at the dealership and first we talked about what I needed in a car. As we worked through the process, I found Nick to be patient in so many ways: no pressure, just a complete explanation of the car itself, a beautifully done tutorial. He didn't mind repeating what I hadn't gotten first time around. We worked well together from the beginning. Once we had our deal, Nick then took me around to all the different departments that comprise the dealership and introduced me to each manager. The managers gave me their cards and told me to call should I need anything. And here is why I love Southern Oregon Subaru: this is a dealership that is not run like most others, no others I've ever done business with. Throughout my ownership of this car, Nick will be my main contact. I call him first if I need anything. If he needs to direct me elsewhere he will, but he remains my advocate all the way.
Chris Wiltz, Ashland, Or., April 2017
Not that this page dealership needs anymore 5 star ratings, they are a genuine class act. My wife and I purchased a used chevy truck from them over a year ago and the sale still sticks out in my mind. We worked with Rick, he was a great dude sold us the car and didnt try and do anything shady. They were upfront and honest about every single aspect of the sale and the truck ran flawlessly. i just hope whoever got that datsun is taking immaculate care of it because i miss it nearly everyday.
Justin Humphreys, April, 2017
Southern Oregon Subaru is the best! I purchase my new Crosstrek a few months ago and my experience was wonderfully seamless. I worked closely with John, an awesome Subaru dealer, who made the process comfortable, effortless and fun. I really felt like he took care of me throughout the whole car buying experience, and even after. They're a professional, responsible, locally owned and operated dealership with knowledgeable and personable staff and I can't recommend them highly enough. Thanks John! Thanks Southern Oregon Subaru! I love my Crosstrek! Can you help me find a dog now? ;)
Andrea Giachetti, Ashland, OR., March 2017
Bob Adams is, hands down, the person you want to sell you your next car. Not only was he patient in answering my barrage of questions, he also found me the best deal. His price was so good, in fact, that it was worth me making a trip down from Portland to take delivery of my new vehicle. They even sent a car to pick me up, free of charge. I will definitely be calling him next time and referring him to my friend and family.
Aaleron Vancouver, Portland, OR., February 2017
Impressive Quality and Service
From being greeted at the door, through the test drives and viewing of vehicle options until we walked out with new Outback keyless access fobs in hand, we were treated with courtesy and respect. Every question was answered, even many we didn't think of ourselves. We were thoroughly introduced to the vehicle and all the new technology - very important to us older people. Ty was our salesman and guide, and we could not have asked for a better experience. The dealership has followed up with us since the purchase, continuing their sincere concern with our satisfaction. We love our Outback and recommend SOSubaru.
Gail and Joe. Bandon, OR., | January 12, 2017    
What a fantastic experience we had in Medford! Beau Beamish was out of sight on the sale - super informative, personable, and fun to test drive a car with. He really made our experience a grand one, and ultimately sold us on a 2017 Outback. The staff was amazing and the sale was smooth. Get over there and get into something beautiful!! I wish I had done it sooner....
Kelly Timchak, Dec 30, 2016
Awesome Impreza
I had a great experience buying my Subaru here. Ben was an awesome help, answered all my my questions and even bought me dinner during a ride-along in an STI. I would recommend anyone to come here if you're looking for good quality customer service and good quality vehicles!
Matthew Erickson, Ashland, OR | November 6, 2016
First Time Buyer
Thanks so much for all your help Ben! You were great & made everything so easy and hassle free for my first time car buying experience.. I will definitely come back!
Julia Mariscal, Medford, OR | October 12, 2016
Great car buying experience at S. O Subaru.
When I first went to S O. Subaru I met Ben. I was just looking at the time and Ben kept in contact with me throughout the weeks notifying me of vehicles that might interest me. He is a great salesman- never pushy and very helpful. I would recommend Ben to anyone looking for a car. Thank you again Ben!
Amy P., Eagle Point, OR | September 12, 2016
A short note to tell you that yes, in fact, had a great experience doing business with your company.  This is the third Outback we have had in the last 13 years.  In the past I have simply looked around in the private marketplace and purchased a one to two year old Outback for my wife.  This time, a surprise for her and went out and researched the new car market for a well equipped new one.  After contacting and doing some negotiating with you and KF Falls Subaru you met and exceeded their price and felt comfortable making the purchase from you.  The fellows I worked with were great, the car was exactly what I want as equipped.  Thank you for the unexpected gift  and will feel easy recommending to anyone that shows an interest in buying a Subaru to contact your firm.
Sincerely,
Van and Loretta Sias, Medford, Or., August 2016
What could have been an absolutely horrid situation was made easy here and specifically by Stephan. The story is we bought a car off a used car lot in Seattle *hopeful thinking* and when we reached Crater lake, James smelt coolant and noticed the temperature gage fluctuating oddly fast. We immediately called Southern Oregon Subaru and by luck was connected with Stephan. He understood our situation and said just try to get here as fast as you can, we arrived and he immediately took the car back to take a look at it, he gave us a loaner car that we ended up taking all the way to California and in just 1 overnight he fixed our car which ended up needing a flipping load of work. We have the car back and it is running perfectly! Stephan was speedy and incredibly efficient. I would recommend Southern Oregon Subaru in a heartbeat!! Side note: our loaner was a 2016 crosstrek and it is so fuel efficient yet still a bit beastly!
Kacey T., Phoenix, Az.  July 2016
After 20 years with our other car, we decided to buy a new Subaru Forester from Southern Oregon Subaru here in Medford. I was so impressed with our buying experience today. The staff at Southern Oregon Subaru treated with the utmost respect and honored us. There was none of that car salesman gimmicks and games. I highly recommend Southern Oregon Subaru to everyone within driving distance. It will be an experience you will never forget! Ty and Beau, you were both so wonderful to deal with. Thank you!!
Cheryl Helvie Hukill, Medford, OR., July 2016
Rick helped and found the car we wanted and gave us a great price on a Forester 2017. We came from Eureka/Arcata in northern California to buy the car. California dealers could not give us the time of day or find a model in stock of the color or items we wanted. We drove up and met Rick at opening and were driving away in the car in 2 hours. They covered all details and made sure we were happy and have followed up to make sure all was well. If you are looking for a Subaru check there and they will make you leave with a smile and a car.
Barry D., Arcata, CA, July 2016
The team at Southern Oregon Subaru are very attentive! Each and every department is helpful in making sure my needs were met. They were very patient with my process of being sure of the purchase I was going to be making. I would highly recommend to shop at Southern Oregon Subaru. Thank you Craig, Nick and all the other staff that was VERY helpful!!
Rhonda Rafferty, Brookings, Or., July 2016
I just bought my second Subaru. The first was in 2004 and that was a great experience. Well, it has been 12 years and this was a better experience. Beau, the sales person is fantastic. You will feel comfortable from the start. Stop by Subaru Medford you won't regret it.
Nancy Thomas, Ashland, Or., July 2016
SOSubaru is by far the best car dealership with the best product value that I have seen in my 50 years of car buying. Salesmen are kind, service is the best and fastest, and the product is great fun to drive. Trouble is, I keep coming back for more. Love my Subarus!
John Melson, Medford, Or., July 2016
Myself and other members of my family have been buying from SO Subaru for many years. John Bermea helped me get into a car I could afford and that would be safe for traveling over Hwy 140 year round while I was in college, and he was the first person I went to when I was ready to replace that car upon graduating. I get all my service done there and have never had a poor experience or a poor running vehicle. I wouldn't buy from anywhere else.
Teresa Campanelli, Medford, Or., July 2016
Such great costumer service! Even in a hard time in our lives they were so sweet and personable. First time buying a car, they were so awesome and made sure to get us the best deal. Would most definitely recommend!!
Brittney Deskins, June 25, 2016
Personally and professionally, I turn to Southern Oregon Subaru to service my vehicles - none of which are Subarus! Their service department handles all makes and models and have kept SoHumane's Ford Ranger and Chevy Venture up and running at competitive rates. When it came time for me to buy a personal vehicle, I met with their sales team, explained what I wanted (a low-mileage used Toyota Tundra) and they did all the work. They updated me at regular intervals and when the right vehicle came in as a trade, we sealed the deal in a matter of hours.
Kenn Altine, Executive Director, Southern Oregon Humane Society
This was the best experience we have ever had at a dealership.  We loved the No Pressure atmosphere.
Karen Ridgeway, may 2016 
I bought my first car a few weeks ago and I was so happy with the service at Southern Oregon Subaru! It was my first time buying a car from an actual dealership (I've only ever used craigslist before) and I was worried it would be how it is on tv- with a sketchy salesman and unethical deals. Thank god I was wrong! I worked wtih Nick who was great! I told him exactly what I wanted and what I liked and didnt like about the different cars on the lot. He found me the exact car I wanted for the price I wanted. Overall, it was an awesome first car buying experience!
Lexi Amrhein, Grants Pass, Or., April 2016
I've had a 98' Forester for the last ten years that has been solid. I went in to see what kind of trade I could make for an upgrade. I was helped by Rick and explained my situation to him. Not only did he do me right by giving me a ridiculous amount for my baby of ten years. They really went out of their way to get me in at a rate that was affordable. Although I wanted to barf at the commitment of having a car payment. I don't regret it one bit. I love my car! I'm pretty sure I say that everytime I drive it. I feel much much safer. Not to mention how hot I look driving it! ;-) Thanks for the pizza and free car washes Rick!
Becky Jameson, April 2016
Stephan has gone above and beyond time and again to accommodate me when my mini is in the shop here. He is an awesome representative of the company; a consummate professional, he will do what he can to make sure your experience here is a good one. Highly recommend this place!
Sophia Palosaari, Ashland, Or., March 2016
I recently bought a car here. I went in not really knowing what I wanted. I had a few things I knew had to happen but that's about it. Everyone was extremely helpful. Rick was the salesman I worked with and he could answer any and all of my questions that I had. Everyone was very knowledgeable and helpful. I'm loving my new car!
Caitlyn Swartwout, Central Point, February 2016
I got stranded in Medford when my trusty old Forester had a transmission failure. Stephan in the Service department was extremely helpful, and when a new module wasn't available, he found a used one that saved me a ton of money and so far works perfectly. I couldn't be more grateful for his initiative and "customer first" mentality. I also really appreciated that sales staff, were informative and not too aggressive. I rarely write reviews, but these guys deserve all the thanks I can give them. Definitely a trustworthy place to take your Subaru.
C Doe, October 2015
Our old car broke down on our vacation
We are very grateful your service staff and sales staff were available to help us on a Sunday morning and got us going on our way on Monday.  If we lived in Medford this would be the go to place for a car!
Richard M., Tahoe City, CA., June 2015
Thanks for the great job on my Subaru - especially for the loaner for my doctor's appointment. I live in Glendale and appreciate your consideration, as it is important to do all the errands I can in one trip. Thanks very much.
Mattie Webb, Glendale, Or., May 2015
Nick Knutsen and I have been talking on the phone for over two weeks. Finally I took the long drive from Crescent City, Ca. to Medford, Or. to meet him in person. Nick was very professional and super nice. He got me exactly what I wanted and answered all my questions with ease. He was honest and to the point. He didn't try to bully me into buying something I didn't want. He seemed to take a genuine interest in me and my wants & needs. When I spoke, Nick actually listened to me. He isn't one of those "fast talking sleezy used car salesmen". He is an honest family man just trying to make a living like everyone else. I would recommend Nick Knutsen to anyone who is looking to buy a new car. All the staff were also friendly and professional as well. I appreciate everything they did for me. Nick went way above and beyond what was required of him. Thank you Nick for a great experience!! You're the best! :)
Laurelei W., Crescent City, CA., May 2015
I don't think we could possibly fit anymore excitement into a 2 weeks if we tried. My husband is amazing. He supports me in every way possible. This is our new car. I feel like such an adult. I did research for months, found the perfect car for our family and business. Hours and hours of car research to make sure it was a smart and thought out decision, a car/suv that will last for years.(the grown up part). Ordered the exact one I wanted color and all. We couldn't be happier!! Southern Oregon Subaru is amazing! Craig Pena thank you again. Our 2015 outback is perfect!! We picked it up Sat just in time to pack it for our Mother's day event Sunday! It was packed with flowers and event decor hours after pick up!! My kids love it. I can fit double the amount of stuff that our last suv fit.
Genevieve Keith, April 2015
Kevin Knopf is one of the finest men I have known and done business.  He is an asset to your organization.  Kevin is a man of his word and can be trusted.  Thank you.
Pamela Arnold McVay, Portland, Or., February 2015
I visited four dealerships in Medford and one in California and yours proved without a doubt way and beyond the best.
Johnny Duncan, Mt. Shasta, CA., February 2015
We went to the coast recently - the Subaru handled the curves on Highway 199 very well.  I'm very glad we purchased the Subaru forester.
Ted Scuitto, Grants Pass, OR., January 2015
Jeff Galante was excellent with regard to customer service.  He was very conscious with regard to budgetary constraints and was open and communicative with every aspect of this repair.  I wish I lived in Oregon as this would be my preferred dealership.  I will definitely recommend to anybody in the area.  Jeff should get a big bonus!  Thanks you.
Tammy Andrews, Woodland Hills, Ca., January 2015
Nick Knudson was wonderful.  This was the best car buying experience I have ever had!  I would come back to Nick again.  Thank you for everything!
Charlene Pariera, Central Point, Or., December 2014
Dealer had exactly what we were looking for!
At every point in the process I was treated great.  Very helpful.  Nice, respectful and knowledgeable!  And the staff is so good looking!
Mark Pranger, Portland, Or., December 2014
From start to finish my family felt welcome and treated with respect.  That goes miles for me.
Kevin Niemann, Eagle Point, OR., November 2014
When my wife began working as a home-health nurse in Klamath Falls, I insisted she buy a Subaru for the long wintry drives. As a minister, I was driving all over the area to see church members, so it wasn't long before I gave up the minivan for a Subaru of my own. Then my oldest daughter was driving it so much, I finally gave it to her and I bought another Subaru. A few months later, my sister in Washington State called with some good news. She got a new car. It was a Subaru. As a family, we love our Subarus.
Don White, Klamath Falls, Or., October 2014
Craig Pena and Kevin Knopf are all stars!
Thank you Craig for giving me a great car buying experience. You asked all the right questions, got to know us to find out what we wanted. After all that we went through some difficult time getting financed, and thank you Kevin for getting us the best rate possible, Everyone here at SOSVM are great! I will surely tell everyone about my experience! Thank you all!
Kim Brooks, Merlin, OR., September, 2014
Incredible service backed by an even more amazing car company
I always knew that Subaru was a top car, but when I went to SOSVM after checking out Hondas and Toyotas and test driving a Forester, there was no comparison. The cars are superior. Purchased a 2014 Forester and loved the car. Unfortunately, it has a factory defect on the dash - a quarter sized bubble. When I brought the car back a week after purchase they said "No problem. We'll replace the dash." Which they did. That is when the trouble started. The new dash vibrated. They repaired it. The problem returned - many times. Every time they said "Don't worry, if we can't fix it we'll take care of you." I was patient because they were nice, respectful and truly cared. The problem persisted and finally after nearly a year of issues Chris Sorensen stepped in worked out a deal with the national Subaru folks to get me a new 2014 Forester. Yes, it was a factory defect but still - I was absolutely amazed that he "did take care of me" and stuck to his word. How many car dealers and companies actually come through and take care of their customers like this? Not many, unfortunately. I will be a Southern Oregon Subaru customer for life now. They walked their talk! And I can't say enough about how they offered the best customer service I have ever seen from any company I've ever encountered. I will be buying my next car from them, that I am certain.
Mark Scarpaci, Ashland, Or., July 2014
I wanted to thank Bob Adams and Nick Allen for their true professionalism and integrity that was displayed when I was in the process of buying a new Subaru. Everyone that I was introduced to was very polite. Bob and Nick went above and beyond my expectations when doing whatever it took to gain my trust and to make sure I was comfortable with my purchase. They did not pressure me in any way and I was impressed with them allowing me to make my own decision on my own terms. I am very pleased with my new Subaru Outback and you have gained a loyal customer. I would definitely recommend your dealership to my friends. Thank you! You guys definitely have a business that is ethical, professional and your employees display integrity. Thank you so much.
James B., Grants Pass, OR., July 2014
Nick Knutson made shopping for a new car pleasant. He answered all my questions confidently and was friendly & patient throughout my looong day of decision making... This was my first experience choosing and buying a car for myself and Nick helped me all along the way. Craig and the rest of the staff members were friendly and helpful too.  No high pressure or double teaming even though I was a challenging customer :/ I love my new l'il blue Subie!
Susan D., Ashland, OR., July 2014
My car had a major problem while we were on the road in California. Towed to the Marin Subaru dealer by AAA, we were charged over $700 to fix the problem. In fact, they missed the fact that we had a blown head gasket. Unknowing, we drove back to Oregon -- overheating just as we reached the summit in Oregon. We coasted to Ashland and called our trusted dealer in Medford (you guys). You discovered a blown head gasket and fixed it (a few thousand dollars later). Needless to say, we were distraught. Your wonderful service team, however, was supportive, comforting, clear and helped us to get through. Jon and AJ were supportive and kind. They are terrific -- renewed my faith in Subaru... Thank you.
Kathie Olsen, July 2014



In a communication with our Service Manager, Bryant Kelley
:
Mr. Kelley,
Thanks for helping me reschedule my service earlier this month.
I just wanted to say... it was my first routine service, but I also asked Ms. Meade & Co. to disable/remove my alarm system. Apparently, they tried, but Ms. Meade and the mechanic told me they simply couldn't bypass the alarm system to disable/remove it without my electronic key fob. Since I had forgotten to bring it, I said no problem, I'll reschedule.
So they did my oil change. Then, Ms. Meade said they were able to disable/remove the alarm system after all.
You know as well as I do that either or both of them, Ms. Meade and the mechanic, could have written me off and moved on to their next task, but they did not do that. Even after I said I was glad to reschedule, they still kept trying to figure it out for me and they succeeded, demonstrating a genuine interest in me, the customer. I just wanted to let you know that Ms. Meade & Co. seem to be the first dealership service folks I've ever dealt with who really do what they claim they will... which is serve the customer.
And as I told her that day, that has been my experience of SOSVM from the moment Christian Hoeppner introduced himself on the lot. I've not experienced such concern for the customer at any dealership before, and I frankly thought Mr. Hoeppner was an anomaly but it appears that all the folks there share a commitment to service. I appreciate it and wanted you to know.
Bill McLean, June 2014
Great Dealership Great Car Great Salesperson
Dealership clean and comfortable; salesperson John - patient, knowledgable, communicative and helpful; car fantastic. All staff genuinely warm. Until this purchase I had always owned Toyota vehicles. Now that I have a Subaru Forester I cannot imagine ever driving anything else!
Kathleen at BrainJoy, Medford, OR. May, 2014.
Having bought many vehicles in the past at 66 years old, this has been an exceptionally good experience. No head bumping, no loud voices, very pleasant. More than willing to refer both friends and fmaily to Southern Oregon Subaru and Craig Pena. We came in here not intending to buy a car, just looking. Craig was very professional at what he does.
Roger and Elaine C., Klamath Falls, OR., May 2014
Purchase of new 2014 Legacy Sport from Matt
Matt was extremely friendly, funny and was easy to work with. It was easy to see that purchasing a new car over a used car was the best way to go. The financing process was great and they gave me what I wanted for my trade in, and an interest rate and payments that were perfect. Matt was very professional and was probably one of the two best dealer representatives that we have ever dealt with, the other also being a SOSVM employee "Jeff". Our family has purchased four cars in total here and I would not hesitate to come back again or send my friends and family.
Erin Hillman, Happy Camp, CA., May 2014
Thanks to Nick Knutson for such an awesome experience! You made buying a vehicle even more fun!! We appreciate your kindness and all the work you put in to help us get a good deal! You rock!! Perhaps we will all run into each other at Beer Works!!
Tracy Higgs, Grants Pass, OR., May 2014



Wonderfully easy experience
We would like to thank Nick Knutson for our wonderful easy experience with purchasing our first Subaru. His knowledge of the Subaru made it an easy and comfortable decision in purchasing the 2015 Subaru Forester. We were comfortable with you the second we met you. We see a bright future in sales. We would recommend our friends and family to you any day!
Hugh Link, Coos Bay, OR., May 2014

As a family, we love our Subarus
When my wife began working as a home-health nurse in Klamath Falls, I insisted she buy a Subaru for the long wintry drives. As a minister, I was driving all over the area to see church members, so it wasn't long before I gave up the minivan for a Subaru of my own. Then my oldest daughter was driving it so much, I finally gave it to her and I bought another Subaru. A few months later, my sister in Washington State called with some good news. She got a new car. It was a Subaru. As a family, we love our Subarus.
Don W., Klamath Falls, OR. April 2014
Thank you, Nick!!!
I bought a 2012 Subaru Impreza STi through Nick Knutson. This was my first time every buying my own car. I couldn't have asked for a more professional, helpful, and hard working person to have bought my first car through. Nick was the most understanding person and did everything he could to get me an amazing deal on my beautiful car. I would recommend Nick in a heartbeat to anyone who is looking for an amazing price on a new/used car at SOSubaru. Thank you, Nick!!!
Amber Vian, Medford, OR., March 2014
Southern Oregon Subaru More Than a dealership
I worked with Craig Pena for 2 years to find a safe, reliable, good looking vehicle. Craig kept an eye out to find me a car not only to fit my needs, but really took extra care to make sure that it fit within my budget. Craig and Kevin really stuck their necks out for me. I really trust these guys and will continue my business with them.
Michelle McCoy, Trail, OR., March 2014
Craig Pena and Southern OR Subaru are awesome!
My experience with Craig Pena as a car salesman has been absolutely awesome. He's made the experience so much fun and wonderful, answered all my questions and took my fears away from getting into a new car. It's just really hard when you own 1 car and go into another. Craig has made it so easy and wonderful. I just can't say enough towards him. He was very patient and understanding with our needs. He delivered everything we asked for and more!
Judy and Richard McElroy, Roseburg, OR., March 2014

Will recommend them highly even to drive 3 hrs to buy


Found our car the one we really wanted, I believe fate put the car at SOSVM. Contacted via email on Sunday, received instant response. Got pictures and info. The car was what we wanted. Jeff nickel was our first contact. He set us up to meet with Craig Pena. Well we drove up Wednesday, completely informed of the situation with our car. Walked in greeted by Ty. Craig was quick and greeting us after Ty. Went to see car, sold.  We are waiting for our car to be completed, let us rent our old car for free till ours was ready. Thanks. Financing, info, hospitality, an yeah sure they all have hearts. I understand car sales is a job and has tons of hurdles as and difficult situations.  These guys were straight up with me had difficult situation, found solution and made it work. Great warranty, car amazing rare, oh yeah its ours, great rate%.  Will recommend them highly even to drive 3 hrs to buy. See ya soon, can't wait to bring our car home.
Isaac G., Bend, OR., February 2014



Nick Knutsen is amazing!!!
Nick Knutsen and I have been talking on the phone for over two weeks. Finally I took the long drive from Crescent City, Ca. to Medford, Or. to meet him in person. Nick was very professional and super nice. He got me exactly what I wanted and answered all my questions with ease. He was honest and to the point. He didn't try to bully me into buying something I didn't want. He seemed to take a genuine interest in me and my wants & needs. When I spoke, Nick actually listened to me. He isn't one of those "fast talking sleezy used car salesmen". He is an honest family man just trying to make a living like everyone else. I would recommend Nick Knutsen to anyone who is looking to buy a new car. All the staff were also friendly and professional as well. I appreciate everything they did for me. Nick went way above and beyond what was required of him. Thank you Nick for a great experience!! You're the best! :)
Laurelei Wilson, Crescent City, CA., February 2014
Not a single "slimy" salesman
Regarding Nick Knutson I must say that I always assumed the worst of salesman. They usually swarm in like bugs to a light. Today when I walked into Subaru in Medford, not a single "slimy" salesman. Never have I EVER been treated so respectfully when entering a car dealership. My husband and I were given a complete tour of the entire facility...It is a respect thing! The people there are top notch. The people in the service department even took the time to shake our hands and explain in detail how things work in that area. Bottom line, I will never purchase a vehicle elsewhere. Thank you Nick! Thank you Southern Oregon Subaru! WE WILL BE BACK!!!
Patricia E., Medford, OR., February 2014
I had a great experience buying from these guys
I live in Los Angeles, but was looking for a very specific used Golf TDI. They had one, so I flew up to Medford and drove it back down to California. Their price was fair, plus they covered my hotel for the night and waived the DMV fees. Craig and his coworkers were helpful, forthright and all-around nice guys.
And now, two weeks later, they've sent me some amazing local jam and mustard in the mail. I highly recommend this dealership.
Whitney H., Los Angeles, CA., February 2014
Kevin Knopf is one of the finest, most reputable people with whom I have ever done business.  SOSVM as a dealership, and other staff I had the privilege to work with, were professional, courteous and service oriented.  I traveled from Portland to do business with SOSVM because of Kevin Knopf.
Jeffrey McVay, Portland, OR., January 2014



Another huge 10 to So. Or. Subaru
Again, only the very best service. Shannon Meade is my service advisor and is always conscientious, knowledgeable and courteous. On this last visit on Friday, the service department addressed my issues beyond my expectations. Another huge 10 to So. Or. Subaru.
Pat S., January 2014
Thank you for offering a pleasant car purchasing experience
We recently purchased our fourth new Subaru, the second from SOSVM (our first two were purchased in AnnArbor, MI). Southern Oregon Subaru is awesome. We've worked with your service staff for over a decade and they've never failed us. Jeff Nickel is the best salesperson we've worked with (twice!) And Christian was just as cool. Thank you for offering a pleasant car purchasing experience. I probably don't need to tell you that to LOVE my new Forester and it is exactly what I was looking for in a new car. Thanks Jeff and Christian!
Mary C., January 2014
Great day, great staff, great assistance, great dealership
I arrived at the Southern Oregon Dealership expecting the usual dealership experience of not being heard, my desires not being addressed, and the usual basic 'runaround'. This simply didn't happen. I didn't even expect to be buying a car (a testimonial to their great sales team) so I entered the dealership with what I considered a 'miracle deal' - meaning - it'd'a been a miracle for them to meet my terms. They ended meeting my demands, and even more - something totally unexpected. I got the impossible deal I was asking for, the car I wanted, and they included the parts (luggage rack) that I counted as 'missing'. Craig Pena was great and very tolerant of a complex schedule I had that day - I left the dealership twice addressing other commitments. Long story a little shorter, I was not held hostage for 6 hours as has been my previous experience at dealership. My terms were met, with me 'giving way' in just one area. I got the car I wanted on the terms I stated and will return to Southern Oregon Subaru, in about 25 years, because that's how long I expect my slightly used 2013 Impreza to last! Great day, great staff, great assistance, great dealership.
EHee, Rogue Valley, OR., January 2014



I'll buy my next car from the good folks at SOSVM
I just purchased my 4th Forester, the 2014 model. Matt Meade is one of the friendliest, knowledgeable, and helpful sales reps I have ever worked with. He not only delivered the model, color, and all the accessories that I wanted on the vehicle, but made the whole negotiation process painless, even with my trade-in of a 2007 Forester. In the past, I have often dreaded the high pressure tactics from salesmen that I have found on different car lots both used and new. Matt lays all his cards on the table right from the start and is honest in keeping his word and making the negotiation for the final price fair and a pleasure. Matt is also great in follow-up throughout one's ownership with no strings attached. If he calls or sends a letter or postcard it is genuinely in the spirit of providing good service and not to sell me something. I'll buy my next car from the good folks at SOSVM and I will insist on Matt Meade as my sales rep.
Bruce Bischof, Lake Shastina, CA., January 2014
Thank you all for the best car buying experience anyone could ask for! You went above and beyond.
Michelle and Dave Thompson, January 2014
My Baja fired right up when other cars were frozen and would not start
"I just wanted to let you know how blessed we feel to have our 2006 Baja that we bought with the help of Jeff Nickel a few years ago. We are currently in Wisconsin and have had to deal with negative temperatures as low as -41° when adding in the wind chill. And every morning my Baja fired right up when other cars were frozen and would not start. We are looking forward to our return to Southern Oregon at the end of the month and wanted to say we will forever be Subaru owners. Thanks again!"
Miaya and Jason Dombroski, January 2014
I just wanted to thank you
Mr. Kelly,
I just wanted to thank you and the folks in your service department for getting me in on such short notice over the holidays. Your people corrected the overheat issue with my Forester. It ran 10 to 15 degrees cooler (from 205 before, to about 190 degrees after, on the flat at 70 mph.) going back to Ridgecrest CA. which is a little over 720 miles and about a 12 hour drive.
In addition your advice on crimping the rubber triangle on the passenger side door window to reduce the wind noise, worked. My wife commented on it several times on the way back.
Again, Thank you!
Ralph Frasier, Ridgecrest CA., December 2013

Treated with courtesy


This is my 7th Subaru, the last 4 were from this dealership. Each time I was treated with courtesy and my needs were understood and met. Craig and Christian did a great a job of helping me find the vehicle that best suited my needs physically and financially.
Rosemary J., Grants Pass, OR. December 2013



Best customer service we ever experienced
We recently had the opportunity to test drive an Outback, but planned on buying after the holidays. After getting home we decided to come back right after Thanksgiving to make the purchase. We worked with Randy Crutchfeld and Nick Allen and had an appointment the Saturday of the big snowstorm. Randy called to confirm the appointment at which time we told him we could not get out of our development (we live down a steep hill in Ashland) and he asked if he could come to us. He did, we made the deal, drove back to the showroom to sign the papers and Nick drove us back home. We were still snowed in Monday and Randy came to deliver our car, drove us to the bank to get our title and took our trade back. This was the best customer service we ever experienced and I tell everyone I know what a fantastic dealership you have and how accomadating your staff was. I will say this in the Subaru survey when we receive it, but wanted to let you know personally. Thank you.
Jack Stromer, December 2013
OKAY! So, I am officially endorsing Southern Oregon Subaru.
After the accident in which the little Jetta (sometimes referred to as Hans) valiantly sacrificed himself to save my life, and the subsequent week long ordeal trying to get Rogue Federal to give me an auto loan for a car I wanted (that was admittedly out of state,) I finally have a new car.
Daniel recommended that I go see them, and I wish I had started there. Not only did they have the best quality/condition cars that were in my price range, but they were able to get me financed through the very same RFCU! With an amazing interest rate no less!!! The people at SOSVM were so professional, helpful, and kind, that if I hadn't been SO stressed out from the previous two weeks, I'm positive I would have enjoyed the whole process much more. 
Way to go Southern Oregon Subaru! I can hardly thank you enough!
~Steve Abernathy, Medford, OR. November 2013
To anyone considering working with Nick Knutson
Nick is the most genuine and authentic person. He is looking out for your best interest and seeks to fit your needs 100%. His customer service goes above and beyond. Great guy, great experience, we look forward to working with him exclusively for any of our car needs in the future. Southern Oregon Subaru...You got a keeper, management look out!!
~Kyle and Aubrey Owens, Medford, OR., October 2013

Thanks so much for all your help Nick!!!
We just bought a 2013 Subaru STI from Nick Knutson at Southern Oregon Subaru. We really enjoyed talking with him while the paperwork was being processed. He was very well spoken and always had the right answers for all our car questions. Well put together and always a big smile on his face. Thanks so much for all your help Nick!!!
~Chad and Ashley Van Lanen, Honeydew, CA., October 2013
My shopping experience
Took my mom car shopping in Medford. Our first stop was Southern Oregon Subaru. We looked around the lot. Matt, their salesman came out to help us. I have been looking at the foresters for several months online. We took a forester for a drive and really liked how it handled. My mom was set on a Ford Escape, but we stopped at the Subaru place first. Matt, the salesman was no pressure approach and we liked that. He was very professional and courteous. Both my Mom and I bought Subaru foresters that day. Matt the salesman even delivered my Moms car to Gold Beach for her. Thank You Southern Oregon Subaru and Matt for a great experience.
~Spideys Family, Gold Beach, OR. September 2013
These guys are the best of the best

We were driving from central California back home to Seattle. My 87k mile 2010 Outback decided Medford would be the perfect place to die. So basically, we were stranded.
I called Jon in the service shop at SOSVM and he advised me to let the car cool,  then bring it in for a diagnosis. He would hold a spot open for me.
After the diagnosis it was determined that the radiator and thermostat had malfunctioned and needed replacement. Only problem - parts won't be in until Tuesday... Unfortunately I have to be back for work on Tuesday (8 hours away from Medford).
So we left my trusty outback in Medford and took a loaner car home. They are even storing our bikes there for us until we return since we didn't have a way to take them in the loaner car.
This is what customer service is supposed to be and SOSVM will serve as the benchmark of service for me for all future car deals and repairs from now on.
We have to return next weekend to pick it up, so I'll update my review after service is complete.
If you're looking for a new Subie, or need repairs and live in the Medford area, I recommend these guys - they are hands down fantastic.
~Diane J., Mukilteo, WA.  September 2013
After an absolutely perfect trip to SF, Carmel, Davis, and Crater Lake the breakdown of our Volvo could have been a vacation wrecker. But, because of their customer service, it actually added to our adventure. It is amazing how the service made us feel good about paying $604.89.
When we arrived Jon quickly explained our options and suggested that their driver take us to a local restaurant for lunch. How did he know we were hungry? Once it was determined that it would take a few days to get the part, he arranged for a station wagon rental that would accomodate all our luggage except for our bikes. Our bikes were stored in the parts department. We arrived home tired but confident that our car was in safe hands.
When we returned to get the car, there was no rental charge for 6 days! Our vehicle was spotless and started with ease. On route to Eugene, we talked about the perfect end to our vacation- thank you.
~May Jane D., Eugene, OR. September 2013
Craig Pena was our salesman and he spent 7 hours with my husband and me. We are from Roseburg and wanted to test drive the Outback and Legacy. I called to see if they had new ones available for me to test drive. When we arrived, Craig had both cars waiting for me to drive. He let me drive 60 miles to satisfy my curiosity about the car. He showed me all the features and even bought dinner for us. Craig was very friendly, professional and knowledgeable about the car and did not pressure us to buy. The car basically sold itself and we now have a 2013 Outback. All the associates at SOSVM were friendly and supportive. I recommend purchasing a vehicle from Craig and SOSVM.
~Barbara Lee, May 2013
Nick (Allen) did such a great job helping me with my car.  He went beyond what he needed to in showing me exactly what I needed to know.  He set up my Bluetooth for me, which I never could have done.  Truly, I couldn't be happier with the way I was treated.  I got exactly what I wanted and wish to thank everyone that helped.
~Sally Gravon, March 2013
Ty and Kevin went out of their way to keep us up to date on the arrival of our Outback.  One of my best new car buysing experiences.
~Mark Clark, March 2013
I love my Big Blue Jellybean!  The performance is so smooth and has great pickup when I feel I need it.  I just love my car.  And all your people are great!
Thank you,
~Sandra Washburn, March 2013
Hello and good afternoon
,
I thought you might be interested in knowing that as a result of the Southern Oregon Subaru Share the Love campaign, I was able to write a grant featuring the Subaru MOW commercial which resulted in an additional $2,500 in funds towards the purchase of much needed equipment. On behalf of the Food & Friends staff and the many homebound seniors we serve in Jackson and Josephine Counties please accept my sincere thanks for choosing us for the 2012 campaign.
Sincerely,
Evelyn Kinsella
Food & Friends, February 2013
Chris (Miller) made this the best car buying experience we have ever had!  We love our Subaru!  Thank you.
~Kenneth Stepp, Jr., January 2013
We are very happy with the service we received at SOSVM.  We got the exact color & model we wanted.
~Ross Finney, January, 2012
(We were here) to get a new Subaru to replace our old Subaru (with 251,000 miles).  We have had great service (especially Shannon) on our old Subaru.
Randy Mateo, Ty Qualls and Randy your manager and Wally Fipps were all helpful.  We need a car with enough room for our 105# Labradoodle to travel back and forth to the coast.
~Larry Maukonen, January 2013
I was probably not the easiest customer to have but was still treated with courtesy, respect and fairness.
~Shirley Schneider, January 2013
We really appreciated your help in our purchase of our Subaru.  This was our first time purchasing a car from a dealership and your team made it an enjoyable and unstressful one.  Thank you!
~Benjamin Houser, December 2012
This purchase was a surprise gift so I was essentially in shock during the process but it was a very positive experience and everyone there was extremely helpful and knowledgeable.  John (Bermea) was amazing; really knows his stuff.
~Kari Jorgensen, December 2012
It was a relatively painless experience - rare in the car dealership world.  Thank you, and a special thanks for your thoughtful Christmas gift.  It's much appreciated and quite unexpected.
~Virginia Terrell, November 2012
Great dealership.  Kevin & Bob Adams especially made us feel welcome & bent over backwards to accommodate us both emotionally & financially.
~David G., November 2012
I am absolutely in love with this car!  Thank you John Bermea.
~Cornelia Byers, October 2012
Randy was awesome, he listened to what we wanted and needed and knew exactly which Subaru would be the best fit! He was Awesome!!! Couldn't be more pleased with my 2013 Impreza!
~Morgan Bechtold, December 2012
To Randy, Wendy, & Wally
Thank you, thank you, thank you!  This was my first experience at buying a car "sight unseen" & not even test-driven!  But it was well worth it--my XV Crostrek exceeds all my expectations and I absolutely love it!  Thanks again, and God bless!
~Melanie Huie, November 2012
(Southern Oregon) Subaru's outstanding contribution (to Crater sports) goes to help well over 30 student athletes a year. We cannot thank you and your co-workers enough for their support.
John Parent
Varsity Boys Basketball Coach
Crater High School
September 20, 2012
I was very impressed with how fast everything went through.  Everyone was very nice and helpful. Anthony was the salesman that sold me the car.  Very nice man.  Thank you all.
~Echo Stout, April 2012
Loved our time here, everyone was excited to meet us and help us get a good price and the best car.  Every time we went back for service or had questions, everyone was professional, helpful and excited to see us again and help.
~Heather Neis, May 2012
Mr. Darby and his team were awesome.  They bent over backwards to accommodate us.  Thk u sooo much for everything.  Love car.
~Kristina Dunn, June 2012
I couldn't be happier with my $1 car!
I bought my 1990 Subaru Legacy Wagon for $1 from a friend who was going to dump it because of a head gasket issue.  I have put over 330,000 miles on it, and I have overheated the engine terribly over 10 times, totally out of coolant.  I have not had one issue other than a blown head gasket in all the time that I have owned the car, and I continue to drive the Subaru every day, to and from work.  It still gets 30 mpg, and does not burn one drop of oil doing it.  The transmission still shifts smoothly, and the car is mechanically sound.  Other than a couple deer that I have hit, the car still looks presentable.  I couldn't be happier with my $1 car!
~Kevin J., Eagle Point, OR
I love my Subaru!!
Three years ago my husband and I bought our son, Austin, a 1999 Subaru Outback wagon. He had just graduated from high school and was heading to Bend, OR for flight school. We knew he needed a sturdy, safe vehicle that would handle well in snow and ice conditions. Little did we know at the time, it would be one of the best decisions we have ever made, but for other reasons! At the age of 19 yrs., Austin finally got his first buck. Unfortunately, he used his Subaru to get it!! Here's how it happened...... In the spring of 2011, Austin and his roommate, Drew, were heading back to Bend after a weekend visit in Medford. Drew was in the lead on his motorcycle with Austin following in his Subaru. Fortunately, as they turned onto Hwy. 97 Drew dropped back and allowed Austin to take the lead. Within minutes, a large buck came out of nowhere and, well, let's just say....buck and Subaru had a "come to Jesus meeting"!! When we received the call and heard with great relief that Austin and Drew were fine, we were convinced purchasing the Outback had been one of our best decisions ever! The story doesn't end there. We filed a claim with our insurance company, whom we had been with for over 25 years. The car was still drivable, but needed some major repairs. After the adjuster examined the Subaru, we were notified that the company was declaring it totaled. They did not want to fix the car! But we certainly did. This car had just saved our son's life and we all loved our Subaru! My husband spent endless hours on the phone trying to prove the value of the car was more than they wanted to settle for. This would result in repairs being done rather than the car being declared totaled. But to no avail! It finally boiled down to calling our amazing agent and letting him know we would change companies if they were unwilling to fix our Subaru! Literally, within hours we received a call with the news. They had changed their decision and would repair our car! It was well worth the fight. Now that Austin is living in Hawaii, I get the privilege of driving the Outback. It works hard for me. Everything from carrying groceries to transporting my elderly mom and her walker all over town!
~Ginger Rasmussen, June 2012
Woop-De-Do, it's a Subaru!
"Just a quick note to say it was a real kick buying a car from you guys. That 2012 Outback was a joy to drive the 2-1/2 hrs home to Brookings.  I am an old, retired car-dog myself and know what it's like in the trenches, beating the asphalt, showing the product, negotiating a deal that both parties can live with, doing all the paperwork, all the while doing my best to make my customers comfortable with their decisions. Your friendly and well-informed guys and gals reminded me of my days working for a small town dealership where deals were made on a handshake and a promise meant something.  I appreciated Christian's (my sales dude) assertiveness and his product knowledge and even got a kick out of his trial closes along the way toward putting me in the car.  I'll do my best to wear it out so I can justify buying another."
~John and June Bloom, Brookings OR, June 2012
I Love My Subaru!
My third purchase from SOSVM, but my first Subaru - a BRZ none the less! Not only is my car amazing, but I feel like I get rock star looks just driving down the street. Joyce kept in touch with me and let me know when it arrived. Craig Pena was personable, knowledgeable and went over the top to take care of my every request, and followed up. The whole staff was great, and told me they all wanted my car, "you took it too fast" they said, "we did not get a chance to drive it!" Thank you Greg Sorensen for having such a wonderful dealership, and a great product.
~Stephanie Horton, May 2012 (view the video testimonial that Stephanie did for us,
here
)