Green Mission Statement

Southern Oregon Subaru is committed to eliminating waste, optimizing our recycling efforts, and looking for ways to reduce our impact on the environment.  We are constantly looking for ways to help create a cleaner environment for future generations. 

SOSubaru has been a Subaru Certified Eco-friendly Retailer since September 2014.

 

 

 
Conserving Energy
Skylights
Our service bay and parts departments use skylights to save energy and to help create a better working environment so that our technicians can do an excellent job servicing your vehicle while reducing our electricity usage.
Lighting
Our lot lights are all LED, creating a savings on our monthly bill and helping the environment by reducing our energy consumption.  The increased life-span of the LED lights also means that we are generating far less non-recyclable products that will end up in the landfill.
Power Generation
We have a 9.1kW solar power installation that offsets our monthly electrical usage.  This too helps the environment by reducing our energy consumption.
Energy Star
Our water heaters are Energy Star compliant, and we are an Energy Star Partner.
Conserving Water
We use low-flow fixtures in our restrooms.   For our lawns, we use low-flow high-efficiency sprinklers that emit 2/3rds less water, and we reduced the watering time and switched to watering only at night, minimizing the amount of water we use.  Doing this has resulted in lowering the cost of watering, and virtually eliminating the chance that any run-off reaches the local watershed.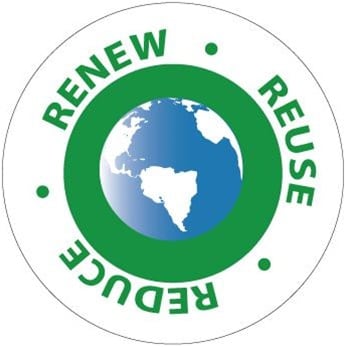 Our commitment to the environment is getting greener every day!

Grounds maintenance
We use bio-friendly lawn care products which eliminates watershed issues.  We also take all yard debris (lawn clippings and tree pruning debris) to Rogue Disposal where it is turned into OMRI Certified compost.  
Reducing Waste
We recycle waste paper, used coolant and oil, used batteries, tires, soft and hard plastic, fluorescent bulbs, solvents, oily rags, soda cans, scrap metal and cardboard.  
Recycling these things greatly reduces the amount of material we send to the landfill. 
Update: as of 2018, and in conjunction with Subaru of America and
TerraCycle
, we are now recycling more in-store produced waste:
coffee cups
(including those that our visiting customer bring in),
k-cups
(including those that are dropped off by our customers), and
snack wrappers
from our vending machines.  

Our Green Team
We have an on-site
Jackson County Master Recycler
that leads our energy- and waste-reduction team in finding new and creative ways to reduce our consumption and increase our recycling efforts.  Our team consists of staff from each department and we meet monthly to discuss progress and new ideas.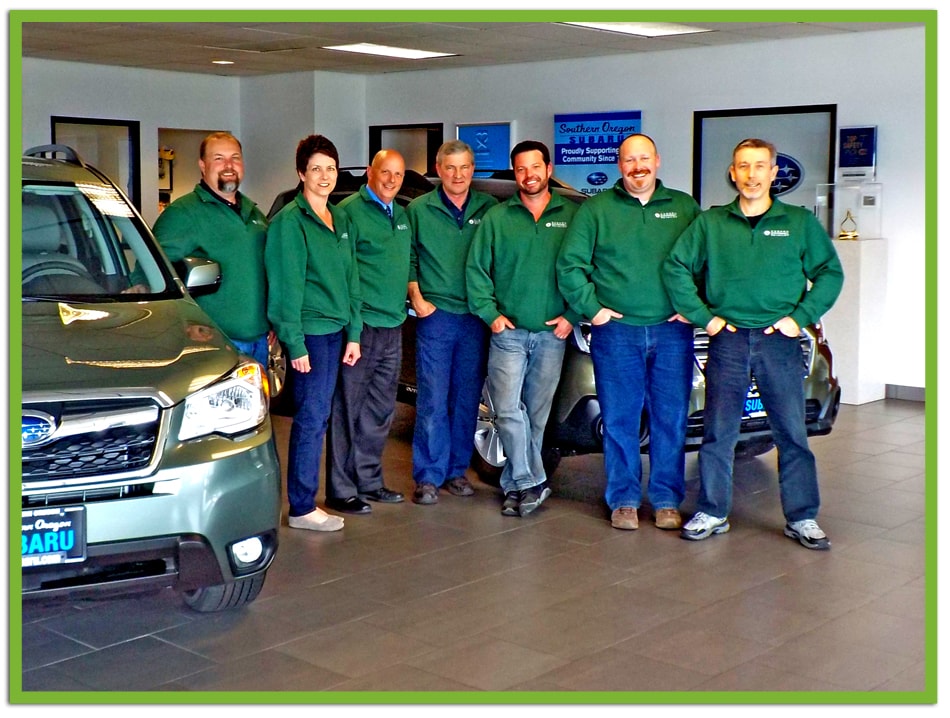 From left to right: Craig Koch (Assistant Parts Manager), Wendy Crutchfield (Customer Relations Manager), Jeff Nickel (Sales Professional), John Wescom (Service Technician), Ryan Stanard (Detail Professional), Bryant Kelley (Service Manager), Rocky Rawstern (Digital Media Manager / Jackson County Master Recycler). 
Community Involvement
Part of our commitment is to continue being involved within our community.  One of the ways that we do that is to sponsor and participate in the
Jackson County Master Recyclers
and
Jackson County Recycling Partnership
 Plastic Round-ups.  At the Plastic Round-ups normally non-recyclable plastics are brought in by local citizens and businesses and taken to where they can be recycled.  These events regularly collect tens of thousands of pounds of plastic that would otherwise end up in our local landfill.
These stats apply to the 2014 Fall Plastic Round-up:
430 supersacks + 15 yards bulk/palletized items
4 stuffed-full semi trucks + 20 additional sacks
64 Master Recyclers + 10 community volunteers
# number of vehicles:  929
# number of households served: 1305
Total weight: 49,100 lbs.!!
That is nearly 25 tons of recyclable material diverted from our local landfill.
At the Fall 2015 plastic round-up we had:
421 cars representing 615 households came in on Friday.
396 cars representing 507 households came in on Saturday, for a total of 817 cars and 1122 households!
We ended up with 28 bales of hard plastic weighing 22,120 lbs., 5 bales of nursery plastic weighing 4,140 lbs. and 8 bales of soft plastic weighing 7,440 lbs.
We loose-loaded 10,180 lbs. of baling twine and some other brittle plastic we didn't want to bale.  So we shipped a total of 43,880 lbs. of plastic to Agri-Plas.
Combined with the 53,560 lbs. from the Spring 2015 Round-up that brings us to a total of 97,440 lbs.!
That's nearly 50 tons of plastic, all processed by volunteers, and all kept out of our local landfill!
Being green isn't a trend. It's who we are and what we stand for.